Tragic Details About Sinead O'Connor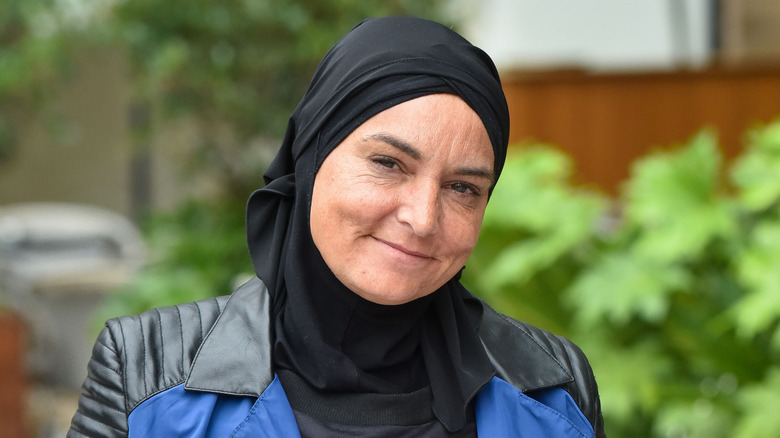 Hgl/Getty Images
We may receive a commission on purchases made from links.
The following article includes references to child abuse, mental health struggles, and suicide.
In her formative years as a musician, the late Sinéad O'Connor hadn't set her sights on becoming a cultural phenomenon. The Irish singer-activist was simply using music as an outlet to deal with her own personal problems. In 1990, O'Connor's luck changed when she was thrust headfirst into the limelight with the hit song "Nothing Compares 2 U." The Prince remake, first recorded for his band The Family, earned O'Connor three Grammy nominations. On one hand, she had achieved a feat most musicians dream of so early in her career; but on the other, animosity developed between her and the "Purple Rain" hitmaker.
"We didn't get on very well," O'Connor later told "Good Morning Britain" of the only meeting she ever had with Prince. She'd paid a visit to the seven-time Grammy Award winner at his Los Angeles home and recalled of the resulting alleged altercation, "He tried to beat me up, and I was defending myself. ... It all was a very frightening experience actually." Decades later, Prince's camp declined to grant her rights to use the song in the 2022 Showtime documentary "Nothing Compares." 
O'Connor's disagreement with Prince was only a small drop in the vast ocean of misfortunes she sadly encountered. Keep scrolling to find out other happenings that made Sinéad O'Connor's life a difficult, bumpy ride.
Sinéad O'Connor had an abusive upbringing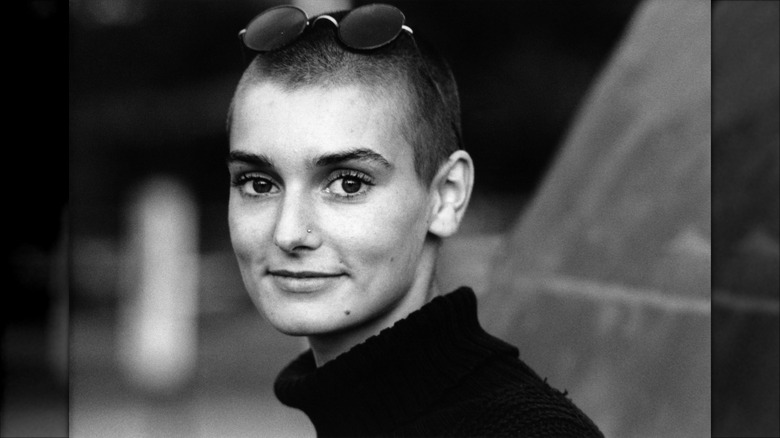 Michel Linssen/Redferns/Getty Images
Sinéad O'Connor's childhood was void of proper parental care. "My mother was a very unhappy woman, who was very, very violent and found it very difficult to cope with life, because of obviously her own experiences as a child," Sinéad shared in a 1991 conversation with Spin. Disclosing that she was often hit with any object that happened to be in sight, as well as denied food, a change of clothes, and even locked in her room, the musician said of herself and her siblings, "We were neglected, we were beaten, we were abused psychologically and emotionally."
In an appearance on "Dr. Phil" years later, Sinéad further accused her mother, Marie O'Connor, of sexual abuse. According to the artist, her mother also spent most of her days in bed, indulged in excessive drug use, and hardly kept up on electricity bills to leave the household running in good working condition. Needless to say, their relationship was extremely rocky, and the lack of unconditional love and warmth Sinéad experienced as a child built a resentment toward her mother. Nevertheless, Sinéad took a more empathetic approach while reflecting on their disconnection.
"I hate not being able to have taken care of her, maybe given her some love back ... nobody helped her," Sinéad said of forgiving her mother, who died in a car crash in 1985. "I miss that I cannot put my arms around her and tell her I love her."
If you or someone you know may be the victim of child abuse, please contact the Childhelp National Child Abuse Hotline at 1-800-4-A-Child (1-800-422-4453) or contact their live chat services.
She developed a stealing habit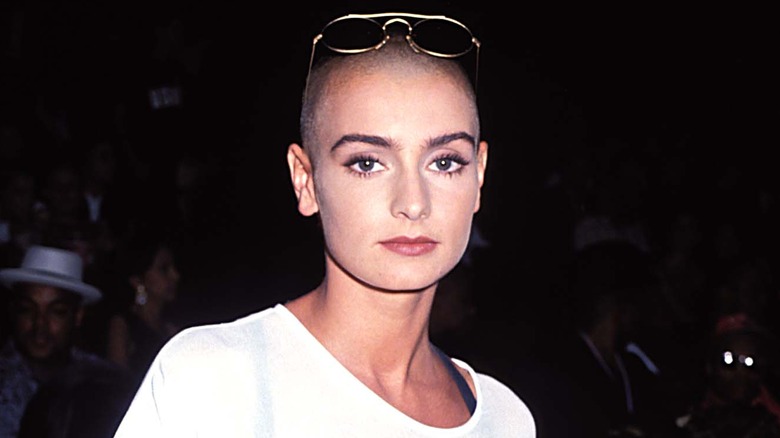 Jeff Kravitz/Getty Images
In addition to the traumatic experiences she went through at home, Sinéad O'Connor developed a stealing habit in order to appease her mother. Her sister did, too. As a result, they had several run-ins with the law. "One of the ways we made sure my mother didn't beat us up was to come home with money and things like that," O'Connor revealed in her chat with Spin. "I had always been encouraged to steal. ... I had always been in trouble with the police for stealing."
Her performance in school was also admittedly dismal, since she was barely supervised and would stay up until the wee hours of the morning. Moving homes from her mother's to her father's at age 13 unfortunately didn't warrant a change of behavior, despite being enrolled in a correctional facility. "I got sent to this place called a rehabilitation center for girls with behavior problems," O'Connor told the publication, noting that she simply didn't know how to function in society as a result of her abusive and neglectful upbringing. "They were nice people, but nobody ever sat me down and worked with me in order to rehabilitate me back into society."
If you or someone you know may be the victim of child abuse, please contact the Childhelp National Child Abuse Hotline at 1-800-4-A-Child (1-800-422-4453) or contact their live chat services.
Sinéad O'Connor attempted suicide multiple times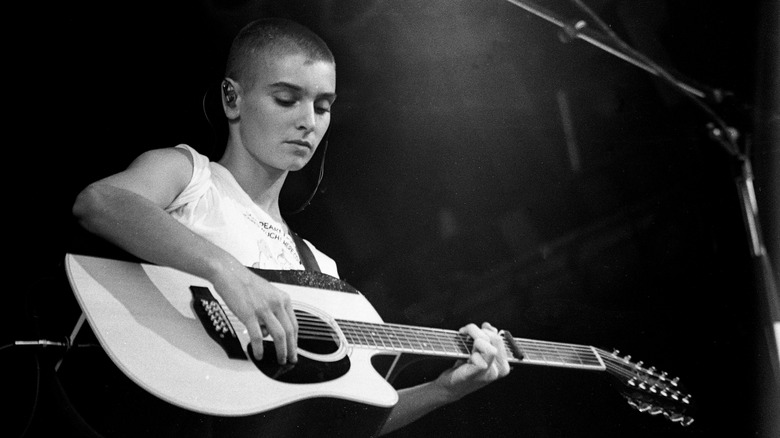 Martyn Goodacre/Getty Images
Sinéad O'Connor once revealed to Oprah Winfrey that she'd attempted to take her own life on her 33rd birthday. The Irish musician continued to openly struggle with suicidal attempts and ideation. In a since-deleted website post explaining the cancelation of a 2012 tour after a fallout with her management (more on this below), she revealed that in January of that year, "I actually contemplated jumping out of a moving taxi because of the way in which I was being spoken to and treated by my management." A series of concerning since-deleted tweets shared by O'Connor in 2011 also drew social media attention — one post, which had her seeking how to die by suicide without her children's knowledge, led to a safety check at her Bray, County Wicklow home by police, per E! News. 
"I have often and still often struggle with suicidal feelings when I am subjected to this 'mad' Sinead O'Connor business," O'Connor later disclosed in a lengthy post on her website. "[It] is wrong. Degrading. Insulting. A breach of my human rights as I see it, and most disrespectful." Noting that the incident led to her getting the help she needed, the artist added, "I have no shame around the fact that I can be shot into suicidal feelings by certain people's treatment of me."
In 2015, O'Connor revealed on Facebook that she'd taken a drug overdose. Two years later, a tearful Facebook video saw the singer-activist express her continued struggle with suicidal ideation, resulting in a hospitalization in New Jersey. Both posts were later deleted.
If you or someone you know is struggling or in crisis, help is available. Call or text 988 or chat 988lifeline.org.
The singer was reported as missing in 2016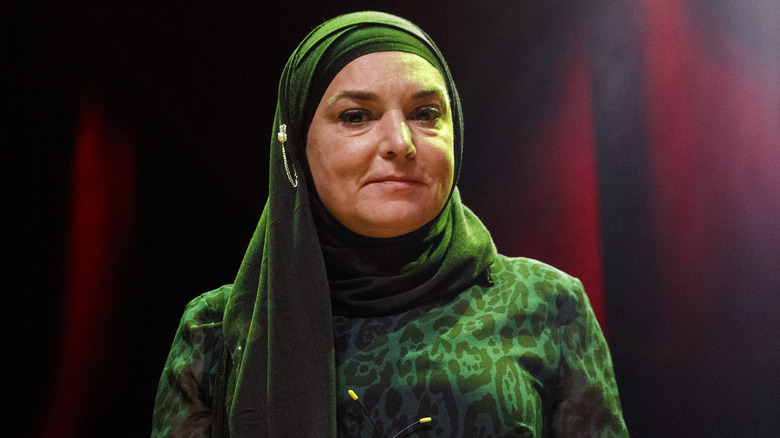 Andrew Chin/Getty Images
In May 2016, Sinéad O'Connor was reported missing. Per The Guardian, Chicago police announced that O'Connor had been last spotted on a bicycle ride in Wilmette, Illinois, where she was living with friends, but hadn't been seen in 24 hours since. Although she had disappeared in the early hours of the day, she'd taken to Facebook at about 9 am to voice an ongoing family feud over the custody of her then-12-year-old son, Shane Lunny, who'd been sent to a foster home. Thankfully, O'Connor was eventually found safe, but it wasn't long before she expressed her frustrations with her loved ones in since-deleted Facebook posts reprimanding her father, her first husband, John Reynolds, and her eldest son, Jake Reynolds.
"None of you will ever see me again because of what you've done," she wrote in part, hinting again at a possible suicide attempt. "If I manage not to kill myself, you'll be paying the medical costs which have been and will continue to be involved with that, since you were and remain, the chief co-ordinator of my total psychological and emotional destruction."
If you or someone you know is struggling or in crisis, help is available. Call or text 988 or chat 988lifeline.org.
Sinéad O'Connor fell out with her manager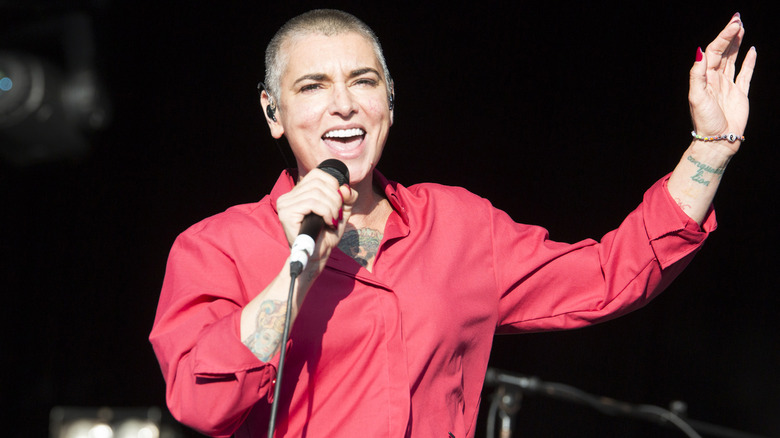 Rob Ball/Getty Images
After 25 years of working together, Sinéad O'Connor and her manager, Fachtna O'Ceallaigh, went their separate ways in 2012, as previously mentioned. In the detailed piece on her website addressing the cancellation of her European Tour at the time, O'Connor claimed that her manager had completely disregarded her input while scheduling tour dates and was dismissive of her bipolar disorder diagnosis. "For some reason this time I was only consulted about matters of scheduling approximately 8% of the time," O'Connor wrote in part.
In 2017, the pair were reportedly embroiled in a $549,015 defamation and breach of contract lawsuit initiated by O'Ceallaigh. According to The Irish Times, O'Ceallaigh alleged that his dismissal was without warning and cited character assassination in reference to O'Connor's post. The suit was settled out of court in 2019, but this unfortunately wasn't the only trouble O'Connor found herself in when it came to management.
In 2015, O'Connor had made another now-deleted post about the search for a new manager, having ended a fling with the previous one. "Had a month long affair, but he has a girlfriend, so naturally I gotta vanish," she partly wrote then. "Extraordinarily sad and depressing, but there it is. Another manager bites the dust. So now I need to find a new manager and I haven't a f***ing clue where to start. Shoulda f***ing thought about that before I got involved with someone else's fella."
If you or someone you know is struggling with mental health, please contact the Crisis Text Line by texting HOME to 741741, call the National Alliance on Mental Illness helpline at 1-800-950-NAMI (6264), or visit the National Institute of Mental Health website.
She was banned from SNL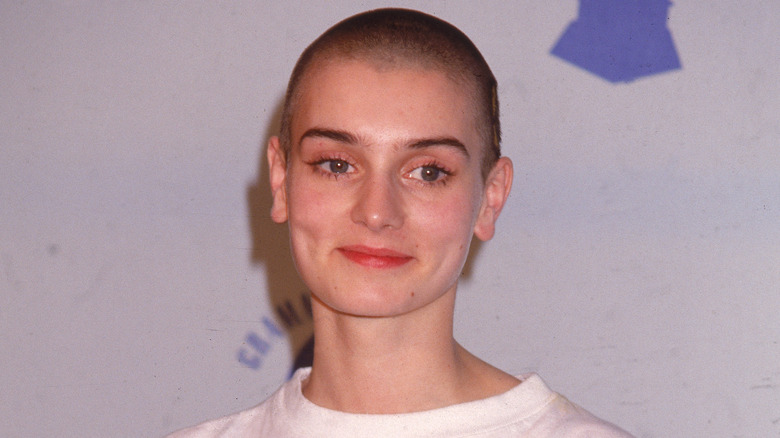 Darlene Hammond/Getty Images
In 1992, Sinéad O'Connor was scheduled to perform a rendition of Bob Marley's "War" on "Saturday Night Live." In the 2002 book "Live from New York: An Uncensored History of Saturday Night Live," the show's music coordinator, John Zonars, revealed that the agreement with O'Connor's manager was that she'd address child sexual abuse by bringing into focus a picture of a child at the very end of her performance. That's what the singer-activist did in rehearsal — but when the actual live broadcast came to an end, she infamously tore up a photograph of Pope John Paul II. "Fight the real enemy!" the then-26-year-old O'Connor signed off.
An uproar ensued, one which nearly cost O'Connor her career. She initially made a vow to stop songwriting after being heckled at Madison Square Garden shortly after. Speaking on her bold act on "Dr. Phil," O'Connor said, "First of all, we in Ireland knew 10 years before you all did about child abuse within the Catholic Church. We had evidence. The photo itself had been on my mother's bedroom wall all my life. I was genuinely very angry with what the church were doing."
But she had no regrets. "There was no more mistaking this woman for a pop star," O'Connor told The Guardian of how it affected her career. "But it was not derailing; people say, 'Oh, you f***ed up your career' but they're talking about the career they had in mind for me. ... It meant I had to make my living playing live, and I am born for live performance."
If you or someone you know may be the victim of child abuse, please contact the Childhelp National Child Abuse Hotline at 1-800-4-A-Child (1-800-422-4453) or contact their live chat services.
Sinéad O'Connor struggled with her decision to have an abortion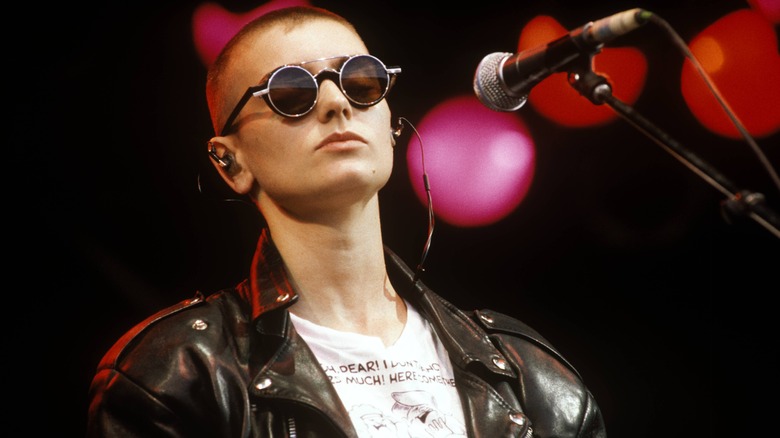 Mick Hutson/Getty Images
In 1990, Sinéad O'Connor released the song "My Special Child" off of her second studio album "I Do Not Want What I Haven't Got." In her 1991 chat with Spin, O'Connor explained, "The song itself is about my experience with having had an abortion last year and how I dealt with that and how it made me feel." According to the songstress, her pregnancy wasn't an accident. She and her partner at the time had it all mapped out, but their relationship sadly took a different turn. The possibility of being a single parent weighed in heavily on her, and eventually led to the difficult choice of termination. However, O'Connor emphasized that it was the right call for her, and that people ought to be given autonomy over their own bodies.
"The whole issue is pro-choice," she said. "... Nobody has the right to tell anyone else what to think or believe. Especially the Catholic church with the amount of murdering and pillaging that it's done." Prior to the decision, O'Connor revealed, she had miscarried three pregnancies, which made her doubtful of her body's ability to carry the baby to term.
The artist was divorced four times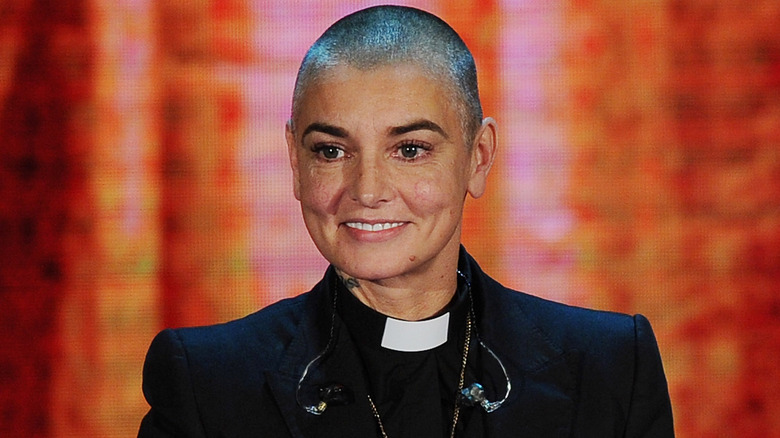 Stefania D'Alessandro/Getty Images
Sinéad O'Connor was married and divorced four times, an aspect of her life that she didn't particularly take a liking to. "I wish I hadn't ever got married," she told the Irish Sun in 2014 (via the Irish Independent), going on the self-deprecatingly quip, "Silly cow. Four times. What a twat. Now I can't ever get married once and properly. Anyway, I look stupid in dresses. And clearly, I'm a crap wife."
The singer first walked down the aisle with John Reynolds in 1987. They welcomed a son, Jake Reynolds, and split in 1991. O'Connor next tied the knot with journalist Nick Sommerlad in a low-key 2001 wedding, but the pair parted ways in 2004. O'Connor said "I do" again when she privately wed her bandmate, Steve Cooney, in 2010. That union would last a year. Her final try at matrimony was to therapist Barry Herridge. However, O'Connor hinted at a split from Herridge barely three weeks after their quick 2011 Las Vegas nuptials due to disagreements with her in-laws over their whirlwind dash to the alter. "It became apparent to me that if he were to stay with me he would be losing too much to bear," she expressed in a blog post at the time. The pair briefly patched things up, only to drift apart again. 
"I think I was trying to be normal," O'Connor told the Irish Sun. "... Of course, there's nothing at all normal about marrying people you hardly f***ing know. Luckily they were nice guys. Thank f***."
Sinéad O'Connor was open about her mental health struggles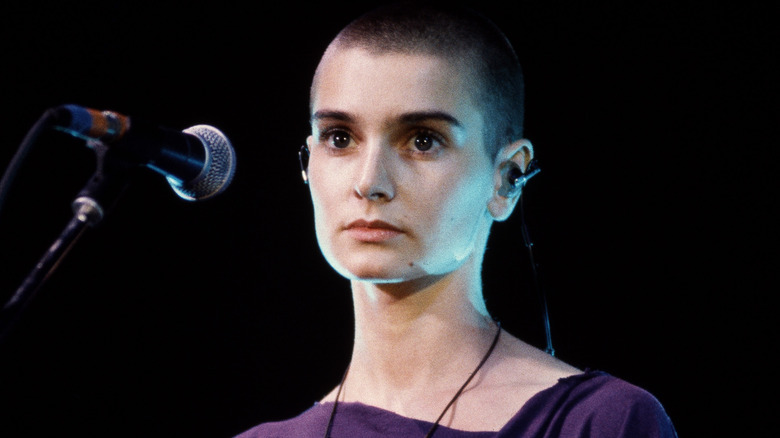 Michael Putland/Getty Images
Throughout her life, Sinéad O'Connor was vocal about being diagnosed with bipolar disorder and her other struggles with mental health, such as managing complex PTSD stemming from her experience with child abuse and borderline personality disorder. Oftentimes, she posted videos on social media that addressed her mental state and sought help from professionals, as previously mentioned. In some instances, such as making her suicide attempt be known in 2015 on Facebook, O'Connor had not an ounce of regret in her bones over being vulnerable to the public. 
"I was mental. But I don't regret those 'embarrassing' videos. I'm quite proud, in a weird way, that I was that open," she told People in 2021, adding, "The nature of a singer is to be emotionally honest. I've always been pretty open. And I have no regrets." Her words echoed her prior sit-down interview on "Dr. Phil," during which the renowned psychologist affirmed that O'Connor was on a mission to change how people viewed and stigmatized those who struggle with mental illness. Dr. Phil's team had checked her into a Nashville mental health facility soon after in 2017, per "Good Morning America."
For her part, O'Connor told People of getting the help she needed, "I manage very well because I've been taught brilliant skills. There was a lot of therapy. It's about focusing on the things that bring you peace as opposed to what makes you feel unstable."
If you or someone you know is struggling with mental health, please contact the Crisis Text Line by texting HOME to 741741, call the National Alliance on Mental Illness helpline at 1-800-950-NAMI (6264), or visit the National Institute of Mental Health website.
Sinéad O'Connor's son died by suicide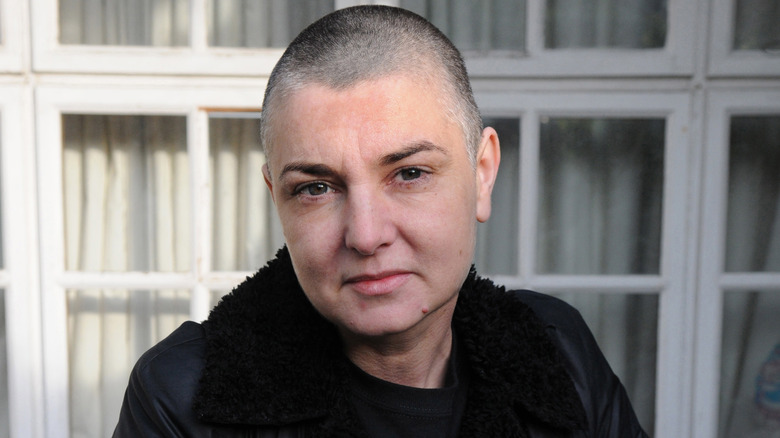 David Corio/Getty Images
Sinéad O'Connor's son, Shane Lunny, went missing in January 2022. Through Twitter, O'Connor pleaded for her son's safe return, asking him to surrender to the Irish police. A search had been launched for 17-year-old Shane, who was O'Connor's third and only child with Irish songster Donal Lunny. Per Irish police, Shane had last been spotted donning a black hooded sweatshirt and a printed running suit, which he'd paired with a t-shirt and trainers. However, the search for Shane was abandoned days later when a body fitting his description was discovered in the Bray area of Wicklow, located south of Dublin.
O'Connor would later reveal that Shane had died by suicide. "My beautiful son, Nevi'im Nesta Ali Shane O'Connor, the very light of my life, decided to end his earthly struggle today and is now with God," she wrote in a since-deleted tweet. "May he rest in peace and may no one follow his example. My baby. I love you so much. Please be at peace."
If you or someone you know is struggling or in crisis, help is available. Call or text 988 or chat 988lifeline.org.
Sinéad O'Connor died at 56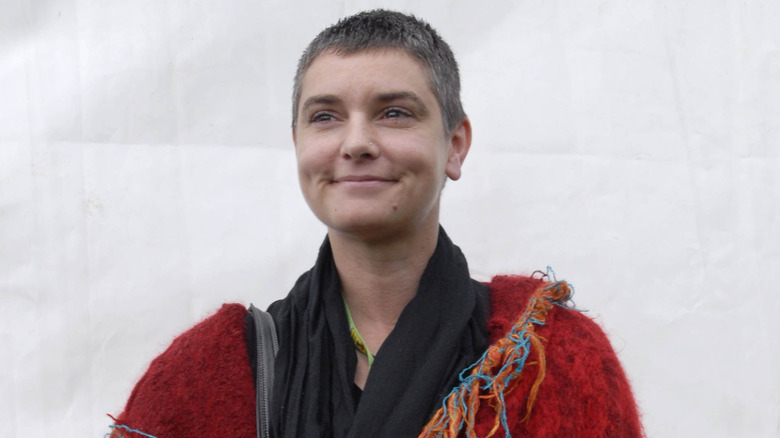 Ross Gilmore/Getty Images
A little over a year and a half after losing her son, Shane Lunny, Sinéad O'Connor tragically died at age 56 in July 2023. The family released in a statement (via The Irish Times), "It is with great sadness that we announce the passing of our beloved Sinéad. Her family and friends are devastated and have requested privacy at this very difficult time." According to the BBC, O'Connor was found unconscious at her London residence, where she was pronounced dead soon after. As of this writing, her cause of death has yet to be determined. However, law enforcement has ruled out foul play.
O'Connor, who'd relocated to London weeks prior, had just announced on Facebook that she was wrapping up recording a new album, with hopes to tour internationally in the coming years. She'd also mourned her son's death in some of her final social media posts. The shocking news of the Irish singer-activist's death was received with great sadness by O'Connor's fanbase and various celebrities. "I loved her. Her music. Her life," Jamie Lee Curtis wrote in part in an Instagram tribute. "... She was a warrior. She was a rebel. She ripped up a photograph that was on her mother's wall because of the hypocrisy of the abusive life she was raised in under the banner of the church. This is so sad. Watch the 'NOTHING COMPARES' documentary. Brilliant. Heartbreaking. Rest well. Rest in power. Rest in peace."
O'Connor is survived by her three remaining children, Jake Reynolds, Roisin Waters, and Yeshua Bonadio.