A Look At Matt Rife's Dating History
Paul Archuleta/Getty Images
It's not every day that you see a comedian who's side-splittingly hilarious and could pass for an Abercrombie & Fitch model, but that's Matt Rife for you. The comic is the latest funnyman to dominate the scene, and since his meteoric rise to fame, he has amassed a fandom that could rival that of boyband BTS. His first world tour, aptly called the "ProbleMATTic World Tour," sold around 600,000 tickets in under 48 hours during the presale period alone — a far cry from the average 70 tickets he would sell per show before his career blew up.
Rife is the man of the hour, that's for sure, which is why it doesn't come as a surprise that many have taken an interest in his love life. He's not sure why people are attracted to him, though, telling Esquire he sees himself as, well... average. "I don't think I'm hot at all. It's funny. I've had this conversation with girls that I've dated before because they'll ask the same kind of questions — oh that's hilarious, what are your intentions here?" he said. "I truly think I'm a little bit better than average-looking, but I don't find myself conventionally attractive at all."
This hasn't stopped fans from fawning over him anyway, and even high-profile celebrities aren't immune to his charm. In fact, Rife has quite the dating history, with the comic having dated Kate Beckinsale when he was just 21 years old.
Matt Rife has been linked to high-profile celebrities...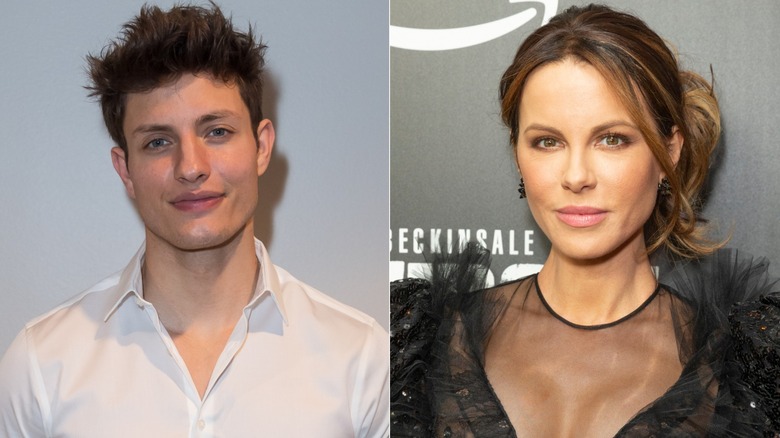 lev radin/Shutterstock & Jason Koerner/Getty
You might have missed it, but Matt Rife made headlines in 2017 when he was spotted smooching Kate Beckinsale somewhere in Los Angeles. The two had a short-lived romance, with sources telling Entertainment Tonight that the two seemed to be a good match. "He really is the sweetest guy and makes her so happy! Her entire family thinks he is the nicest and most lovely person," they said.
The relationship ended almost as soon as it began, however, with another insider dishing to Us Weekly that it was never really serious in the first place. "They went on a couple of fun dates," they divulged. "It fizzled out." Two years later, Rife made it seem as if they had a bad breakup when he advised Pete Davidson to "run" when news surfaced that he was dating Beckinsale. At the time, Rife revealed to TMZ that he had dated the "Serendipity" actor for a year, noting that it had been "complicated," with "a lot of ups and downs." When asked if he would get back together with her in the future, he simply said, "Not a chance." Juicy!
In 2023, Page Six reported that Rife also had a fling with "Pretty Little Liars" star Lucy Hale, but not much is known about their relationship. He then moved on to romance "Find Me in Paris" actor Jessica Lord, who he is apparently spending most of his free time with when he's not taking the stage. Only time will tell if their relationship will progress into something long-term.
...but he doesn't have time to date right now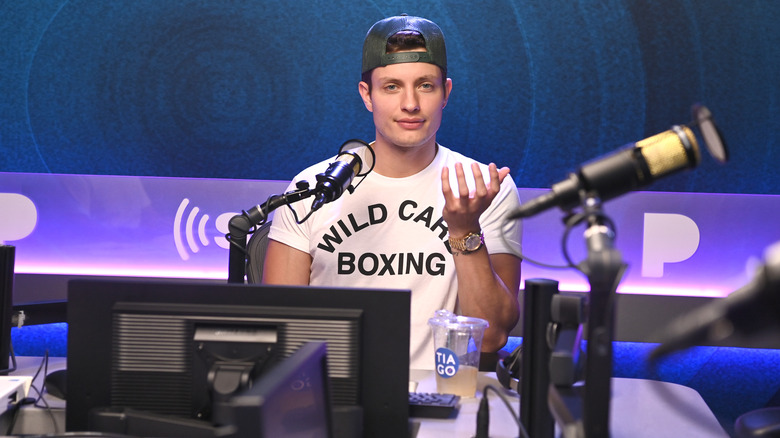 Araya Doheny/Getty Images
Matt Rife insists that he's too busy to take relationships seriously, though, especially since he's barely home due to his burgeoning career. "I just don't have time. I'm on the brink of being sick almost every day. Not in a cold kind of way, but just being run-down," he explained to Elite Daily. "I don't sleep. I sleep probably three hours a night, maybe. And then I've got basically at least two shows every night, I'd say six days a week at least." But, he recognizes the downsides of it all, admitting to Esquire that he's regretful about passing on the opportunity to meet potential partners. "I wonder if I am missing out on wonderful people, you know?" he confessed. "I think there's an insecurity of like, 'What can life be like at home in the next five years?'"
But Rife will only get busier in the coming years, especially since he's looking to beef up his acting portfolio, too. "I love acting just as much, if not more than standup. I just haven't been doing it as long and I haven't been able to get my foot in the door as well as I have been with stand-up," he told Deadline. "But now that I have the freedom in success via stand-up, it opens up avenues in other areas that I am passionate about, like film and television, that I'm hoping I can make that transition over to, because it can only feed itself."