How Olivia Rodrigo Fiercely Shut Down Those Taylor Swift Feud Rumors
Rich Fury/Getty Images
Olivia Rodrigo and Taylor Swift appeared to be the cutest besties once upon a time — until they weren't, or at least that's what fans think. However, according to the former Disney star, there's absolutely no bad blood between her and her idol.
At the start of Rodrigo's ascent to fame, she never hesitated to tell the world that Swift was one of her role models. The "Vampire" singer was unapologetically the biggest Swiftie, talking about Swift as if she hung the moon and the stars. "I feel so lucky that I was born at the right time to be able to look up to someone like her," she said in an interview with SiriusXM. 
Swift was ever supportive, co-signing Rodrigo from the get-go, which helped boost her fanbase. "The talent! Love this!" she wrote in response to Rodrigo's cover of "Cruel Summer." Swift also served as a mentor to the then-fledgling artist, and when Rodrigo's "Driver's License" shot to the top of the charts, she was one of the first to extend congratulatory messages. "I say that's my baby and I'm really proud," she commented on Instagram.
But things turned sour when Rodrigo was accused of plagiarizing songs, including two of Swift's tracks. Billboard reported that she forfeited millions worth of royalties and retroactively granted Swift writing credits. "It was really frustrating to see people discredit and deny my creativity," Rodrigo told Time. Curiously, both singers stopped interacting both online and in person after all the legal rigmarole, with fans noting that they even snubbed each other at the Grammys, causing many to speculate that something was amiss. But per Rodrigo, no such feud exists.
Olivia said she doesn't have 'beef with anyone'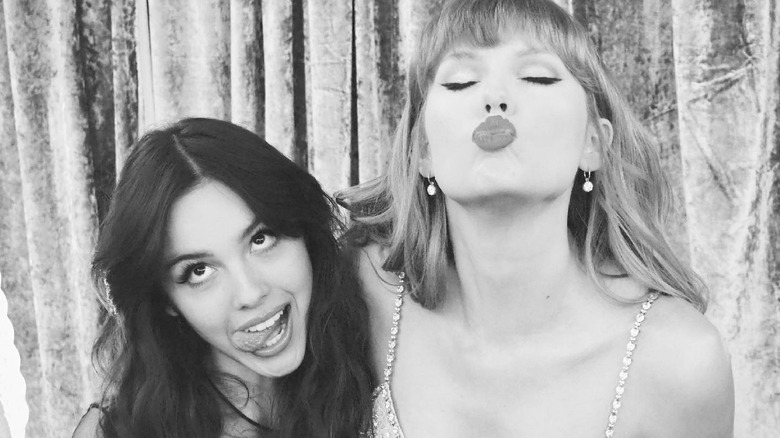 Rumors that Olivia Rodrigo and Taylor Swift were feuding were exacerbated by Rodrigo's admission that she has yet to make it to Swift's record-breaking The Eras Tour, which basically all of Hollywood and the music industry attended. "I haven't yet," she told The New York Times in August 2023, noting that it's not for the lack of trying, but because she's elbows deep in work. "I'm going to Europe this week."
A month later, the "Bad Idea Right?" crooner was asked by Rolling Stone outright to either confirm or deny all the speculation once and for all. "I don't have beef with anyone," she said point blank. "I'm very chill. I keep to myself. I have my four friends and my mom, and that's really the only people I talk to, ever. There's nothing to say." If there were any theories lying around, they're all just made out of thin air, she added. "There's so many Twitter conspiracy theories. I only look at alien conspiracy theories."
While Rodrigo put the rumors to rest, she did acknowledge that she was blindsided when she was asked to give Swift writing credits in her debut album. "I was a little caught off guard. At the time it was very confusing, and I was green and bright-eyed and bushy-tailed. Is that the phrase?" she said, although she failed to clarify whether it was voluntary or a result of coercion. "It's not something that I was super involved in ... It was more team-on-team."
But fans think otherwise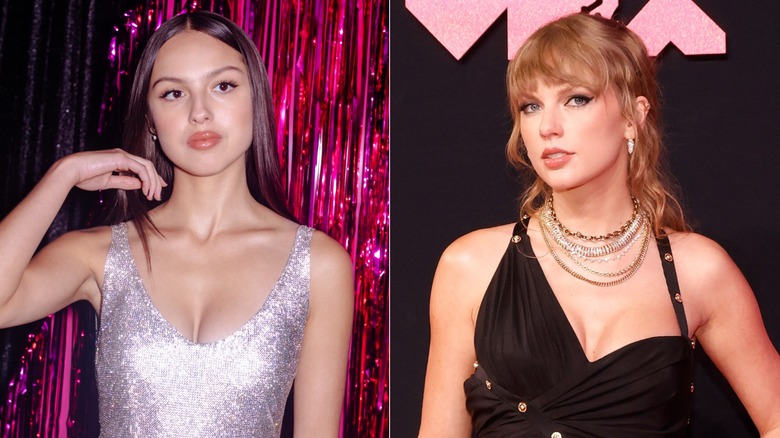 Catherine Powell & Taylor Hill/Getty
Fans of Olivia Rodrigo and Taylor Swift, of course, are ever relentless. Upon the release of Rodrigo's sophomore album, "Guts," many were quick to nitpick every lyric of every track, leading some to come up with the conclusion that the "High School Musical: The Series" alum wrote "Vampire" and "The Grudge" about Swift. In "Vampire," Rodrigo belts out, "bloodsucker, fame f***er, bleedin' me dry like a goddamn vampire!" while in "The Grudge," she laments, "you built me up to watch me fall / you have everything and you still want more."
However, Rodrigo was careful not to divulge the specific people she dedicates her songs to, should there be any. "I never want to say who any of my songs are about. I've never done that before in my career and probably won't. I think it's better to not pigeonhole a song to being about this one thing," she said in an interview with The Guardian, adding that she was "very surprised" upon hearing fans' analysis of her tracks. Meanwhile, Swift cheered on Rodrigo while she was performing the song in question at the 2023 Video Movie Awards.
Beef or no beef, it's clear that Rodrigo just wants to establish her own identity in the business and not live in Swift's shadow, or anyone's for that matter. "Young women are constantly compared to each other. I'm the 'new this' or 'this woman meets that woman,' and that can be reductive," she told Time. "I'm just Olivia. I'm doing my own thing. It's meaningful when people recognize that."