The Truth About Kylie Jenner And Yris Palmer's Relationship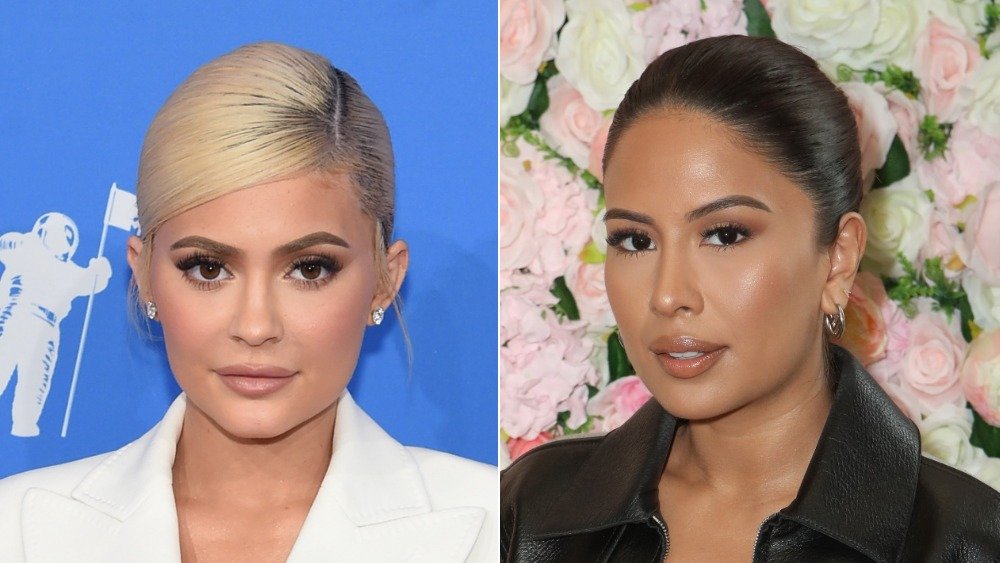 Jamie Mccarthy, Ari Perilstein/Getty Images
Kylie Jenner used to feature her former best friend Jordyn Woods all over her Instagram page (pre-Tristan Thompson scandal, of course), but now she rolls deep with a new squad. "As sad as the Jordyn situation has been for Kylie, she has also been forced to make new friendships," a source told People in July 2019.
Now, the Keeping Up With the Kardashians star frequently uploads photos with pals Stassie Karanikolaou and Yris Palmer. Whether it's bringing her friends on a tropical getaway — Turks and Caicos, anyone? — or just hanging by her lavish pool, Palmer and Karanikolaou are always around. Remember when Jenner celebrated her 22nd birthday in Italy on a yacht with her family and friends? Naturally, Palmer and Karanikolaou were right there by the reality star's side.
So, how does one suddenly become part of Jenner's elite and tight circle of friends? Palmer — who is the founder of Star Lash Extensions — met Jenner six years ago when she "started doing her lashes," she told AOL in an interview. "Slowly but surely we started building a relationship, and over every year it's just gotten stronger and stronger." Let's take a look at how Jenner and Palmer formed such an unbreakable bond.
Kylie and Yris have these two things in common
It's not always easy to make friends in Hollywood. Kylie Jenner stays busy filming a successful television show, running a major makeup company, and raising her daughter with rapper Travis Scott, Stormi — but she clearly enjoys being around her besties, too. In fact, Jenner has two major things in common with Yris Palmer. They're both mothers, and they're also both entrepreneurs running their own companies.
"She is definitely somebody that I am very comfortable to pick up the phone and ask about anything," Palmer divulged to AOL in May 2020. "Or even my products, sending [them to] her for her to see them, test them. And, likewise, if she has something coming out, she'll give me a sample of her Kylie mask, and she'll be like, 'What do you think of this?'"
As luck would have it, Stormi and Palmer's daughter Ayla are both around the same age, and Palmer admitted that the "girls are friends." She explained, "She had her daughter, and I had my daughter, and we have a really beautiful friendship."
Yris finds Kylie 'very, very inspirational'
Not only is Kylie Jenner the youngest self-made billionaire ever, per Forbes, but she founded her company, Kylie Cosmetics, in 2014 — when she was just 16 years old. For her part, Yris Palmer told AOL she "always worked" and "hustled," so when she was in London, she took a lash class since she realized the craze had not yet hit Los Angeles. "When I looked more into it, there was just, like, this window that I saw that I didn't know anybody — in LA — that was the 'it' lash person. And then I thought, 'That could be me,'" she explained.
Now, Palmer has a front-row ticket to watch Jenner crush her many endeavors, which is something Palmer doesn't take for granted. "It's very refreshing. We really support each other, and I think that is important in any friendship and relationship," she raved. "And obviously, her family and her, they're super successful. So, I learn a lot [from them]."
Palmer also noted that Jenner "inspires" her — one of the many reasons why their friendship works. "She's a young billionaire, a hustler. It's very, very inspirational to watch and to see how she never stops and she just keeps going," Palmer said. "It's important to keep people like that around because they just inspire you and drive you so much more."
With such a tight friendship, we wouldn't be surprised if Palmer and Jenner collaborate in the near future!