The Truth About Megan Thee Stallion And Kylie Jenner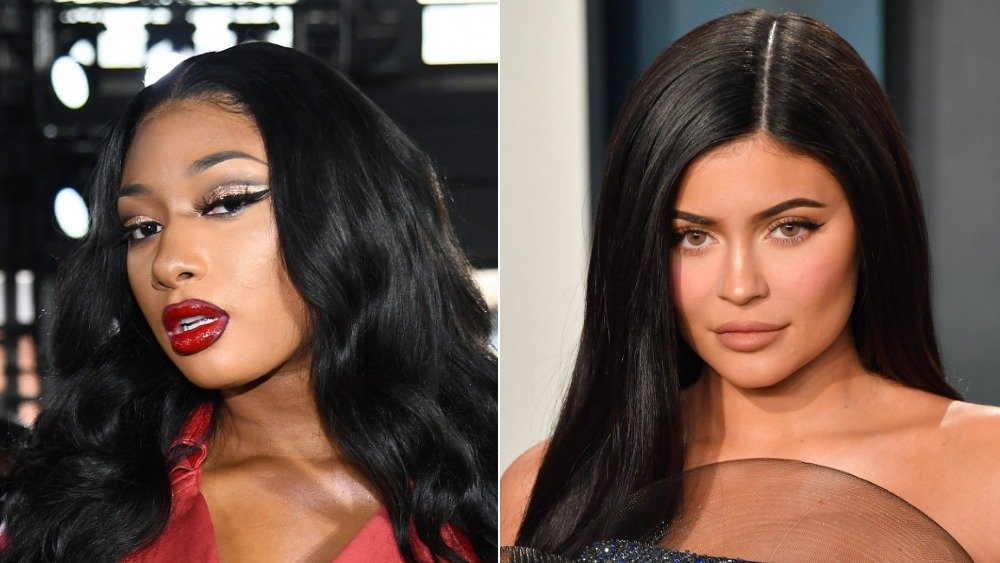 Dimitrios Kambouris, Allen Berezovsky/Getty Images
On Aug. 7, 2020, Cardi B and Megan Thee Stallion dropped the music video for "WAP" and truly broke the internet (sorry, Kim Kardashian). The female empowerment anthem not only serves up bomb lyrics — we'll never look at "that lil' dangly thing that swing in the back of my throat" the same way again — but it also gives us killer looks from the rappers, as well as the visual's guest stars, like Kylie Jenner, Normani, Rosalía, Mulatto, Sukihana, and Rubi Rose.
For all of the praise that the video received, some were confused as to why Jenner made an appearance. In fact, there was so much of a fuss that Cardi B answered that question point-blank on Twitter in a since-deleted tweet. "Why did i put Kylie on my music video? she treated my sister and daughter so lovely at her kid bday party," the rapper wrote (via Complex). "Travis and Set are real close and Kris Jenner have giving me advice on certain things I ask for and her husband real cool with mine."
While that seemingly explains Cardi's relationship with the Kylie Cosmetics makeup mogul, what is Meg's?
Megan Thee Stallion and Kylie Jenner hung out at a pool party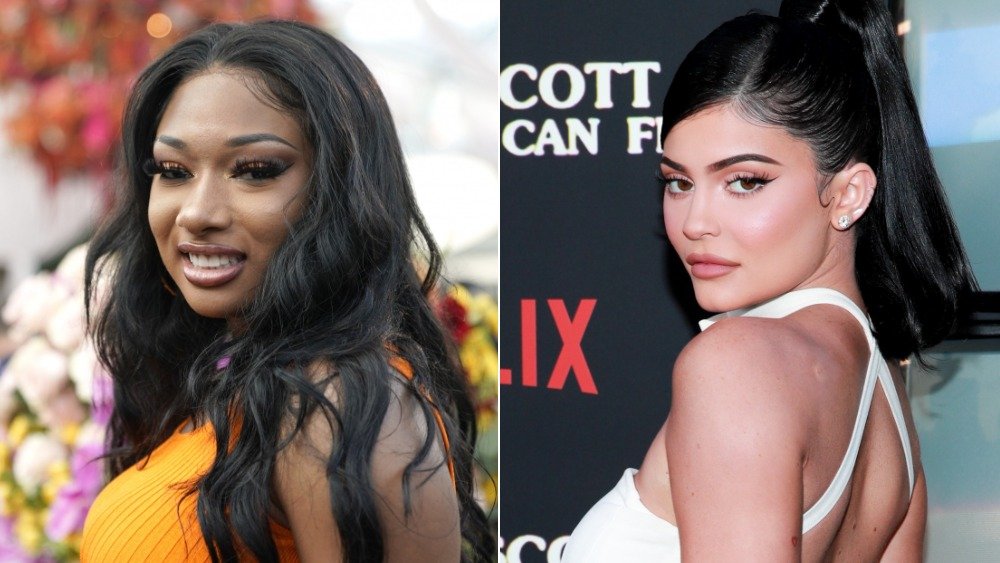 Erik Voake, Rich Fury/Getty Images
Though it's unclear whether or not Megan Thee Stallion and Kylie Jenner were ever on the set of the "WAP" music video at the same time — Jenner doesn't appear in a scene with either of the rappers — the two did chill together at a pool party on July 12, 2020, as Meg documented on her Instagram account.
The clip — which was reposted by a Megan Thee Stallion fan account on Twitter – featured the stars saddled up to the side of the pool together, elbow-to-elbow, looking like they were having a sick time. How sick? It's worth noting that a voice in the background could be heard warning Jenner that the police needed them to turn the music down.
Now, the two celebs hanging out doesn't seem that weird — especially because they appeared in the same music video — but when you take into account the fact that Meg is close friends with Jordyn Woods, Jenner's ex-BFF, that's when the drama started, at least, for fans on Twitter. "I also think Megan thee Stallion fake for hanging out with Kylie and having her in the video. You were just buddy buddy with Jordyn, who they all did wrong!!" one stan exclaimed.
Still, the whole Jordyn Woods debacle has nothing on the fact that Tory Lanez was also in Meg's Instagram Live — an important factor in what happened next.
Was Kylie Jenner involved in the Megan Thee Stallion/Tory Lanez drama?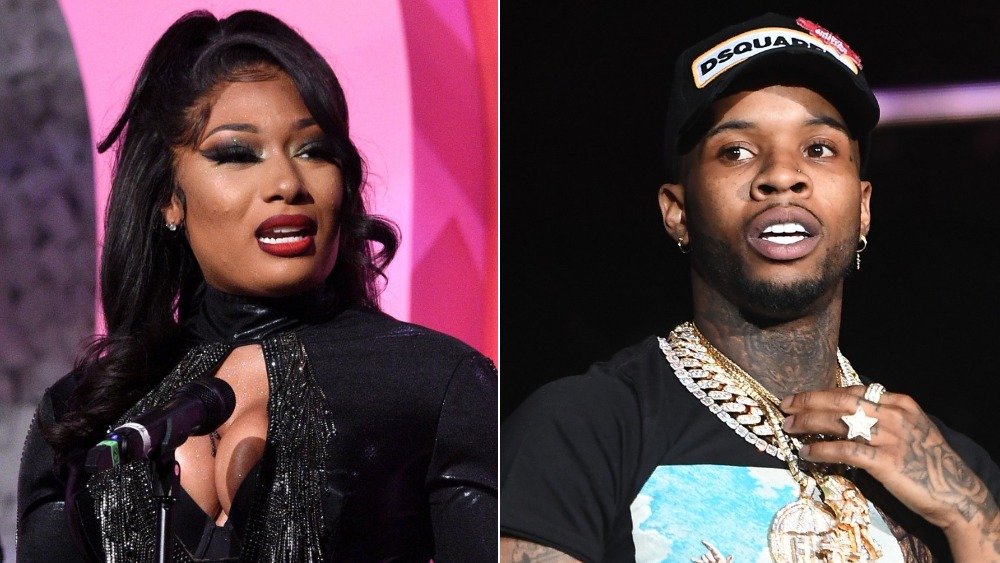 Kevin Mazur, Paras Griffin/Getty Images
Just hours after the pool party where she was hanging out with Kylie Jenner, Megan Thee Stallion was shot in the foot. As of this writing, it's unclear who fired the shots. However, Tory Lanez, Megan's reputed boyfriend, is reportedly a person of interest. In fact, Complex reported that Lanez is due in court in October 2020 in relation to the incident. While neither party has commented on the motive behind the shooting, one podcaster heard that the rappers got into a dispute over Kylie Jenner.
On his No Jumper podcast, Adam22 (real name Adam John Grandmaison) revealed that "Either Tory was showing too much attention to Kylie Jenner or Kylie Jenner was showing too much attention to Tory," he claimed. "Either way, Meg did not appreciate it. Meg maybe at this point in her career has a little bit of an ego, she's feeling herself. She doesn't feel like she has to deal with any disrespect."
"They got into a fight that was bad and I heard that she was really sh*ttin' on him, really disrespecting the f**k [out of Tory]," he continued. It seems like it goes without saying that no argument should end in violence of any kind. While Megan has opened up about the night in question, as of this writing, she hasn't mentioned it having anything to do with Kylie.
If you or someone you know is dealing with domestic abuse, you can call the National Domestic Violence Hotline at 1−800−799−7233 or TTY 1−800−787−3224. You can also find more information, resources, and support at www.thehotline.org.