Cameos You Missed In Kirby Jenner's Keeping Up With The Kardashians Spin-Off
This content was paid for by Quibi and created by Nicki Swift.
In case you missed the news, a brand new streaming platform called Quibi launched in 2020, specializing in short episodes (think 10 minutes long or less) that are ideal for phone viewing.
There's one particular Quibi series that's garnered a lot of attention. The series Kirby Jenner hit the streaming platform on May 24, 2020 as a spin-off to Keeping Up With the Kardashians, featuring a performance artist playing the character Kirby Jenner. The artist rose to fame through his parody Instagram account, where he photoshops himself so successfully into Kardashian/Jenner photos that it's almost like he's really part of the family. The account has accumulated 1.4 million followers and counting since 2015, according to CNN.
Kirby Jenner calls himself Kendall Jenner's fraternal twin brother though, of course, this is all fictional. (Fun fact: when Kirby Jenner was being interviewed by CNN, he declined to give his real name and never broke character.) The faux persona has gained so much traction that Kendall and Kris Jenner decided to executive produce the eight-episode Quibi series, according to CNN.
The series follows Kirby as he tries to get the perfect birthday present for Kris Jenner, whom Kirby calls "Mom" throughout the entire series. And, as expected with anything the Kardashian/Jenner clan throws their weight behind, the series boasts a ton of celebrity appearances (note Kirby sitting with Ted Danson above). Here are all the ones you might have missed.
Kirby Jenner breaks some celebrity hearts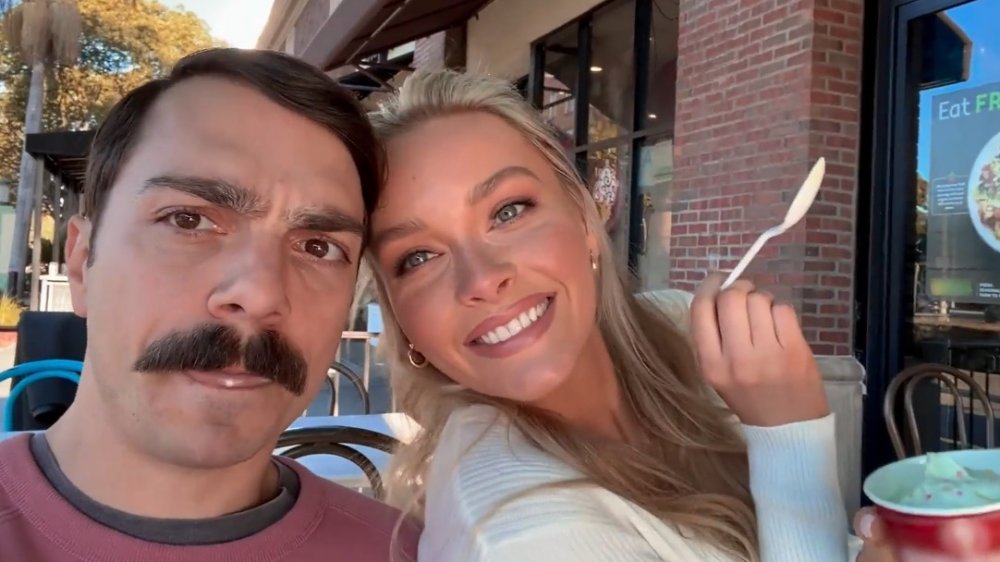 Kendall Jenner does appear in some clips of Quibi's new series Kirby Jenner, but as for the rest of the Kardashian/Jenner clan, the performance artist who plays Kirby spliced himself into existing moments from episodes of Keeping Up With the Kardashians. The effect is hilarious and offers the occasional gentle tease of the famous family.
But there are several clips with other celebrities. On episode 2 of Kirby Jenner, as Kirby is trying to plan Kris Jenner's birthday party, he has a FaceTime call with Ray Romano, who tells Kirby: "Stop calling this number."
In episode 4, Kirby's "stalker," actress Beverly D'Angelo (famous for American History X), rolls in on her segway when he's unwinding at a Calabasas skateboard park. Kirby whispers in his confessional about D'Angelo: "I think she wants to do, like, sex."
A running joke in the series is that Kirby's a heartthrob, and there's this great moment with Heidi Klum, where she can't believe that Kirby is friend-zoning her. Actress Camille Kostek (pictured) feeds him ice cream, and Amanda Cerny as well as model Josephine Skriver all play into this idea of Kirby as a total hunk.
But that's not even close to the end of all the celebrity sightings in Kirby Jenner.
Kirby Jenner hosts 'podcast' with Queer Eye's Tan France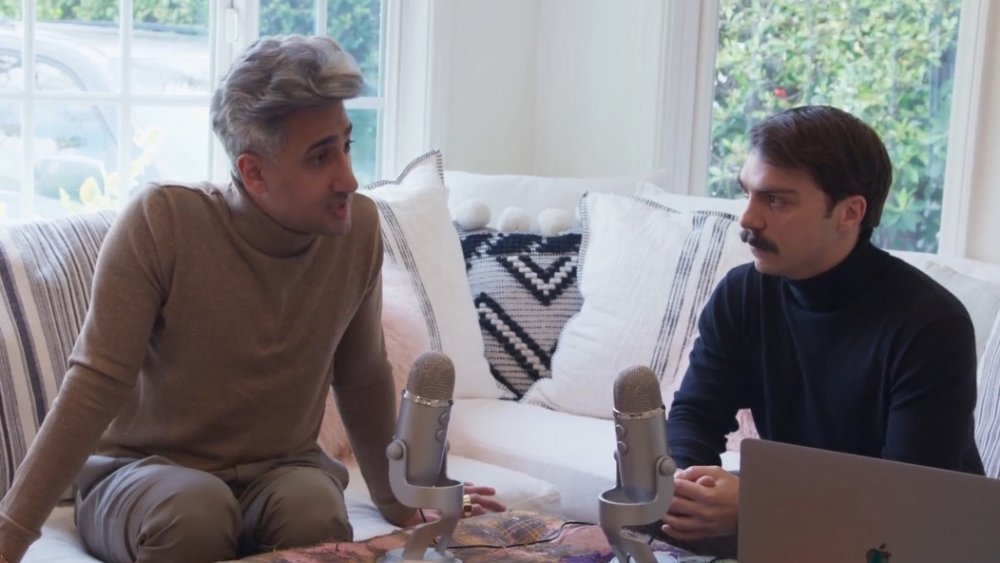 There are so many hilarious celebrity cameos in Quibi's new series, Kirby Jenner. The performance artist showcases his life as a member of one of America's most famous families, and what better way to prove this than by surrounding yourself with celebrities?
In episode 4, Kirby describes what keeps him busy and shows a clip of his 'podcast,' Turtleneck Talk, hosted with Queer Eye star, Tan France. He then broadcasts the fact that he's going to night school with his friend, Ted Danson of Cheers and Curb Your Enthusiasm.
Then Kirby pans to a shot of himself learning hockey with The Office's Angela Kinsey, followed by him perfecting karate with internet personality King Bach. Kirby adds: "I'm recording a soprano sax album produced by Mark Ronson," and sure enough, there's Mark Ronson, looking less than impressed with Kirby's musical abilities.
Kirby solicits comedian Tom Green's help in trying to remove a bird from Kris Jenner's property and they go to a bird store together where Green talks to all the birds.
There's also a scene where Kirby runs into the band Foster the People while trying to find Mark McGrath, the lead singer of Sugar Ray.
It's a lot to take in, but it's well worth it. Kirby Jenner might be the new it-show, with a touch of weird.