Luke Bryan's Tattoos Explained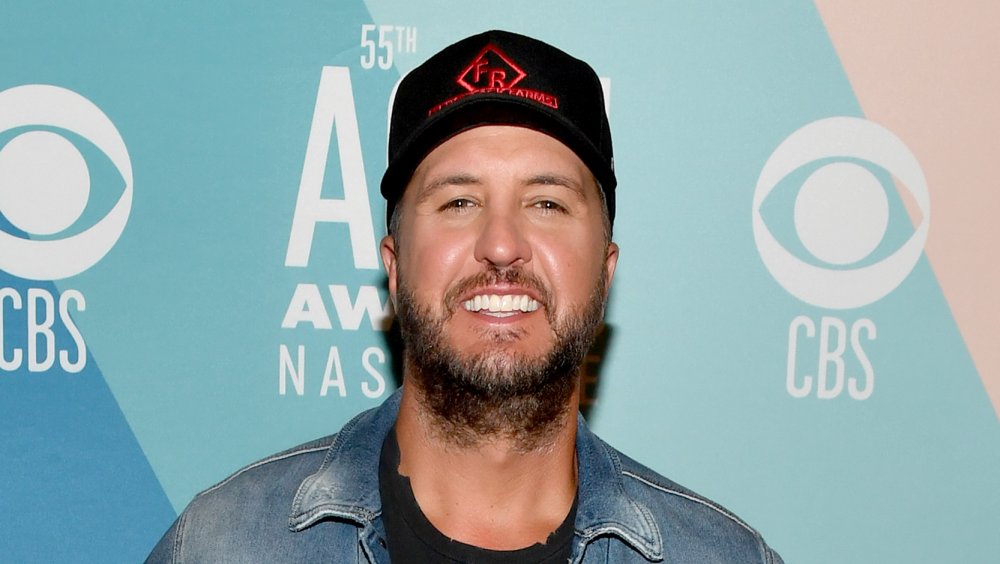 Jason Davis/Getty Images
We love celebrities because they share their art with us, be it pulling pranks on their unsuspecting friends, releasing songs, or sharing their makeup hacks. In return, some A-listers enjoy receiving art from others. This is especially true for country star Luke Bryan, who has an ever-growing tattoo collection, including a tattoo that actually is growing.
Fans have noticed Bryan's constantly changing wrist tattoo, and he confirmed that it is in fact an evolving piece. "It grows every year. I add a little bit every year," the "One Margarita" singer told Country Countdown USA. The tattoo has many components, as explained by Bryan. The artwork contains the names of his children Bo and Tate. It also includes a red star to match his late brother-in-law's hand tattoo. He also inked the first initials of his sister's kids, who he adopted (per ABC News) after his sister, and later her husband, passed away, leaving the three children without parents. While Bryan says it's normally under a watch, the small tattoo is becoming more visible as it changes. "I keep incorporating it into being something bigger," Bryan added. "Who knows where it will spread to. Like ivy."
There is so much meaning packed into such a small portion of his body, but his ink doesn't stop at his wrist. Here are all of Luke Bryan's tattoos explained.
Two of Luke Bryan's tattoos are for his wife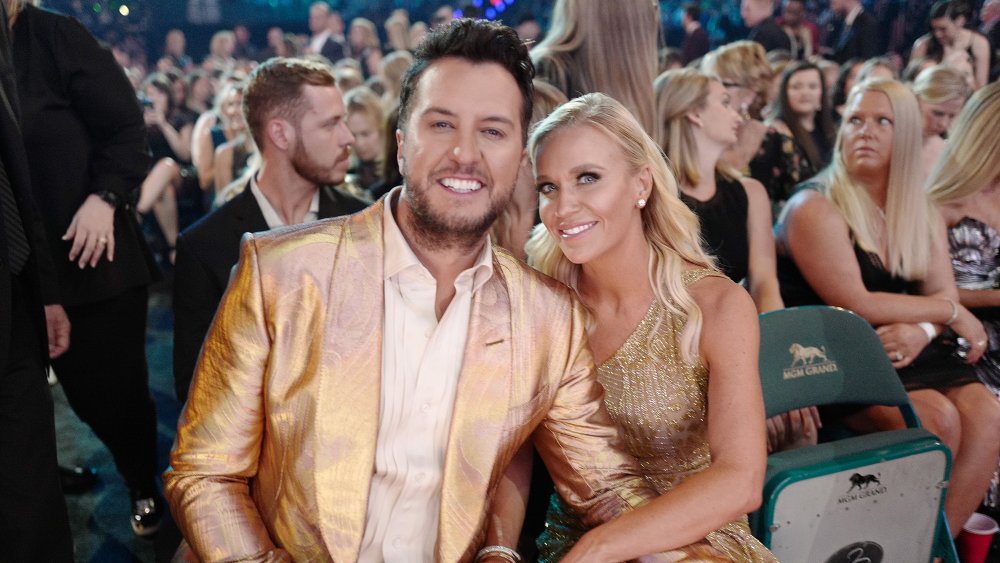 John Shearer/acma2019/Getty Images
Rivaling his love for performing is Luke Bryan's love for his wife Caroline Boyer. He adores her so much that he has two tattoos dedicated to her. The award-winning country artist told Good Housekeeping he has her initials on his ring finger. Better yet, Boyer has his initials as well, as they went together to get them on Valentine's Day. Well if his wedding band ever falls off, at least he has something in its place.
The "Knockin' Boots" singer took his dedication to the next level, according to an insightful story fellow country musician Jason Aldean told Tampa Bay's country music station WQYK. Aldean says Bryan got a tattoo in a very secret spot when they were on tour together. "You know, after you get a tattoo, when they start to heal they itch, and you want [to] scratch it," he said. "Well, he kept complaining about it, and I was like, 'What is wrong with you?' And he told me he got a tattoo, and then proceeded to pull one of his a** cheeks out, and I could see her initials on it." Bryan later confirmed the story in an Extra TV interview. If someone ignores Bryan's finger tattoo, at least he has a backup plan!
While Boyer is clearly the love of Luke Bryan's life, she's not the only person Bryan has a matching tattoo with.
Luke Bryan has a tattoo that matches Jason Aldean's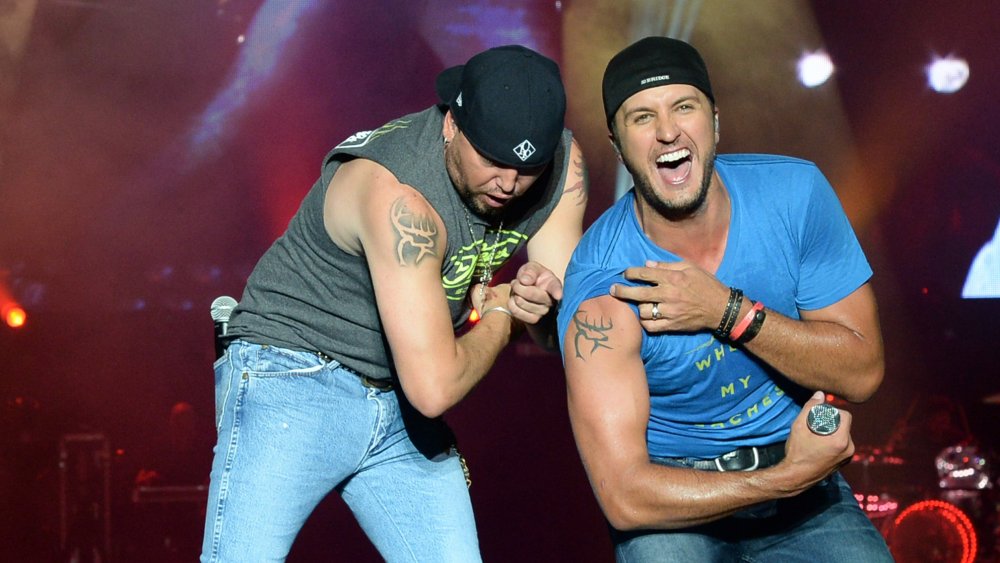 Rick Diamond/Getty Images
The rule of the road is that if you tour together, you get tattoos together —at least for Luke Bryan and Jason Aldean. The pals each got the logo of hunting franchise Buck Commander inked on their biceps (via Taste of Country). They weren't paid for this permanent advertisement, but they have endorsed the brand before and are recognized as "Official Buckman" by the company. Celebrities that have also been inducted as a "Buckman" include Duck Dynasty's Willie Robertson and former MLB players Ryan Langerhans, Adam LaRoche, and Tombo Martin. Bryan sports the logo in black, while Aldean chose the opposite: The logo is outlined on his arm, as if the artist put a stencil on his bicep and spray-painted around it.
However, Aldean wants everyone to know his tattoo does not just match Bryan's. He took to Twitter to clear the air around their twinning tats. "To set the record straight, me and @LukeBryanOnline did NOT get matching tatoos!! We were the only 2 @buck_commander owners to not have one," he clarified. Well, we still think it's a sweet bonding moment.
From his loving dedications to his wife and family members to his fun matching tattoo with his Buckman clan, it's clear Luke Bryan's tattoos mean a lot to him. While we wait for him to ink again, here are some other stars with outrageous tattoos.