The Real Reason Larissa Dos Santos Lima Is Leaving 90 Day Fiance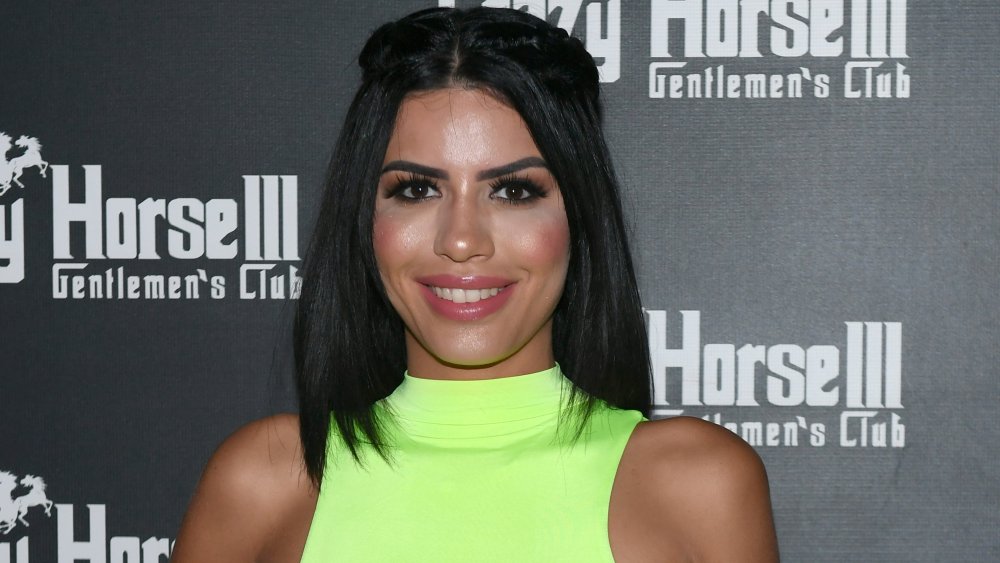 Bryan Steffy/Getty Images
Larissa Dos Santos Lima made her reality TV debut on the original 90 Day Fiancé series in 2018. She began her journey with her then-fiancé Colt Johnson. She moved in with Colt, his ever-present mom Debbie Johnson, and a bevy of cats. These two brought so much drama during that season that they were asked back to participate in the spinoff series 90 Day Fiancé: Happily Ever After? And spoiler alert: They did not end up happily ever after.
Larissa and Colt make such good TV that the now-divorced duo landed a second season of the spinoff show, which consisted of them filming their separate lives with new significant others. Unfortunately, Larissa will not be a part of TLC's 90 Day Fiancé franchise from this point forward. She revealed that she got fired in an Instagram post that she shared on Sept. 26, 2020.
The reality TV standout shared, "Dear Friends and Followers, I want to make a statement for you, I'm no longer a cast member of the show '90 Day Fiancé.'" She shared that she got fired "because of [her] show with CamSoda." TMZ reported Larissa brought in $100,000 for the webcam app CamSoda by participating in a one-hour lingerie show. Larissa's show reportedly brought in 10 times the typical number of views than CamSoda receives.
Aside from bringing in lots of money from a one-hour gig, Larissa has had a rough time lately, getting fired and detained by ICE during the same week.
Larissa Dos Santos was reportedly detained by ICE
In the Instagram post announcing her firing from the 90 Day Fiancé franchise, Larissa Dos Santos Lima shared, "I was released from my contract with TLC by phone the day before ICE arrested me." E! News reported that ICE checked Larissa's immigration status on Sept. 19, 2020, the same day she and her boyfriend Eric Nichols were set to move from Las Vegas to Colorado.
Her rep told E! News, "Larissa was taken into custody from ICE early this morning just as she was getting into a U-Haul truck with her boyfriend, Eric Nichols, while preparing to move to Colorado for a fresh new start." Her representative said that their team had been "working "meticulously on her release and clearing up this misunderstanding." ICE shared that they will "not be releasing information on the case at this time." TLC did not respond to the website's request for a comment.
TMZ reported that ICE agents took Larissa into custody as she and Eric were about to hop in the car and take their U-Haul full of their belongings to their new Colorado home. She was released later that same day, but it's unclear why exactly she was detained in the first place. Her rep claimed that agents were checking in on her immigration status. In a now-deleted video, Larissa had nice things to say about the ICE agents and revealed that she was "good to go" in terms of her move to Colorado.
Going forward, Larissa Dos Santos Lima will share content on other platforms
In her Instagram statement, Larissa Dos Santos Lima told her followers, "I will continue producing content for my official channels on Instagram, OnlyFans and Youtube. Thanks for your understanding, love and attention." According to Us Weekly, Larissa's boyfriend Eric Nichols shared her post in his Instagram Stories along with Tom Petty singing "I'm free" from his song "Free Fallin'" and some clapping hand emojis. In Touch Weekly reported that fellow 90 Day Fiancé Happily Ever After? alum Anfisa Nava commented on Larissa's Instagram post, "GOOD FOR YOU! You'll be a millionaire in no time."
On the day after she got fired (which she hadn't announced at that time), Larissa posted, "September 30th you will be able to see everything about my life on my YouTube channel. I will be talking about my children in Brazil, as well as my arrests." She also said, "I want to apologize to all of you for the delay in my answering questions. These are personal and delicate topics which I have to be sure I share with necessary sensibility." Larissa concluded, "I am excited for you all to get to know me better," which may include more CamSoda appearances considering the success of her first lingerie show.
Even though Larissa's 90 Day Fiancé tenure has come to a close, she has plenty of side gigs to earn money and a reported $72,000 worth of cosmetic enhancements to share with the world.