Raj From The Big Bang Theory Is Gorgeous In Real Life
Young Sheldon creators should make way for a new Big Bang Theory spinoff: Hot Raj! British-born Indian actor Kunal Nayyar studied at the prestigious Royal Shakespeare Company before landing the breakthrough role of Raj Koothrappali in 2007, one year after graduating, per IMDb. "Breakthrough" may be an understatement since, according to The Hollywood Reporter, he embodied the socially anxious astrophysicist character for 12 years and 12 seasons before the beloved mega-hit CBS sitcom wrapped in 2019. 
By then, the powerhouse show had amassed 55 — yes, 55 — Emmy nominations (10 wins) and seven Golden Globe noms. In addition, the five principal cast members, also including Jim Parsons and Kaley Cuoco, had become stars with hefty paychecks. Nayyar — whose character brought a "poetic outlook to life, work, and dating," as ScreenRant wrote, often mining his traditional Indian background and romantic stumbles for comedic gold — was no different.
Nayyar was one of the four biggest earners on Forbes' list of the highest-paid TV actors of 2018, making $23.5 million that season. Big Bang, more like big bank account! In 2017, Variety reported that the five original cast members, Nayyar included, agreed to a $100,000 pay cut in order to help costars Melissa Rauch and Mayim Bialik earn more. How nice! It's no secret the cast earned a lot, but wow. 
But off-screen, Nayyar looks quite different in real life than his socially awkward, sideburn-toting character would lead you to believe. Scroll down to see what the wealthy TV star really looks like. 
Kunal Nayyar doesn't 'miss playing the character' of Raj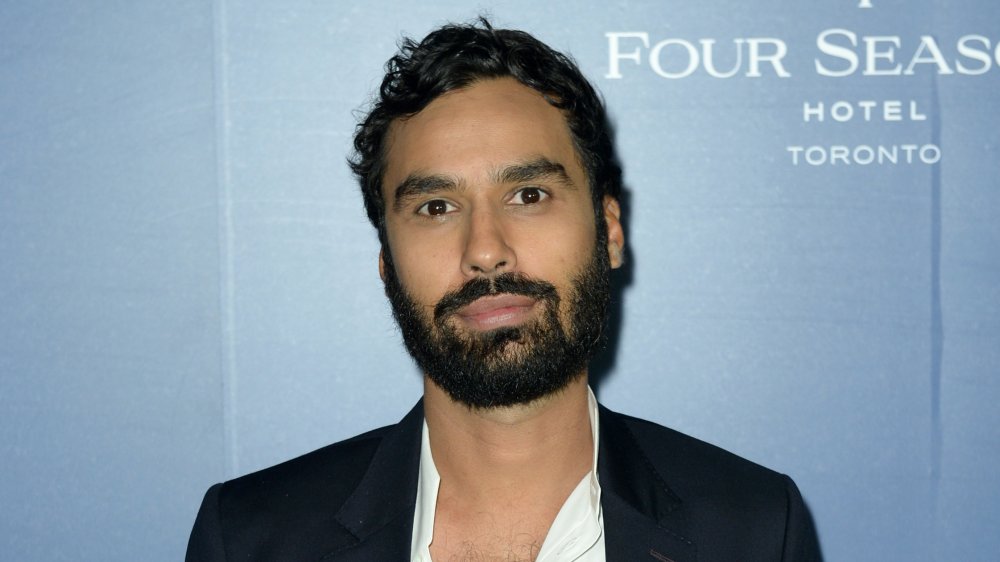 Andrew Toth/Getty Images
Bazinga indeed! Without the dated sideburns, severely parted hairstyle, and sweater vests, Kunal Nayyar is looking pretty dapper. In fact, he's almost embodying the '90s rom-com trope of the nerd taking off their glasses and... voila! Right? On Oct. 1, 2020, Nayyar — who's gone on to appear on the Netflix U.K. show Criminal and voice a character in the Trolls franchise — told Metro U.K. that he does not miss Raj either. "I probably don't miss playing the character that much anymore," he said. "You know what I mean? I did so much of it and got it out of my system."
That being said, Nayyar did tell the outlet he misses "being in front of the audience," and even more so, the cast. "Every day on that set was being at home... It's not just [that] I miss the actors," he told Metro U.K.. "I miss all of the crew, I miss all of the writers, I miss it. It was such a happy place, always so happy!" Aw! The star also said he was excited to appear in Criminal because it was such a different role. "I wanted to make sure that whatever I did next was like, 'Wait, who is this? Oh my God. Is that the guy from The Big Bang?!'" 
Clearly, Nayyar is trying to prevent a career of only Big Bang Theory associations. And based on the looks department, he's doing a good job!