What Trump's Return To The White House Will Really Be Like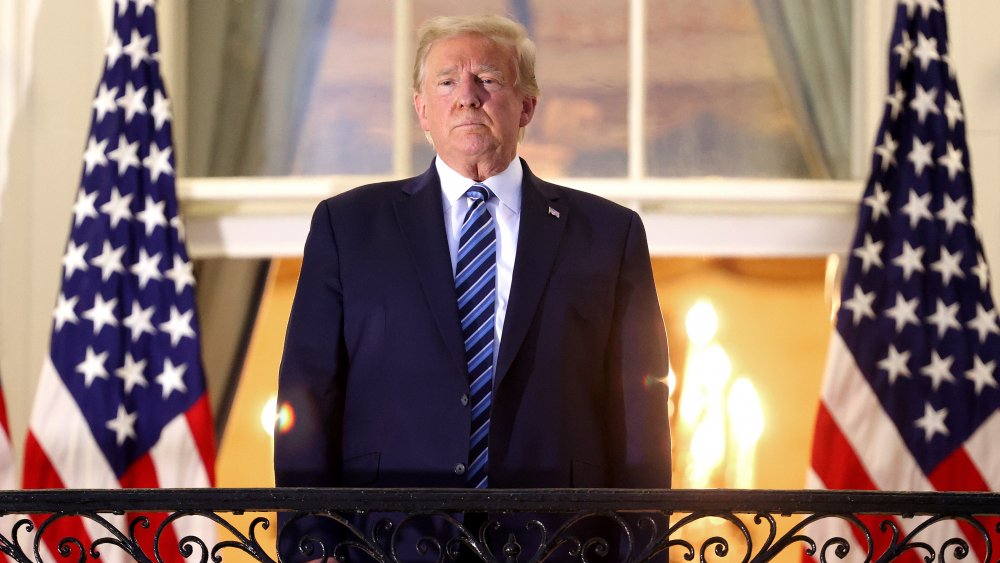 Win Mcnamee/Getty Images
During the presidential debate that shook the nation for its sheer absurdity, President Donald Trump commented on his mask-wearing habits during the pandemic, as well as those of his political adversary, former vice president Joe Biden. "I put a mask on, you know, when I think I need it," Trump said, per CNN. "I don't wear masks like [Joe Biden]. Every time you see him, he's got a mask. He could be speaking 200 feet away from them and he shows up with the biggest mask I've ever seen." 
But then, about three days later, Trump announced on Twitter that he and First Lady Melania Trump tested positive for COVID-19. At the time, the outlook seemed bleak, considering Trump carried many of the risk factors for coming down with complications due to the virus, like his advanced age — the president turned 74 on June 14, 2020 — and his weight. As the election nears, anxiety about Trump's health and the future of his campaign were already at an all-time high after his revelation, but once Trump was taken to Walter Reed National Military Medical Center less than 24 hours after sharing his test results, his fate remained up in the air — literally. 
After his 72-hour hospitalization, Trump was discharged from the facility on Oct. 5, 2020 and has since returned to the White House, per CNN. But the virus's presence will likely change day-to-day operations. Here's what Trump's return to the White House will really be like under these new circumstances.
Will Donald Trump return to the West Wing?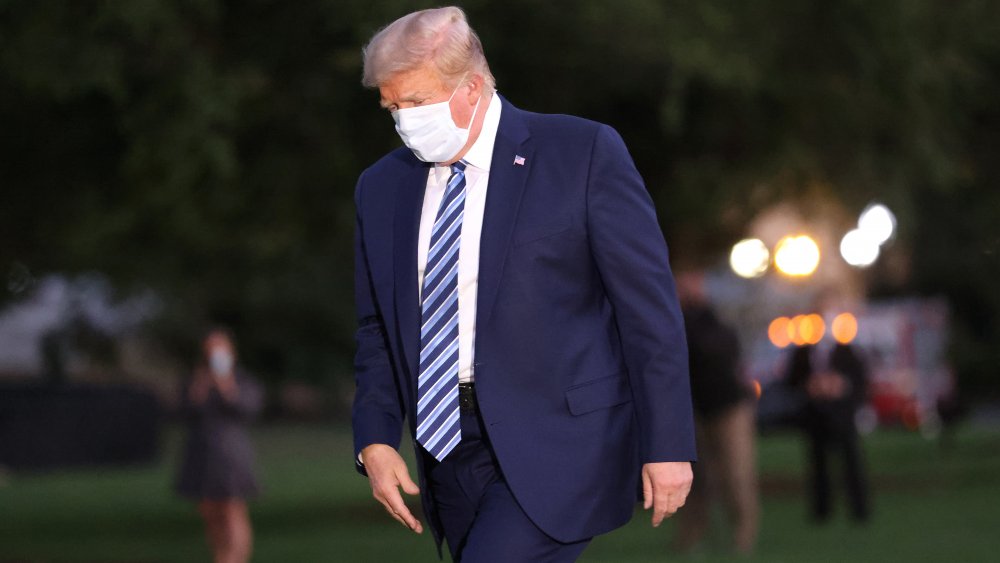 Win Mcnamee/Getty Images
One of President Donald Trump's first actions when he returned to the White House right before 7 p.m. EST on Oct. 5, 202 was to take off his mask and wave to the public, according to USA Today, suggesting his behaviors might not change as drastically as some expected (or hoped). "Don't be afraid of Covid. Don't let it dominate your life," Trump tweeted hours before his release. He also might be on the campaign trail sooner that expected, as Trump tweeted that he "will be back on the campaign trail soon" shortly after returning to the White House.
However, with other administration officials, such as press secretary Kayleigh McEnany, being diagnosed with the virus, as well, it's unclear whether or not they will be sealing the president off from certain areas in the White House. White House physician Sean Conley said that, while Trump "may not entirely be out of the woods yet," he and his team "support the president's safe return home." Conley didn't say whether the president would be limited to his residence in the White House or allowed into the Oval Office, but said he would do "whatever it takes" to allow him to work from wherever he wants. Meanwhile, more than a dozen people close to Trump have tested positive for COVID-19, according to CNN. And, as Trump continues to flout CDC guidelines, it remains to be seen if any other White House officials and staff members will contract the virus, too.