Why Blackpink's Lovesick Girls Music Video Is Causing A Stir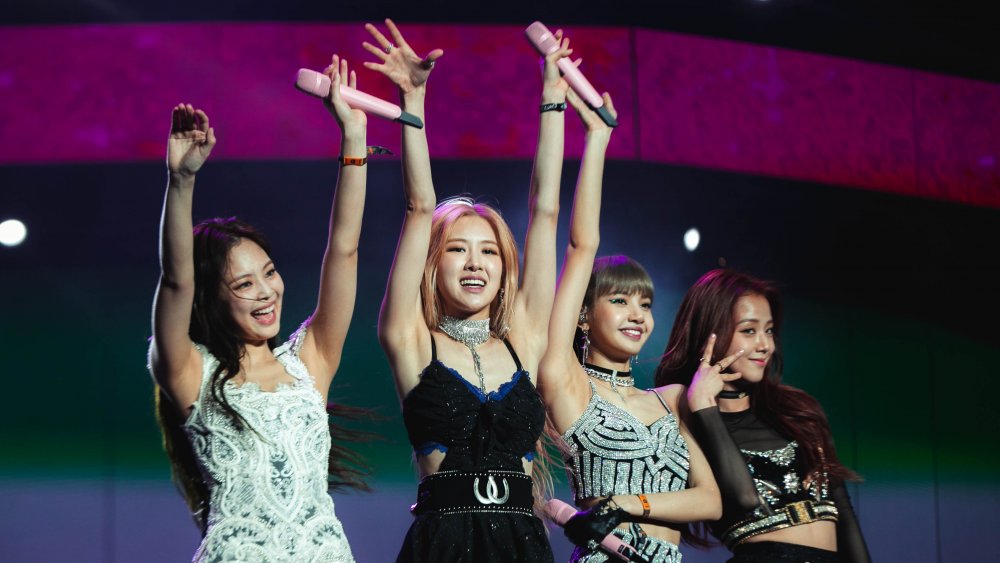 Natt Lim/Getty Images
When Blackpink drops a video, K-Pop stans pay attention. Case in point: in August 2020, Blackpink released a video for their collaboration with Selena Gomez, "Ice Cream," which racked up over 79 million views in 24 hours. The over the top music video — a trademark of the K-Pop industry — featured Jennie, Rosé, Jisoo, and Lisa playing with human-sized ice cream cones and involved dozens of outfit changes.
Blackpink fans (Blinks, for short) were just as excited about the group's video for "Lovesick Girls." The catchy song is about, well, lovesick girls (shocking, right?), and the video, which only took 53 minutes to "hit 10 million views on YouTube," per Soompi, has everything fans have come to expect from Blackpink. That includes high-quality cinematography, immaculate outfits, and intricately choreographed dances.
You would think the success of the video and the release of their first full-length album would be cause to celebrate, but Blackpink found themselves caught up in a scandal involving the "Lovesick Girls" music video that definitely dampened the mood. Read on to find out what everyone was so upset about and why Blackpink's team had to publicly apologize.
Fans had a problem with Jennie's nurse uniform
Following a public outcry about a scene in "Lovesick Girls," Blackpink found themselves in hot water with their Korean fan base. The scene in question (pictured above) involved Jennie dressed as a nurse, wearing a short white dress, a cap, and high heels — basically, it's the kind of costume you might wear to a Halloween party. And while it may seem pretty tame by U.S. standards, the group's Korean fans were reportedly scandalized. "The cap, tight and short skirt, and high heels are completely different from an actual nurse uniform," the Korean Health and Medical Workers Unions said in response to the video while calling the look a "stereotype" (via Soompi).
Folding under pressure, the group's reps at YG Entertainment addressed the controversy. "We have ultimately decided to delete all scenes involving the nurse outfit in BLACKPINK's 'Lovesick Girls' [music video], and we plan on replacing the [music video] with the edited version as soon as possible," the statement read, per Allkpop. "We would like to deeply apologize to nurses who felt discomfort from this issue. And once again, we deliver our sincerest feelings of respect toward all healthcare workers devoting themselves to the wellbeing of our nation."
Rosé, Jennie, Jisoo, and Lisa did not publicly address the controversy, preferring to let the label handle the issue instead. Though YG promised to remove the offending scene, they have yet to do so as of this writing (and two days after the original release).