Inside Alex Trebek And Sean Connery's Relationship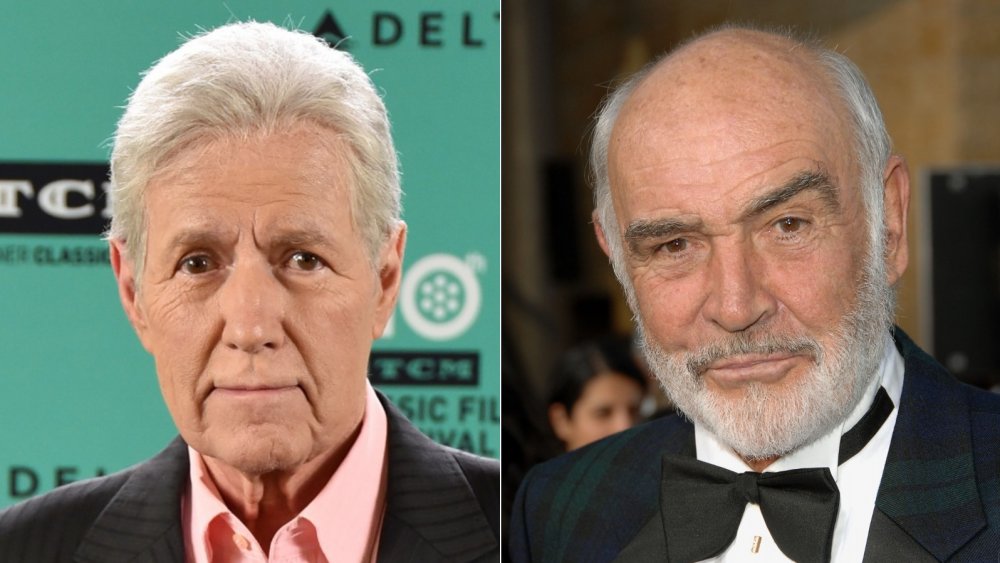 Presley Ann, Stephen Shugerman/Getty Images
What a tough time for Hollywood: Two big-name celebrities passed away within a short period. First, actor Sean Connery's death was announced on Oct. 31, 2020. A little over a week later, Jeopardy host Alex Trebek died on Nov. 8, 2020. They may have a 10-year age gap between them (Connery was 90, as Trebek was 80), but they both earned legend status from their days spent in front of the screen.
While Connery may be best known for playing James Bond in various franchise films, he also was well-remembered for his portrayal on Saturday Night Live's popular Celebrity Jeopardy sketch — and that's where the Trebek connection comes into all of this. To be clear, an impersonator of Connery appeared on the comedy show; specifically, Darrell Hammond played Connery, while Will Ferrell played Trebek. (Following Connery's passing, Hammond tweeted, "Sorry to hear of the passing of #SeanConnery, my condolences to his family. Always loved doing my silly impressions of him, RIP.")
The skit brought in laughs time and time again. But how did Trebek feel about the spoof? And did he and Connery know each other, beyond this link of their personas being (lovingly) mocked on SNL? Let's take a look.
Alex Trebek considered 'SNL's 'Jeopardy' spoofs to be 'a good thing'
Back in 2017, Alex Trebek opened up about his feelings regarding Saturday Night Live's sketch spoofing his mega-successful game show. Trebek told the New York Post, "It doesn't bother me. If they're spoofing you, poking fun at you or mentioning you it's because you're part of American pop culture, and that's a good thing, I think." That's a great way of looking at it!
So, what about Sean Connery and Trebek's real-life connection? Apparently the two never got the chance to cross paths. According to a fan-filmed video uploaded to YouTube by Keith Parsons in 2016, Trebek admitted, "I have never met Sean Connery," but he was very familiar with their banter-filled SNL portrayal. Trebek then joked if he ever did get to meet Connery, he would "punch his lights out." The crowd erupted in laughter, clearly signifying he was kidding.
While the loss of these two famous figures left a big hole in Hollywood, at least fans can revisit their "feud" on SNL and let laughter make the situation sting a little less.