Alex Trebek's Favorite Animal Probably Wasn't What You'd Expect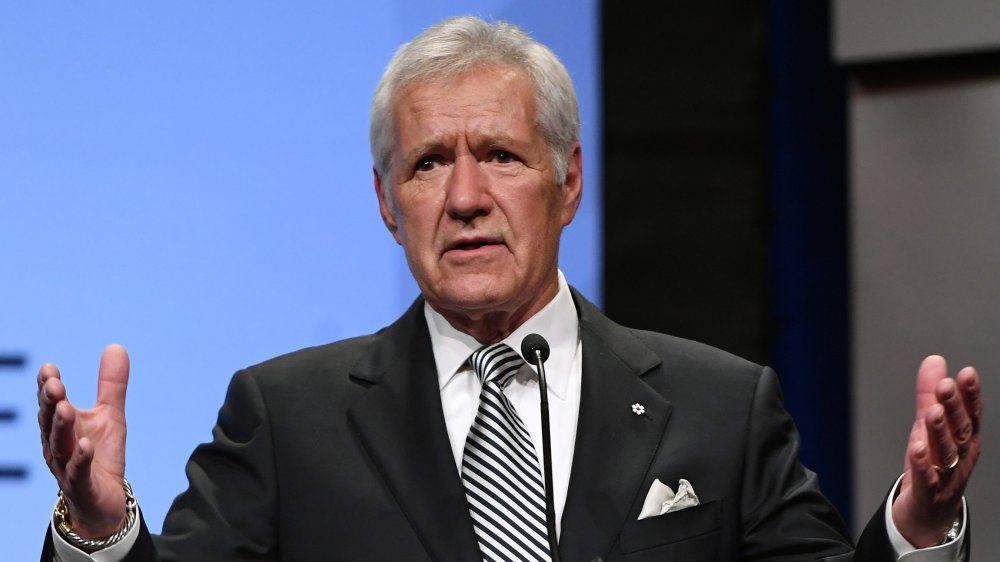 Ethan Miller/Getty Images
When NPR asked Jeopardy's host the very meta question of "Who is Alex Trebek?" in July 2020, the quick-witted Trebek responded, "He's the avuncular host of a popular quiz show who has been around, it seems, forever." The show really did go on for so long — 36 years, to be exact. But sadly, news broke on Nov. 8, 2020 that Trebek passed away at age 80, following his battle with stage 4 pancreatic cancer.
Following Trebek's death, fans are more curious than ever about his life, ranging from wondering about his net worth to revisiting his famous friendships. Another worthwhile fun fact is his favorite animal. According to CNN, Trebek wasn't your typical dog or cat guy; his answer was, instead, as wonderfully wise as you'd expect. But no, it's not an answer you can easily guess. Per the outlet, "Trebek's favorite animal was the musk ox, a hoofed wooly mammal native to the Arctic."
In a 2015 post on the Jeopardy website, Trebek's favorite animal was explored in depth. The site noted, "If you've never heard of the musk ox, don't be ashamed. Native to the Arctic, musk oxen were at one time an endangered species. Formerly hunted for their meat and qiviut – the finest wool in the world, according to The Musk Ox Farm – the remaining musk oxen of the world live on preserves in Alaska, Norway and Siberia."
As for why Trebek loved the musk ox so musk — oops, we mean much — let's take a closer look.
Alex Trebek's favorite animal has inspired him to give back
Just because this fact is so gloriously random, it bears repeating: Alex Trebek's favorite animal was the musk ox. And in a 2015 interview on the Jeopardy website, the TV host explained why that animal tugs at his heart strings, saying, "Musk oxen are family oriented, and I like that." Oh, and there's another lighthearted detail he appreciated: "Besides that, I like the way their furry coats wave in the breeze when they are running."
Not only are musk oxen family-oriented like Trebek himself, but the animal inspired him to give back. Per the same blog post, Trebek was deemed the "Herd Godfather," due to his activism work with the Musk Ox Farm in Alaska. The organization's executive director, Mark Austin, said that both Trebek and his wife Jean Currivan Trebek have given generously over the years. "The most common membership level is the adoption of one of our musk oxen. For every adoption, and there have been many over the years, Mr. Trebek has kindly and personally signed each and every adoption certificate," Austin explained.
In July 2020, a young musk ox at Point Defiance Zoo & Aquarium in Tacoma, Wash. was named after Trebek. Jeopardy's YouTube page shared a heartwarming clip (above) of the namesake musk ox, who apparently "head-butts rocks" and "loves galloping around the grassy hillsides of his habitats." Hopefully the video of this spunky musk ox brings Trebek's fans some levity in this tough time.