Amanza Smith Has A Theory About Those Chrishell Stause Rumors
Jason Laveris/Getty Images
Chrishell Stause was excited to dance her way into the next chapter of life when she joined the cast of Dancing With the Stars for its 29th season. "I'm hoping this will be a new chapter, something positive," she told Entertainment Tonight. "An experience I can kinda throw myself into and just kind of learn a new skill and have fun at the same time." As she prepared for the ballroom, the Selling Sunset star was coming out of a sudden and shocking divorce from her husband of two years, Justin Hartley.
In another surprising turn of events, Chrishell and her pro partner Gleb Savchenko were eliminated from the dance competition after wowing the judges for eight weeks. Reflecting on the personal growth of her time on the show, Chrishell told ET, "I feel like this show has been very therapeutic. We worked through so many things through this."
Unfortunately, the therapeutic nature of Dancing With the Stars may have run its course for Chrishell, as she has found herself in the middle of new marriage troubles. Shortly after their elimination, Gleb Savchenko announced his divorce from his wife of 14 years, which immediately put Chrishell and Gleb in the middle of infidelity rumors, as reported by Cosmopolitan. While this would not be the first time a pairing from DWTS has dated, Chrishell has taken to Instagram twice to deny these rumors.
Now, Chrishell's friend and Selling Sunset co-star Amanza Smith is coming to her defense, and she has a theory about those rumors.
Amanza Smith says the Chrishell Stause rumors are suspicious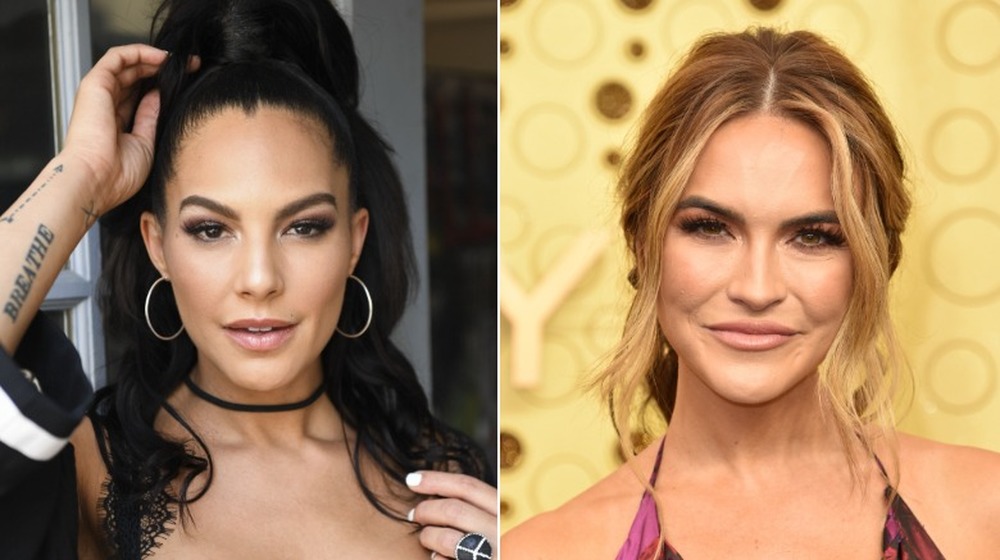 Michael Bezjian, John Shearer/Getty Images
Watching a friend go through a divorce and then become the center of infidelity rumors is never easy, especially when it has the world talking. Chrishell Stause's Selling Sunset co-star Amanza Smith wanted to support her pal during an interview on FUBAR Radio (per US Weekly) and opened up about the ordeal. 
"Poor Chrishell," the interior designer started. "She was like, 'I went through a very public divorce.' Like, the last thing she would ever do is add to somebody's infidelity if that's what was going on.' But that's just how it goes when you are in the spotlight, but I think she's pretty pissed off about it." Amanza then took the liberty to share her theory about all the drama. "It sounds like maybe the wife is using this as, like, a cheap PR stunt." PR stunt or not, the drama has certainly garnered a lot of unwanted attention.
Amanza is not the first to come to Chrishell's defense. Professional dancer Cheryl Burke also took the time to publicly criticize the rumors. "Just because they dry hump on TV guys doesn't mean it's real," Burke said on her Pretty Messed Up podcast (per Entertainment Tonight). But there's a reason why people need to come to Chrishell's defense in the first place, which is why Smith is calling it a "PR stunt" by Gleb Savchenko's wife. Keep reading to learn how Chrishell became the center of these rumors.
This is how the Chrishell Stause rumors started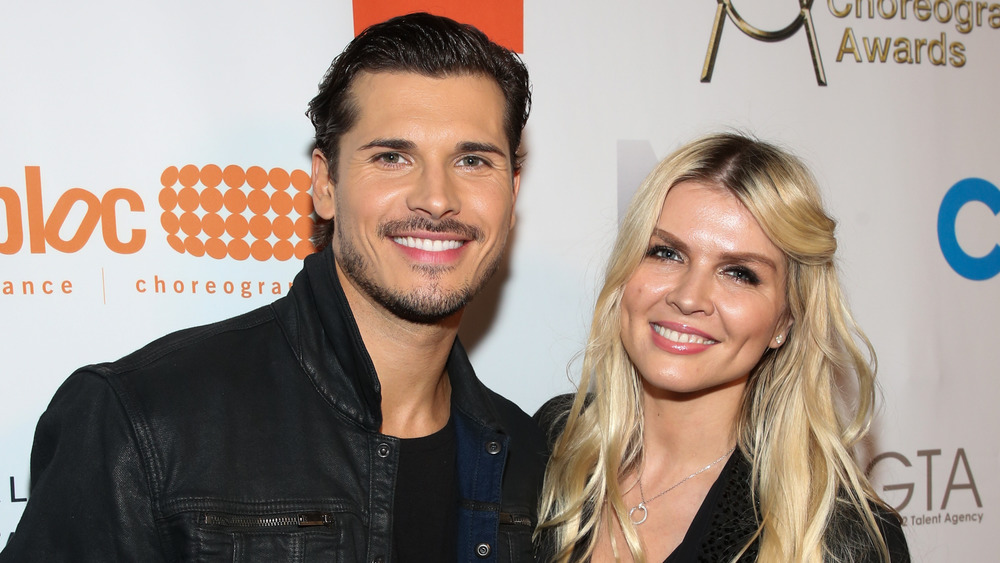 Paul Archuleta/Getty Images
While it seems like rumors in Tinseltown appear from thin air, there is actually a clear explanation for why people ran with the idea that Chrishell Stause and Gleb Savchenko were having an affair. Gleb's soon-to-be-ex-wife Elena Samodanova did not hold anything back in a statement to People regarding her divorce.
"After 14 years of marriage, and multiple affairs, I've decided enough is enough. Gleb and I have created a family and multiple businesses together. But apparently, it just wasn't enough to keep our marriage strong," she said. "Gleb's ongoing infidelity and a recent inappropriate relationship has created turmoil in our marriage and absolutely torn our family apart." 
Meanwhile, Gleb has vehemently denied these accusations. "While I will continue to respect the privacy of my family, I will not stand by and allow false accusations and internet rumors go unaddressed. My relationship with Chrishell was and remains strictly platonic," he said in a statement from his rep (per People). He continued on to say he and his ex have had "longstanding issues" and the split was simply timed poorly. 
There is clear frustration from all parties involved, and Chrishell would like to be left out of the narrative. On her Instagram story, she wrote that she and Gleb simply have a "strong supportive relationship" (per Entertainment Tonight) and that she wishes "nothing but the best for both Gleb and Elena during this unfortunate time."