The Internet Erupts After Witnessing Taraji P Henson's AMAs Dance Moves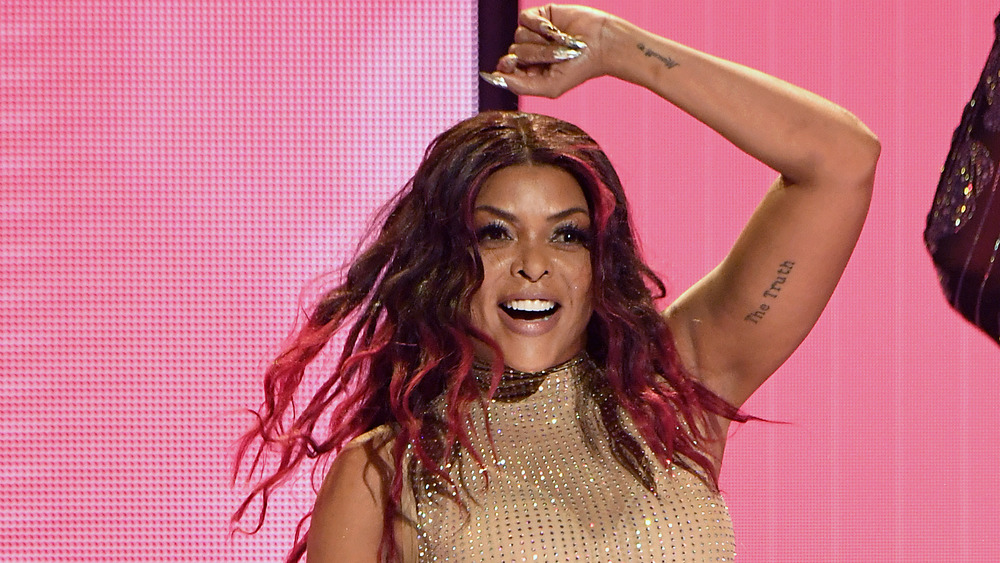 Kevin Mazur/Getty Images
Now that's how you make an entrance! Taraji P. Henson kicked off the 2020 American Music Awards in style, shaking us all from our Sunday evening slumber and general unease with an amazingly committed dance sequence. And the internet is erupting over the host's "savage" moves.
Henson — best known for her iconic role as Cookie Lyon on TV's Empire or in 2016's Hidden Figures — brought the energy right out of the gate for a star-studded evening that included high-octane performances from an even-more-bandaged The Weeknd (featuring saxophonist extraordinaire Kenny G.), Billie Eilish, and much more. But few people were probably expecting a performance from Henson!
The actress ascended the stage sporting flowing, dyed-red tips and wearing a white top, which she discarded to reveal a glittering body suit (via Entertainment Tonight). She danced to a medley that included Prince, Cardi B's "WAP (featuring Megan Thee Stallion)" and another Megan Thee Stallion smash, "Savage." Gyrating alongside a fleet of backup dancers like there was no tomorrow, Henson truly got viewers going. 
After her medley, Henson broke into a charismatic hosting monologue that perfectly intro'd the show. Los Angeles' Microsoft Theater may have been nearly empty for the socially-distanced live event, but Henson certainly filled the room. Her spirited, carefree, TikTok-ready performance was exactly what we needed, and the internet clearly feels the same way. Scroll down to see how people online are reacting to actress (and budding professional dancer) Taraji P. Henson's 2020 AMA's dance sequence. 
Taraji P Henson jolted the internet awake with her moves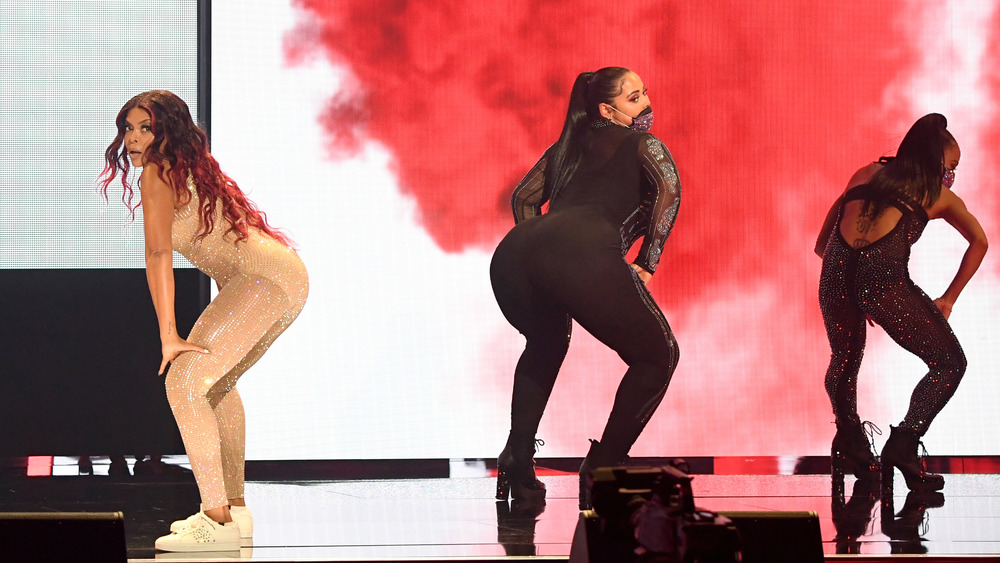 Kevin Mazur/Getty Images
How did the internet feel about Taraji P. Henson's 2020 American Music Awards entrance medley? It seems people were simply loving witnessing the actress break it down. 
"Taraji Henson was on fire with that opening," one Twitter user gushed. "Imagine if Cardi B and Taraji P. Henson made a movie together? Twin spirits right there," wrote another. "Ok Taraji P. Henson with the dance moves!!! she kicks off the show with some fun tributes to Black artists (Prince, Jay-Z, Megan Thee Stallion) and some jokes with the cardboard cutout celebs in the audience," wrote a third. 
Imagine if Cardi B and Taraji P. Henson made a movie together? Twin spirits right therepic.twitter.com/gJYD1MOu1I

— bri 🥂 (@DearBelcalis) November 23, 2020
Meanwhile, a select few were slightly critical of the actress' full-fledged intro. "Y'all, they REALLY let Taraji P. Henson "dance (?)" to a crowd of literally no one!" one Twitter user quipped. But that sort of talk was quickly quashed. "Not yall tryna slander taraji penda henson for doing the wap dance," another user posted. Truly, it felt like if you couldn't enjoy the Hidden Figures star tearing up the stage then that's on you.
"We just hope to make 2020 a little brighter with our show tonight!" the award show tweeted. "The AMAs brings together the music community to celebrate what really drives all artists — the fans," Henson said in an earlier statement (per Entertainment Tonight). Henson's moves really felt like the embodiment of that: just something fun for the fans!