The Real Meaning Behind Justin Bieber's Rose Neck Tattoo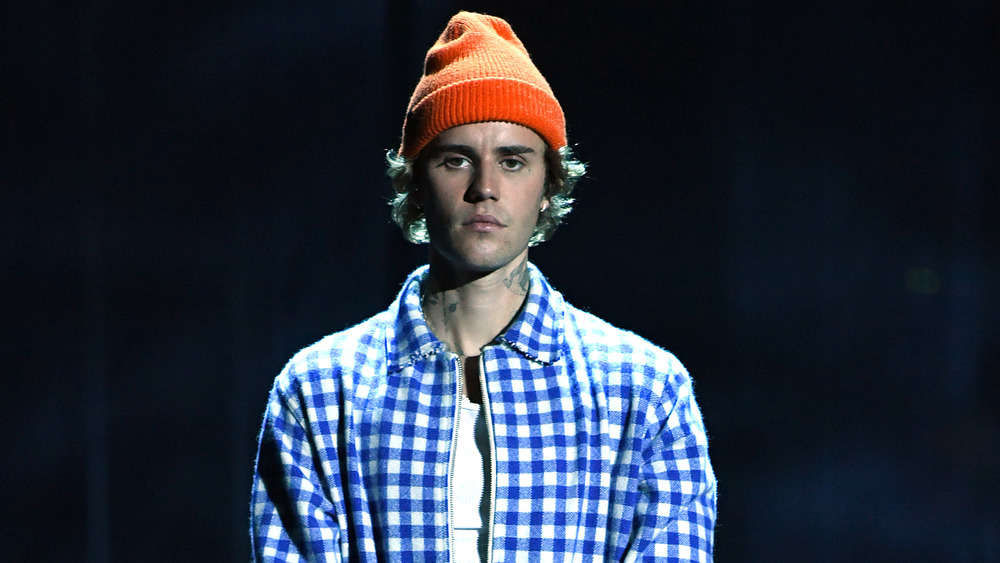 Kevin Mazur/ama2020/Getty Images
The only thing more extensive than Justin Bieber's musical catalog is his love for tattoos. Starting his ink journey at just 16 years old, per J-14 Magazine, the "Yummy" crooner has accumulated over 60 tattoos all over his body in over a decade, covering his arms, legs, and chest. Unlike the average tattoo needle-happy young adult who may get some ink just for the aesthetic, Biebs' tattoos all have different meanings. For instance, the bleeding globe tattoo on Bieber's forearm came from one of his drawings when he was eight years old. The tattooed letter 'G' on his arm is a tribute to his friend Chad Veach's daughter, Georgia, who suffers from a brain disorder called Lissencephaly, per Bieber's Instagram post. He's not the only one with the same inked letter on his arm; per J-14 Magazine, the singer's ex Selena Gomez, wife Hailey Bieber, and actress Ashley Benson all have the same tattoo for Georgia.
His latest addition to his tattoo collection, as of this writing, has been turning a few heads. The pop star debuted his rose neck tattoo on his Instagram story with a photo tagging the famed tattoo artist, Doctor Woo, and also shared a video of the process in September 2020. While fans may have come to their own conclusion about the meaning of the tattoo, Biebs' made it clear what the real meaning of the tattoo is.
Justin Bieber's rose neck tattoo is a representation of his life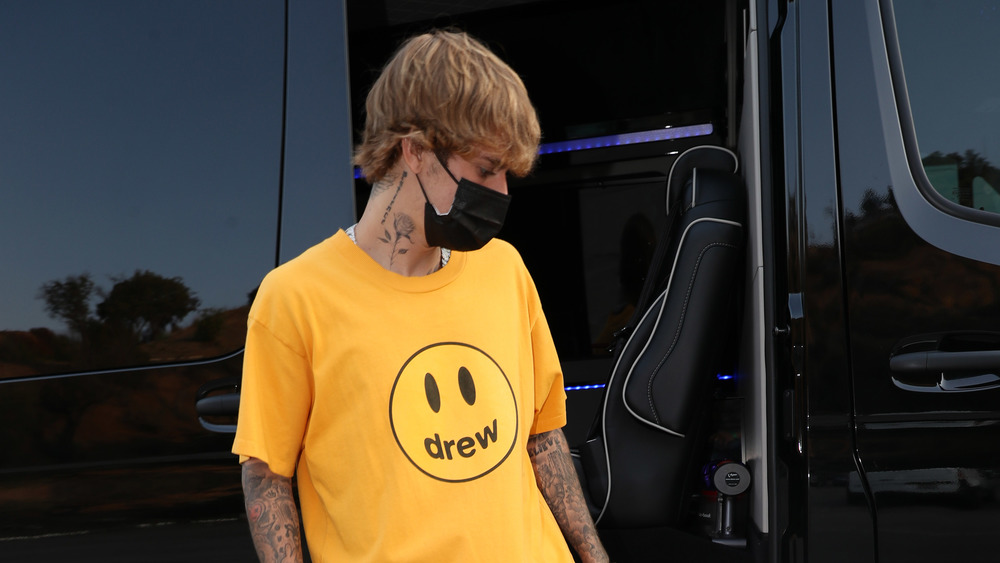 Alfredo Flores/Getty Images
When Justin Bieber debuted the thorny rose tattoo on his neck in October 2020, Beliebers already had their own ideas about the meaning. His hawk-eyed fans took to social media to suggest that the "Holy" singer had an "S" subtly inked inside of the rose in tribute to his ex Selena Gomez. Under the Instagram post, fans shared their hope that Jelena would be a thing once more. One fan wrote, "S for @selenagomez." Others weren't convinced. Another fan wrote, "It's just a rose y'all calm down."
We hate to break it to Jelena hopefuls, but Bieber's rose neck tattoo is not about Gomez. In his YouTube special Justin Bieber: Next Chapter, he shared the meaning of the impromptu tat. "I think the thorns symbolize the rough spots in my life. The flower is such a representation of beauty." Bieber also mentioned that the piece may be his last neck tattoo. "I think I'm done on my neck. That's a Hailey request."
Although he's done with the ink on his neck, Bieber plans to save the open space on his back for something special. Bieber told Ellen DeGeneres that he plans to get portraits of his children's faces on his back — someday. According to the "Lonely" singer, he's following his wife's timing and plans for having children. On a Dec. 1, 2020 episode of The Ellen DeGeneres Show, Bieber said, "It's [Hailey's] body and what she wants to do."