Clare Crawley Clears The Air About 'Husband' Rumors With Dale Moss
Clare Crawley and Dale Moss found love on The Bachelorette in 2020 in what could only be described as the most dramatic unprecedented season ever. The couple got engaged after only two weeks of filming with Clare saying she felt like she had "met her husband" minutes after meeting Dale. Though Clare's decision caused quite a stir, the pair seem happier than ever. During a post-Bachelorette interview with host Chris Harrison, Clare gushed about her fiancé and revealed how deeply she feels for him. "How he makes me feel is literally, like, sunbeams out of my heart, like, into the world," she said (via E!). "And I know that sounds so stupid, but I just feel it to my core. And whether it took one day or 10 days or two weeks or two years, this man makes me happy."
The two are so serious that Bachelor Nation thinks they went ahead and eloped in secret. The speculation really reached new heights after Clare referred to Dale as her "husband" on social media. Keep scrolling to find see what she had to say about the marriage rumors.
No, Clare Crawley and Dale Moss did not tie the knot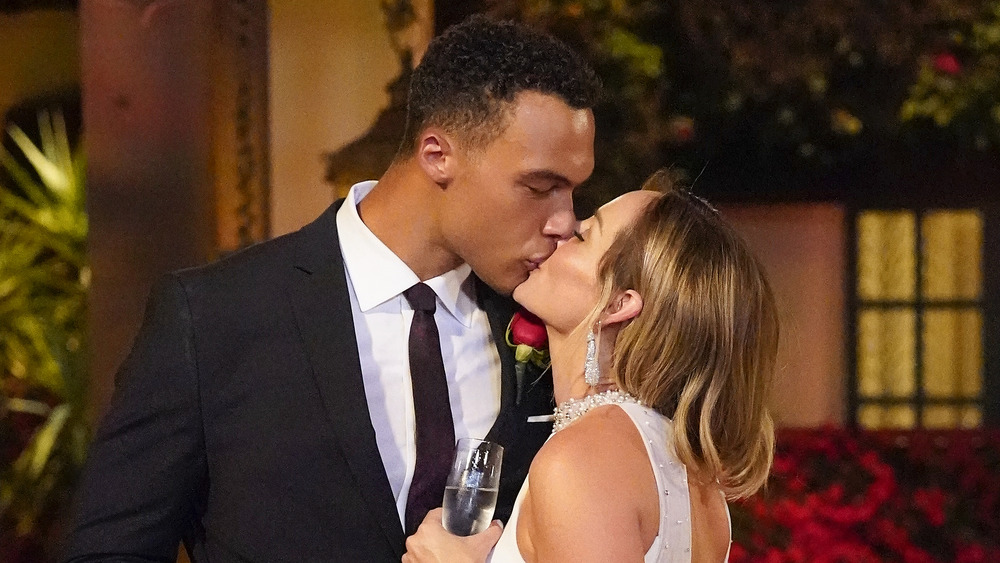 Craig Sjodin/ABC
Clare Crawley had everyone questioning her relationship status after she called Dale Moss her "husband" — not her fiancé — in a video posted to her Instagram Story Dec. 10, 2020. "Nothing makes me happier than grocery shopping with my husband," she teased (via Us Weekly). However, the former Bachelorette star quickly backtracked and clarified that she and Dale have not walked down the aisle... at least not yet. "Slip of the tongue!" she said in a follow-up post. "We aren't married!"
Even though Clare and Dale haven't said "I do" yet, the bride-to-be has big wedding plans. "My vision is to, because I've never been a fan of big weddings, but I really want to go, like, island hop to different countries," Clare said during an episode of The Bachelor Happy Hour podcast in November 2020. "Different like tropical places, have a couple different just me-and-him ceremonies, and come back and have just a huge beautiful party with everybody."
Still, fans are not exactly convinced since Dale has been spotted wearing a ring on a very specific finger.