What Really Started Bella Thorne's Feud With Whoopi Goldberg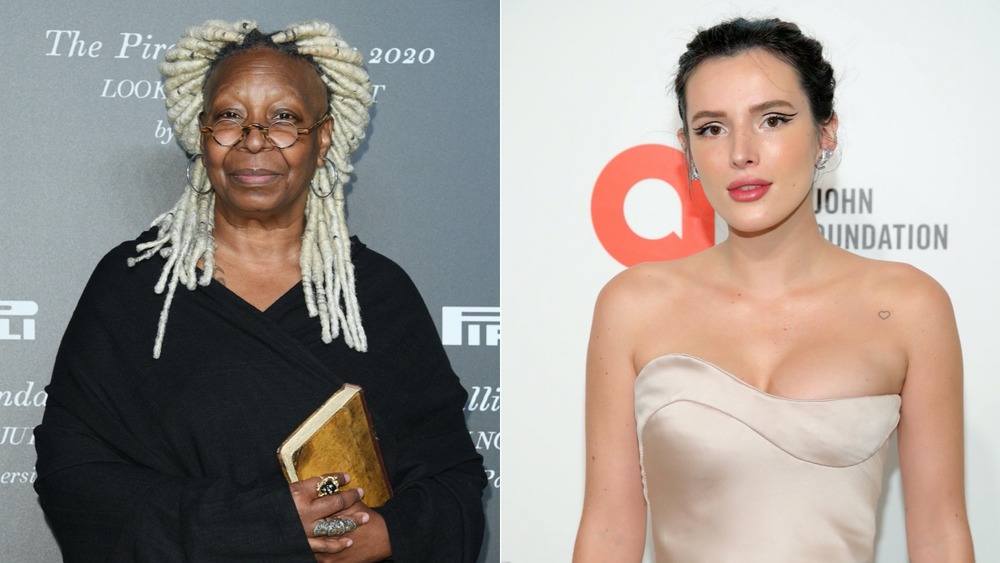 Daniele Venturelli, Jemal Countess/Getty Images
No matter how famous or rich someone is, it doesn't make them exempt from disagreements and making a few enemies along the way. We've witnessed some pretty interesting celebrity beefs in the past — like Daniel Tosh's open claim that Rob Dyrdek ripped off his show, Dionne Warwick's Twitter clapback at Wendy Williams, and even baby-faced actress Skai Jackson's serious beef with internet sensation-turned-rapper Bhad Bhabie. Fortunately for these disputing pairs, no feud is weirder than Bella Thorne and Whoopi Goldberg. The reason for the two performers' distaste for one another is even more surprising: nude pics.
In June 2019, Thorne leaked her own nudes via Twitter after a hacker allegedly threatened to leak topless photos of her, per Metro UK. The Disney alum says she leaked her own photos in an effort to "take the power back" from the hacker. "For the last 24 hours I have been threatened with my own nudes I feel gross, I feel watched, I feel someone has taken something from me that I only wanted one special person to see," Thorne wrote. "For too long I let a man take advantage of me over and over and I'm f***ing sick of it, I'm putting this out because it's MY DECISION NOW U DON'T GET TO TAKE YET ANOTHER THING FROM ME." 
While some of Thorne's fans applauded the bold act, Goldberg wasn't feeling it. Read on to find out how Goldberg's comments started a rift between her and Bella Thorne.
Whoopi Goldberg slammed Bella Thorne for posting her own nudes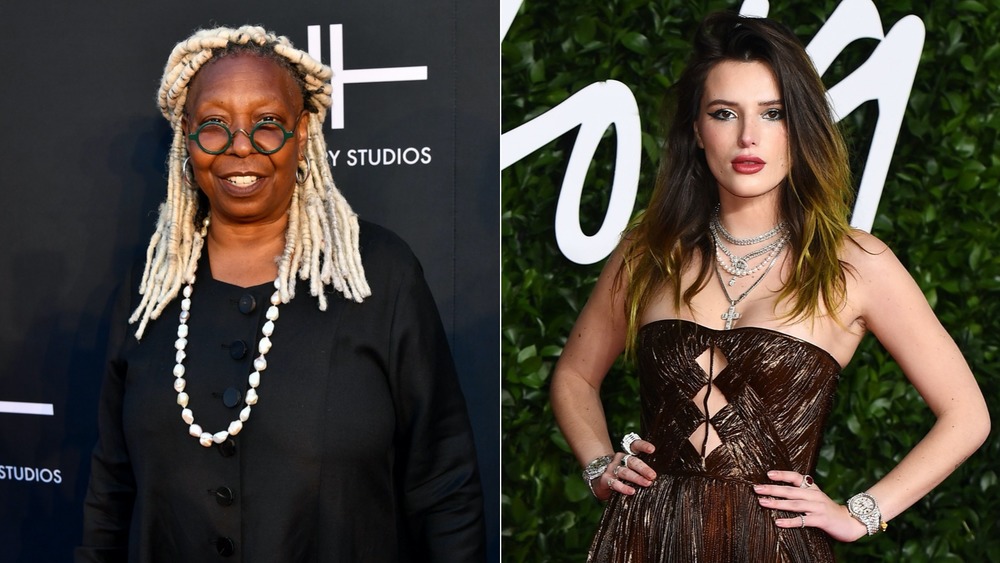 Paras Griffin, Jeff Spicer/bfc/Getty Images
Criticism is subjective, and one could see Whoopi Goldberg's comments about Bella Thorne's nude pics as not so "sisterly." Amid the subject matter being discussed on a June 2019 episode of The View, Goldberg offered the Famous In Love star a simple piece of advice: "If you're famous, I don't care how old you are. You don't take nude photos of yourself." The Color Purple star further explained, "When they're hacking you, they're hacking all of your stuff. So whether it's one picture or a million pictures, once you take that picture, it goes into the cloud and it's available to any hacker who wants it."
Viewers took to social media to support Goldberg, suggesting that The View co-host's comments were justified. "Celebrities over the last few years have been getting hacked. Personal info leaked, nudes, and some more," one user tweeted. "So please tell me whats wrong with saying as a celebrity you know you are a target and should not store private info that goes to a cloud thats not secure?"
Unfortunately, Thorne did not have the same reaction to Goldberg's remarks. The Duff star took to Instagram to address the criticisms in a series of now-deleted posts. Thorne wrote (via Us Weekly), "Blaming girls for taking the photo in the first place? Is sick and honestly disgusting." She said in a teary-eyed video on the matter: "Shame on you, Whoopi." Zendaya, Lucy Hale, and other celebs backed Thorne up.