What Brandi Glanville Had To Say About LeAnn Rimes Being On The Masked Singer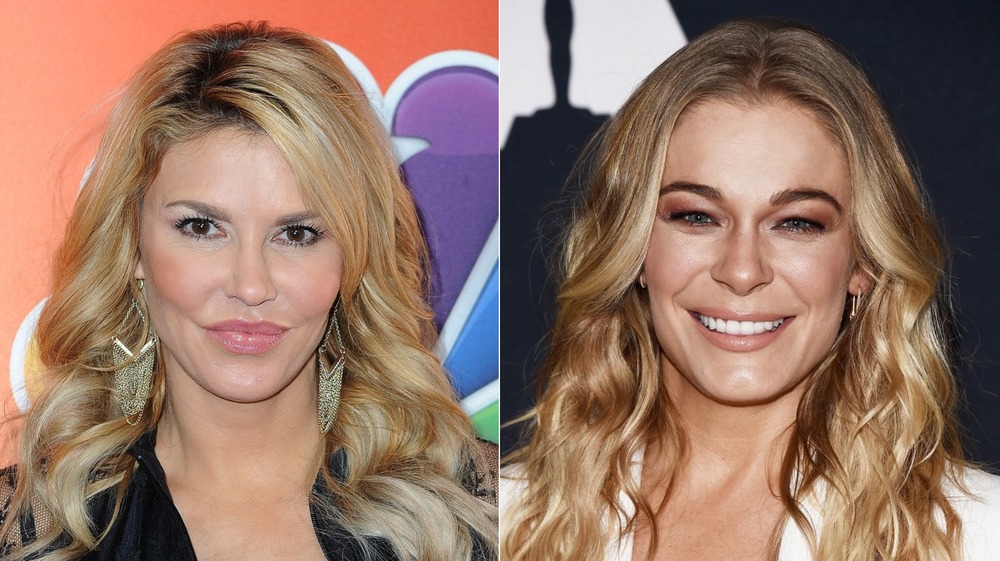 Angela Weiss, Amanda Edwards/Getty Images
The Masked Singer gave out its Golden Mask trophy to LeAnn Rimes, who was unmasked as the Sun during the Dec. 16, 2020, Season 4 finale episode. Rimes beat out Mushroom, who came in second place, and Crocodile, who placed third, for the honor. (The other two singers were revealed to be Aloe Blac and Nick Carter, respectively.)
Throughout the season, the panelists had plenty of guesses as to who the Sun was, including Mandy Moore, Katharine McPhee, Carrie Underwood, Kate Hudson, Demi Lovato, and LeAnn Rimes, per Entertainment Weekly. During the finale, Jenny McCarthy had guessed Lovato, but clues about the Northern Lights made her settle on Rimes, who starred in the 2009 film Northern Lights. Ken Jeong used to think Sun was Gwyneth Paltrow but landed on Mandy Moore, while Nicole Scherzinger switched from McPhee to Rimes after clues with the color blue made her think of Rimes' Grammy award-winning song "Blue." Thicke had felt it was Natasha Bedingfield, but ultimately settled on McPhee.
One person who predicted Rimes was the Sun, all the way back in October, was former Real Housewives of Beverly Hills star Brandi Glanville, the ex-wife of Rimes' husband Eddie Cibrian. Brandi might have also tried dimming the Sun's glow by throwing a little shade at LeAnn Rimes following her win. Keep scrolling to find out what Brandi had to say about Rimes' victory.
Brandi Glanville threw some shade at LeAnn Rimes' Sun
At the beginning of The Masked Singer's fourth season, RHOBH's Brandi Glanville was already convinced that LeAnn Rimes was the Sun. She tweeted, "I think the sun is 100 percent Leann Rimes #maskedsinger although my kids say no way because she told them that she would never do this show because its sooo beneath her." Brandi did indeed predict the winner while seemingly managing to diss the singer at the same time.
Before the finale, Brandi posted another tweet, doubling down on her Sun prediction, writing, "Hope my kids bonus mom The Sun' Leanne Rines wins the masked singer tonight #Spitfire." So, either Brandi was throwing a little shade by misspelling Rimes' name, or she purposely misspelled her name so that it wouldn't come up in Twitter searches and spoil the finale. 
After Rimes was revealed as The Masked Singer's winner, judge Nicole Scherzinger praised the singer, saying (per Yahoo! Entertainment), "When you sing, you bring a sense of foundation and security and grace with each and every performance. You have ignited a fire in all of us, so thank you." Jenny McCarthy doubled down on Scherzinger's statement, stating, "Thank you for the gift of your voice!" Ken Jeong said, "The connection you have, I don't think I have ever had with any other contestant." When all is said and done, Brandi Glanville did unmask the Sun long before anyone else knew it was LeAnn Rimes, who brought musical sunshine to The Masked Singer all season long.