The Real Reason Khloe Kardashian And Tristan Thompson Aren't Engaged, According To An Expert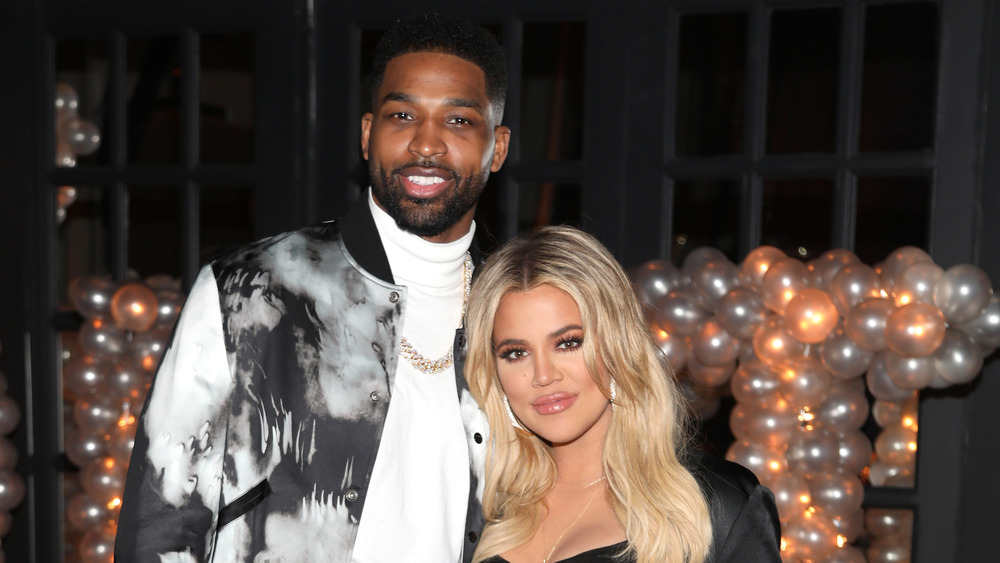 Jerritt Clark/Getty Images
It's no secret that Khloé Kardashian and Tristan Thompson have had a rough relationship. The two found love together in 2016 after being set up on a blind date by NBA player Brandon Jennings, per Refinery29. They were first spotted leaving the Bootsy Bellows nightclub in Los Angeles in August 2016, as reported by Us Weekly, before being photographed on a playful vacation in Mexico the following month. By Halloween 2016, they'd made their romance Instagram official.
Khloé and Thompson announced they were expecting their first child together in December 2017. It would be Khloé's first pregnancy and Thompson's second child. Cheating rumors on Thompson's part circulated shortly after, per Page Six, but the couple stayed together.
However, the couple did split following clear evidence of cheating in February 2019, just shy of their daughter True Thompson's first birthday. TMZ originally reported that the former Cleveland Cavaliers player cheated on Khloé with her sister Kylie Jenner's now-ex best friend, Jordyn Woods. Khloé remained fairly quiet about the ordeal at first, letting fans think what they pleased, and it all played out on Keeping Up with the Kardashians in 2019.
In 2020, though, Khloé and Thompson rekindled their romance and rumors of an engagement swirled when the reality TV star was spotted wearing a sparkly ring on that finger. However, neither Khloé nor Thompson have mentioned anything official as of this writing. With everyone's interest piqued, Nicki Swift spoke to a relationship expert to explain the real reason Khloé Kardashian and Tristan Thompson aren't engaged.
Tristan is building trust with Khloe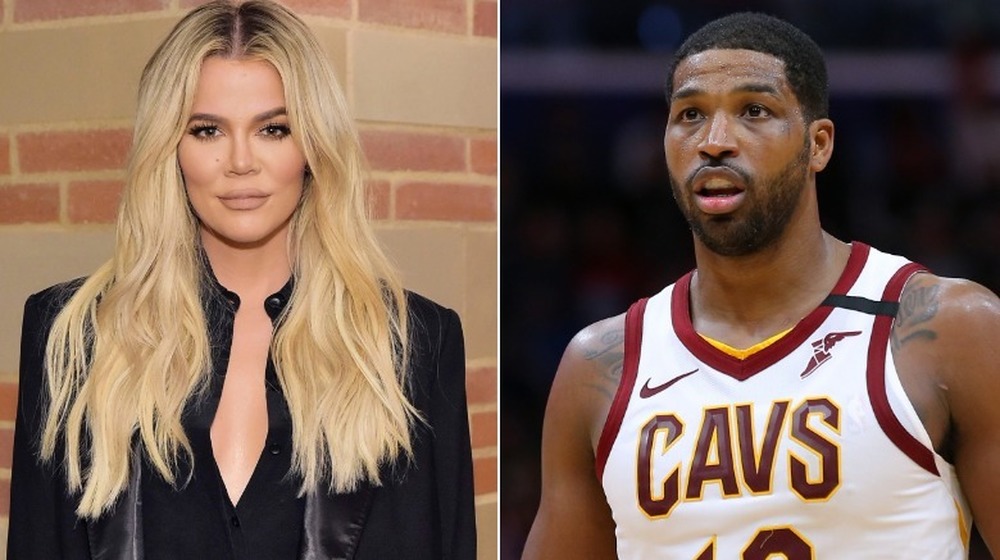 Stefanie Keenan, Jonathan Bachman/Getty Images
According to Rori Sassoon, relationship expert and co-owner of matchmaking agency Platinum Poire, Khloé Kardashian isn't ready to take the next step with Tristan Thompson because she is still building her trust in him.
"Tristan has not cheated on Khloe just once, but multiple times. It's like cheating is embedded into his DNA," Sasson told Nicki Swift. "And probably the lowest blow of them all was when he cheated on Khloé with Kylie's friend. It doesn't hit closer to home than that," she continued, adding that "infidelity does not lay the proper groundwork for a successful marriage."
Plus, according to Sassoon, marriage isn't necessary for the couple considering they already share a child. "A major reason to get married is to have children and start a family. They've already done this without being married. So there isn't any rush to tie the knot," she explained. It's worth noting that Khloé said she was in no rush to walk down the aisle in a 2017 Daily Mail interview, which was prior to the scandal involving Jordyn Woods. 
Furthermore, it has been reported that Thompson is trying his best to win back the Revenge Body host, which Sassoon says is super important.
Will Khloe ever be able to trust Tristan?
Amidst rumors that Khloé Kardashian and Tristan Thompson were together again in July 2020, a source close to Page Six divulged that the professional basketball player was serious about his relationship with Khloé and wanted to win her trust. "Tristan is working hard to prove himself and has been a great dad to True," the source said.
Relationship expert Rori Sassoon told Nicki Swift it's best that Khloé challenges Thompson to show his intentions. "Khloé is smart to take her time before jumping into a marriage with Tristan. He really needs to prove himself if he's going to have a future with her. She shouldn't rush into anything with him until he has shown that he can change his ways," she said. However, she did warn that dating a famous basketball player will always have its challenges "because temptation will always be there."
This isn't the first time Thompson has tried to win Khloé's trust. The Sun reported that the father of two was sending Khloé gifts and "showering her with compliments" months after the Jordyn Woods scandal. While Khloé was holding her own, it looks like she is slowly starting to envision a life with Thompson once again.
However, Sassoon gave a final warning about life with a famous sports star. "You'll always be wondering where he is if he is out late, and what he's doing. And that's a toxic atmosphere for a child to grow up in," she cautioned.