Kamala Harris' Socks Are Taking The Internet By Storm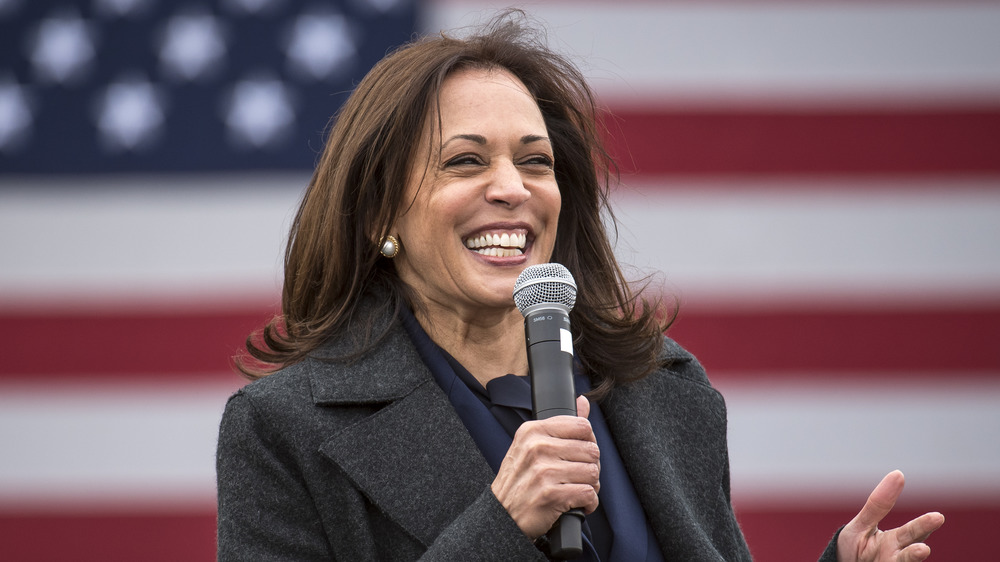 Nic Antaya/Getty Images
Kamala Harris is set to make history as the first female Vice President in the U.S., and the notable politician is all about making a statement. Since she began her run for the 2020 election alongside President-elect Joe Biden, Harris has used her incredible sense of fashion to highlight her most important causes.
The former United States senator has been especially vocal in her efforts of improving women's equality. Harris made a powerful nod to the suffrage movement and the multiple women's marches from past years when she gave her victory speech in November 2020. The California native looked captivating in an all-white suit that featured a lavallière (via Insider) while delivering her speech alongside Biden after receiving a 306-232 majority vote in the electoral college over Donald Trump.
Harris dressed head-to-toe in white to send a message on behalf of suffragists. According to the National Park Service, the American suffrage organization called the National Woman's Party affiliates white, gold, and purple as their official colors. "White, the emblem of purity, symbolizes the quality of our purpose," the organization explained in a newsletter from 1913 (via NPS).
Harris' fashionable looks have made many headlines since, and her latest has to do with her admirable choice of socks. So why are Harris' socks taking the internet by storm? Keep scrolling to find out. 
Kamala Harris' socks are her latest powerful fashion statement
Kamala Harris is manifesting her goals by wearing inspiring socks! The Vice President-elect went viral on social media after her niece, Meena Harris, uploaded a video of her aunt wearing calf-length socks with the message "The Future is Female."
The blue-and-white threads — which Harris purchased from Gumball Poodle (via New York Post) — could be seen in the former Uber executive's TikTok clip, which shows Harris sitting on a chair. In addition to her compelling fashion statement, Harris wore a pink blazer and matching dress pants.
Harris' socks stole the show, but Meena actually created the video in an attempt to make her aunt laugh. As Harris sat cross-legged on the chair, Meena handed her a jar of mints. "Auntie. I got you a gift... Im-peach-mints," she joked as Harris burst into laughter and accepted the gift.
Meena also uploaded the clip on Instagram, writing, "happy impeachment day" in the caption. In the comments section of the post, users praised Harris for displaying her support for women's rights. "Those socks are ADORABLE [heart eyes] she just is [heart]," one Instagrammer wrote, while another echoed, "It's the socks for me." A third user chimed in, gushing, "The socks are my favorite part."
It looks like we can expect more powerful fashion statements from Harris as she enters the White House on Jan. 20, 2021!