Joe Biden's Press Secretary Jen Psaki Throws Some Shade At Trump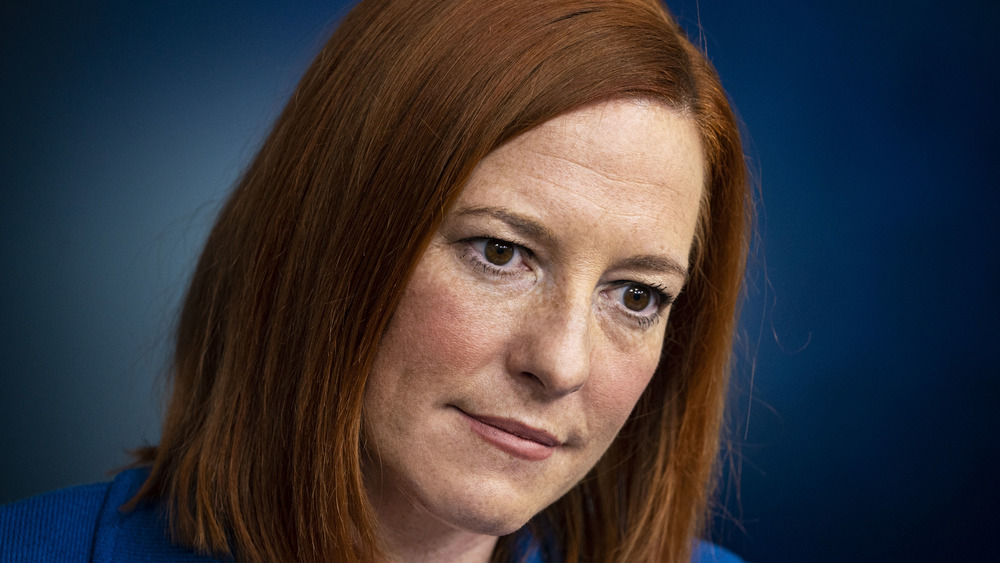 Bloomberg/Getty Images
White House press secretary to the Biden administration, Jennifer Psaki, is being both cheered and slammed following her answer to incessant questions about Air Force One and the Space Force at a press briefing in February 2021. Previously, Psaki's first briefing in January 2021 became a spectacle when one reporter asked if Biden will keep Donald Trump's Air Force One "color scheme change," which Trump proposed in June 2019. "This is such a good question," Psaki replied (via Fox News). "I have not had the opportunity to dig into that today given the number of executive actions, orders, the inauguration, a few things happening. I will venture to get you an answer on that and maybe we can talk about it in here tomorrow."
After the question garnered some attention for not tackling the most pertinent issues, she addressed the design of Air Force One again the following day, as promised. "On the plane, we are certainly aware of the White House military unit's proposal that was submitted to them about reconsidering the color scheme of Air Force One." She continued, "I can confirm for you here that the president has not spent a moment thinking about the color scheme of Air Force One or anything in the house or any article of anything... we're aware of the proposal and if there are any updates, we're happy to provide them to you." 
Weeks later, Psaki was the subject of attention once again, this time for her remarks about the Space Force.
Jennifer Psaki is over being asked about Trump's plane and Space Force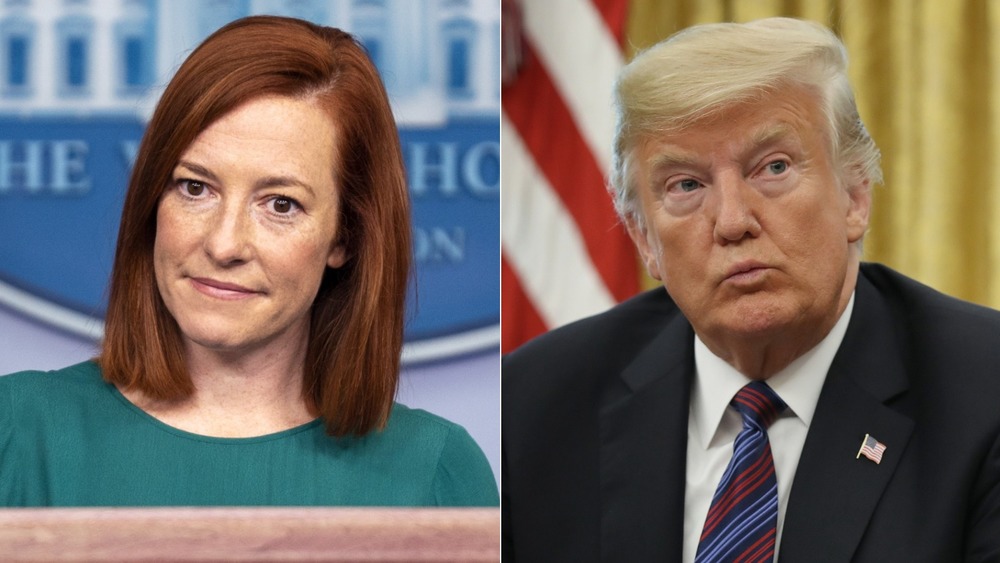 Bloomberg, Win Mcnamee/Getty Images
Following the hubbub around the color scheme of Air Force One — perhaps not the most pertinent issue the country is facing during a global pandemic — White House press secretary, Jennifer Psaki, was asked about air travel, again, during a February 2021 briefing. However, this time it was about the Space Force, which was created by Congress under the Trump administration in December 2019, per Politico. Inquiring whether President Joe Biden plans on "keeping or keeping the scope of" the Space Force, Psaki couldn't help but see the humor in yet another question about air transit.
"Wow. Space Force. It's the plane of today," Psaki responded with seemingly forced enthusiasm. "It is an interesting question. I am happy to check with our Space Force point of contact. I'm not sure who that is. I will find out and see if we have any update on that." Of course, this answer led to a couple of viral memes with comparisons to movies Star Trek and Spaceballs. While some criticized her response as "condescending," others thought her reply was on point. "She doesn't seem condescending. She doesn't dismiss it either, she said she would look into it. What more was she supposed to do? Build a rocket?" one user tweeted. However, many still criticized her, even one member of Congress.
Republicans weren't pleased with her response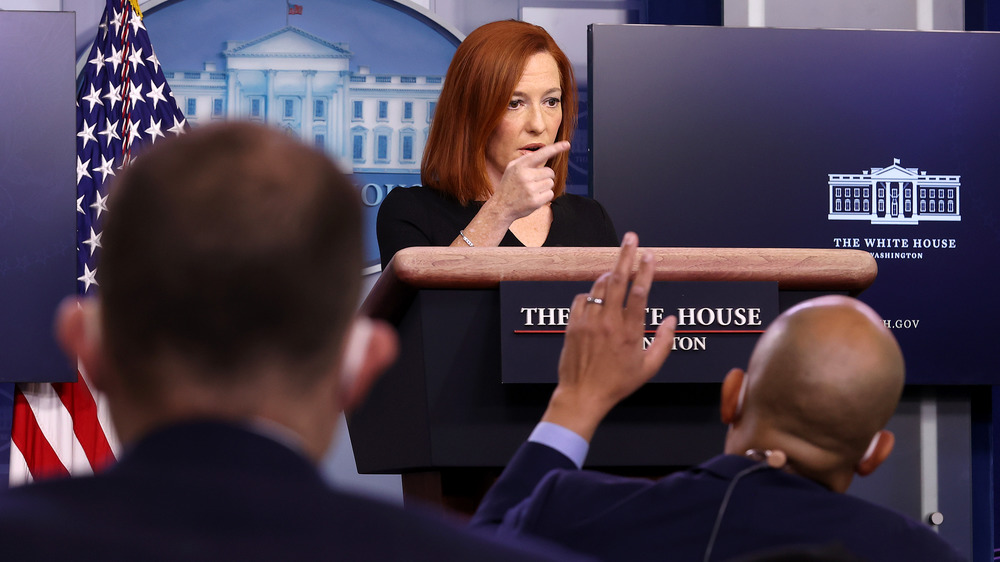 Chip Somodevilla/Getty Images
Despite being backed up in some instances, Jennifer Psaki was slammed by Republicans and more specifically Rep. Mike Rogers (R-Ala), who serves on the House Armed Services Committee. "It's concerning to see the Biden administration's press secretary blatantly diminish an entire branch of our military as the punchline of a joke, which I'm sure China would find funny," Rogers told shortly after the press briefing, according to Politico. "The Space Force was passed with near unanimous support in Congress, the same type of 'unity' President Biden is supposedly working towards," he said, adding, "Jen Psaki needs to immediately apologize to the men and women of the Space Force for this disgraceful comment."
Following the commotion, Psaki took to Twitter, writing, "We look forward to the continuing work of Space Force and invite the members of the team to come visit us in the briefing room anytime to share an update on their important work." It seems like a few more space inquiries will be coming Paski's way.