How Joe Biden's White House Briefings Will Be Different From Trump's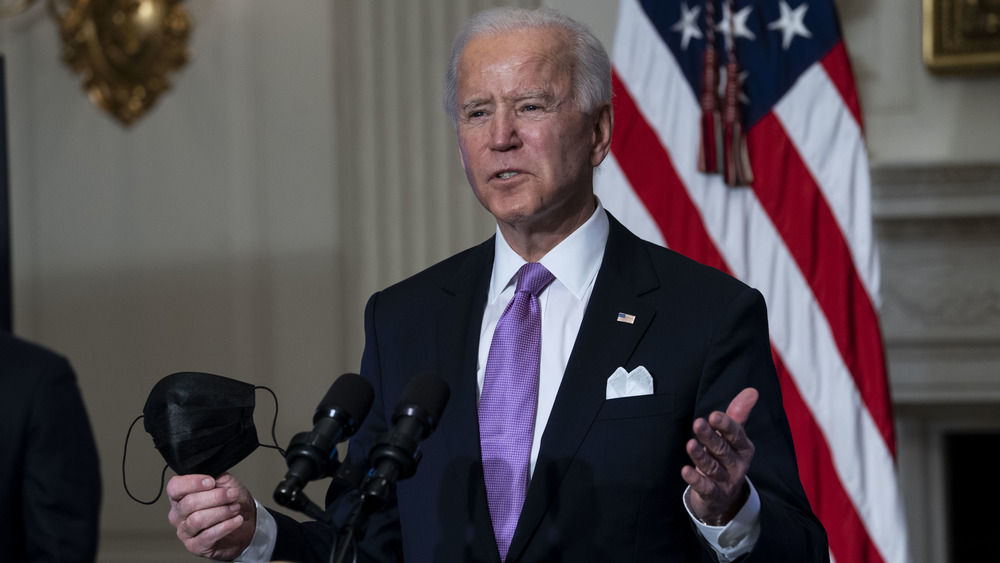 Pool/Getty Images
President Joe Biden has made it very clear that his presidency will be much different from his predecessor Donald Trump's, especially after signing 15 executive actions, including stopping construction on the Mexico border wall and rejoining the Paris Climate Accord on his very first day in office, per AP News. As of Jan. 25, 2021, Biden also reversed the ban on transgender citizens from joining the military. Of course, this is just the beginning of the changes Biden will be making on Capitol Hill along with Vice President Kamala Harris.
As the dynamic duo hit the ground running to bring unity back the United States, they're making sure their time in office is nothing like Trump's, starting with their White House press briefings. Previously, the Trump administration refused to include a sign language interpreter during COVID-19 briefings, which began in March 2020, despite requests to do so from the National Association for the Deaf and lawmakers, per The Hill. 
The organization filed a lawsuit against the administration, stating, "The White House's failure to provide ASL interpreters during Covid-19 related briefings, including press briefings, is against the law," according to court documents obtained by CNN. In September, a federal judge ordered the administration to include an interpreter at all briefings starting in October 2020. However, Biden's administration has already vowed to make their briefings more accessible to all. Keep scrolling to see the changes they are making to their White House press briefings.
An American Sign Language interpreter will be at all White House Press briefings going forward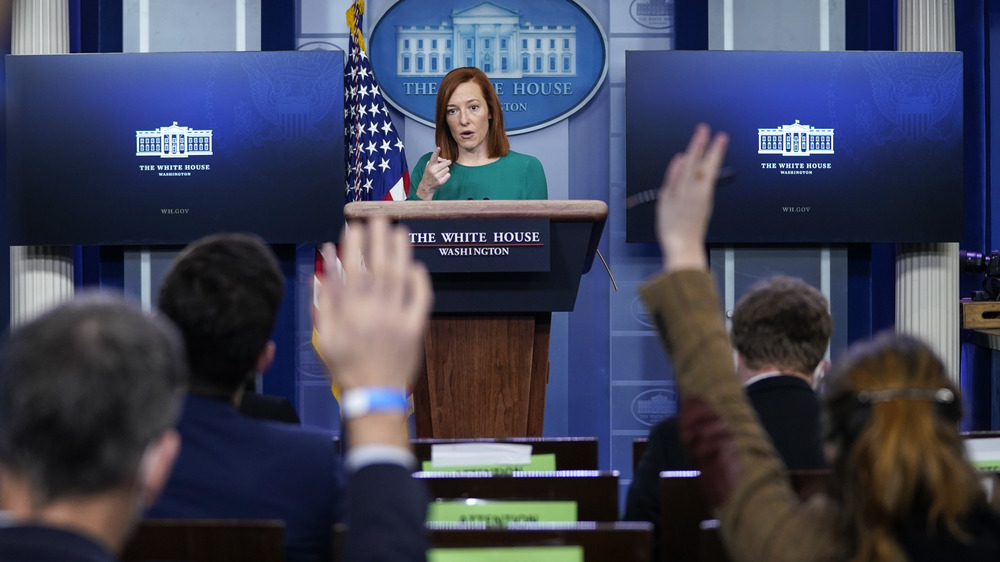 Drew Angerer/Getty Images
It might have been a headache to get the former administration to provide additional resources for the approximately 11.5 million people in the United States who are hearing impaired, per People, but President Joe Biden guaranteed proper accommodations without the hassle. "As a part of this administration's accessibility and inclusion efforts, starting today we will have an ASL, an American Sign Language interpreter, for our daily press briefings," Press Secretary Jen Psaki told reporters on Jan. 25, 2021. "The president is committed to building an America that is more inclusive, more just, and more accessible for every American, including Americans with disabilities and their families."
This change marks a pivotal moment in history as the first administration to provide such resources to this degree. At all press briefings going forward, an interpreter will be seen in-frame on television and online broadcasts, which will also be shared on the official White House website and their various social media accounts, according to the National Association of the Deaf. "There is more work to be done, but this is a great day for inclusion and access for the deaf and hard of hearing community," the organization said in a statement. This isn't the first time the Biden administration had taken measures to provide accommodation to those hard of hearing, as we saw in-frame interpreters throughout Biden's inauguration as he was sworn in and during the televised evening celebration.