Inside Melania Trump's Lavish Life After The White House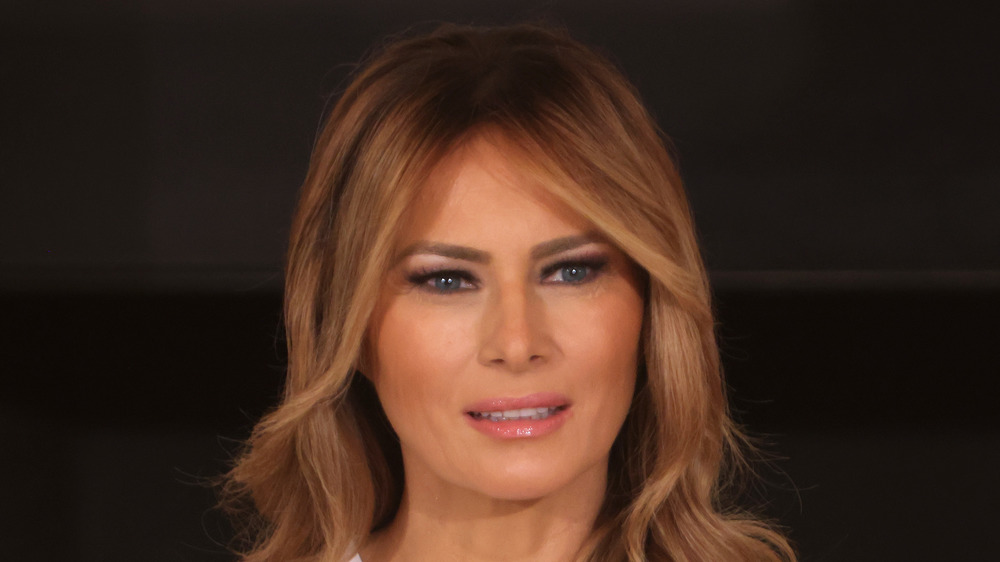 Alex Wong/Getty Images
Former first lady Melania Trump definitely needed a spa day after Donald Trump's stint as president — or a few. The mother of one and stepmother of four has already left her life in Washington D.C. in the past and shows no signs of looking back, despite Trump's second impeachment trial, according to CNN.
Although she's been "checking in on the trial," one source told the outlet, she's pretty much checked out of Hotel White House and seems pretty comfortable at her luxurious Mar-a-Lago Palm Beach, Fla. residence. However, Melania's lack of interest isn't too surprising, as she's been notably absent from the public eye following the violent Capitol insurrection on Jan. 6, 2021. In fact, she waited five days to make a statement, believing she was in a "lose-lose" situation whether she denounced the violence and went against her husband or remained complicit. "She could see how it was going to go for her," a former White House official told the outlet, and by staying quiet, her actions appeared to be the latter. "Once (the insurrection) happened, she knew there was nothing to gain for her by speaking out or doing something — so she didn't do anything," the insider added.
Since Melania's image "became collateral damage" in Trump's mission to spread the false rhetoric that the 2020 election was fraudulent, she's been a little "bitter and chilly" towards her husband. However, it looks like Melania wants to revert back to her pre-presidency days with fewer duties and more luxurious amenities.
Melania Trump is getting a lot of R&R post-presidency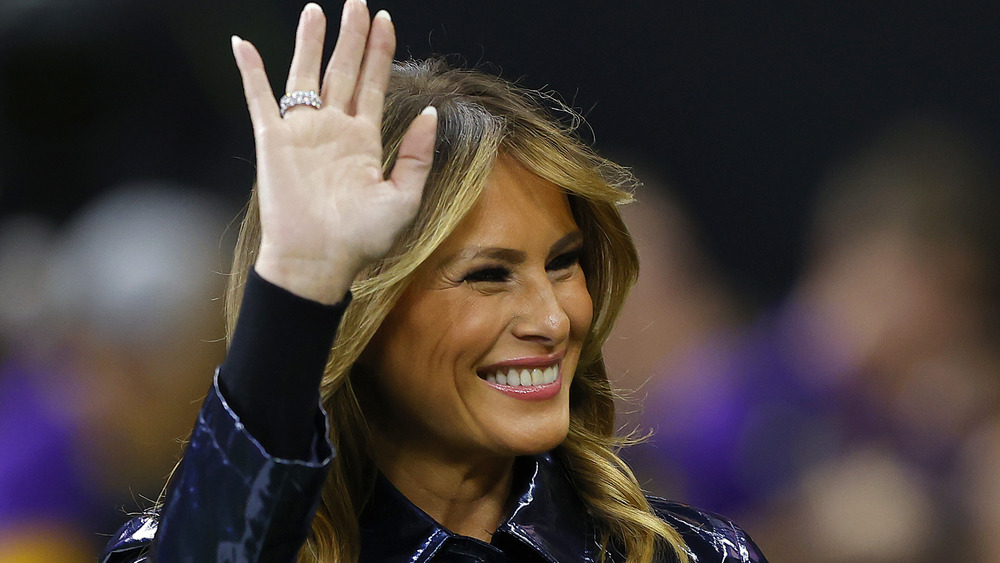 Kevin C. Cox/Getty Images
It's only been a few weeks since Melania Trump left the White House, but her post-presidency life doesn't sound too shabby. "She goes to the spa, has lunch, goes to the spa (again) and has dinner with Donald on the patio," an insider told CNN of her daily routine at Mar-a-Lago, "Rinse and repeat. Every day." Although her schedule sounds too good to be true, someone else said it's "not unusual for her to spend several hours a day" enjoying the resort's facilities.
With her name on the building, it's no surprise Melania is taking advantage of the amenities and benefits. As for her spa services of choice, which she often utilizes "twice in a 24-hour period," she seems to have an affinity for massages, nail care, and facial treatments.
"She almost always does dinner," another source shared, revealing she prefers to enjoy a fish entrée outside and is often joined by her parents Viktor and Amalija Knavs, who also reside at the resort. "It's pretty much the same as it was before (she was first lady) or when she would come down during vacations," the source said of her schedule, noting there isn't much evidence of any White House work ethic at Mar-a-Lago. However, she is reportedly in the process of setting up an office to continue her Be Best campaign. It sounds like Melania is still doing things her way post-presidency. But is jealousy rearing its head?
Melania Trump isn't happy with Jill Biden's positive media attention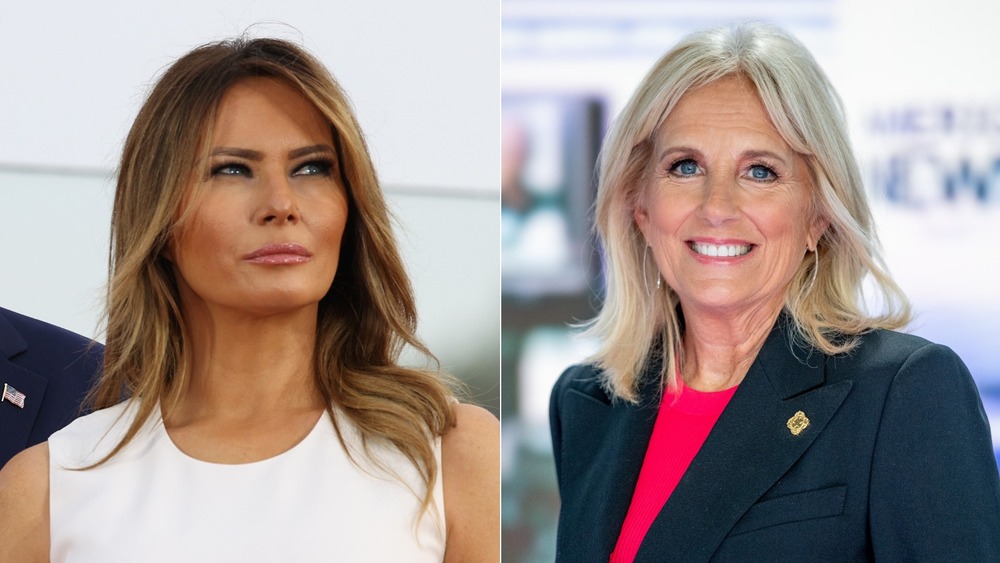 Tasos Katopodis, Roy Rochlin/Getty Images
Although Melania Trump seems to be relieved that she's done with her time in Washington D.C., she's reportedly jealous of how the country has welcomed first lady Dr. Jill Biden. Since assuming her new position, Biden has attended at least seven events or speaking engagements, and has already graced the cover of several high-profile magazines, per CNN. Trump, on the other hand, never did an interview with a national publication during Donald Trump's four years in office. The outlet also noted that Trump hasn't spoken to Biden since leaving her a note as Biden assumed the role of first lady.
While Biden's positive media coverage "hasn't gone unnoticed" by the former model, the stark contrast could be a result of how they both assumed their positions. As Biden hit the ground running follow President Joe Biden's inauguration, Trump waited five months before joining her husband in 2017, claiming the delay was for son Barron to finish school. However, the Washington Post reported that the holdup was due to prenup renegotiations with Donald.
Still, Trump's former senior advisor Stephanie Winston Wolkoff told CNN that "Melania intentionally didn't do press as a defense mechanism," adding, "She and I would always discuss this reasoning and that's why everything was choreographed or emailed, or be 'approved' quotes or statements that I would often write."  But interestingly enough, she said, "Donald was more upset about Melania not getting magazine covers than Melania was."