The Truth About Prince Philip's Relationship With Prince Harry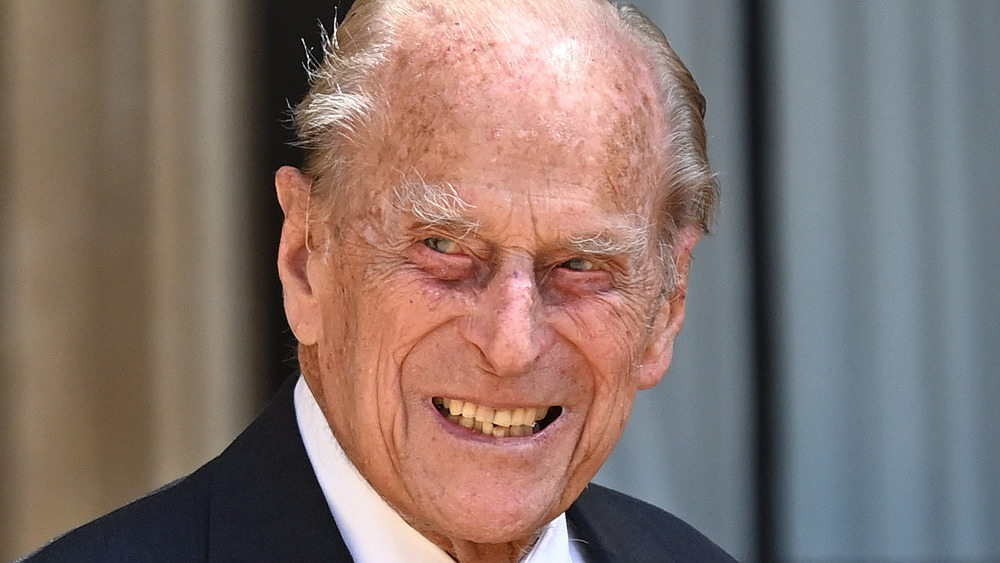 Pool/max Mumby/Getty Images
All eyes are on Prince Philip after he was admitted to King Edward VII Hospital in London on Feb. 16, 2021, according to a statement released by Buckingham Palace (via CNN). Although the palace said it was a "precautionary measure" since the Duke of Edinburgh expressed that he wasn't feeling well, we imagine his royal family has their worries considering Philip's 99 years of age.
The duke stepped away from public life in 2017, and since then, he's mainly only been seen at major family events like granddaughter Princess Beatrice's wedding in July 2020. In fact, "The Duke is very close to all of his grandchildren and is very much head of the family behind the scenes," former royal reporter Philip Dampier told Harper's Bazaar in August 2018. "They all adore him and love his sense of humor and positive outlook on life."
Although the royals try to keep a poker face when out in public, it's clear he's fond of his grandsons Prince William and Prince Harry. "You can see how close they are when the male members meet up at Christmas or other events," Dampier added. "It is touching to see and in contrast to his gruff public image."
However, Prince Harry's relationship with his grandfather hasn't been the same since he and wife Meghan Markle decided to leave the royal family behind in January 2020 to start over in America. Keep scrolling for more details about Prince Philip's relationship with Prince Harry.
Prince Philip apparently struggles to understand Prince Harry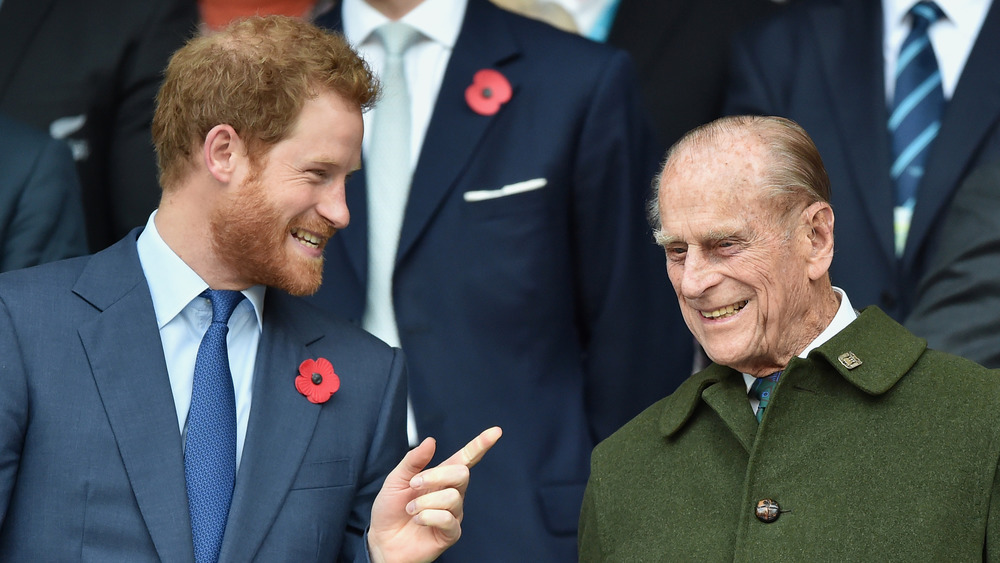 Max Mumby/indigo/Getty Images
Since Prince Philip's whole life revolves around pleasing his wife Queen Elizabeth, it's no surprise he struggles to relate to Prince Harry and Meghan Markle's decision to flee the coop. "Philip simply cannot understand how Harry has behaved the way he has done. His grandson's behavior is completely alien to him so not unnaturally the relationship has suffered," author of Prince Philip Revealed, Ingrid Seward, told Vanity Fair. "Don't forget this is a man about to turn 100 who has devoted 68 years of his adult life to supporting the monarchy, and this has been a great shock."
However, Philip and Harry's relationship wasn't always strained, and he even approved of Meghan when Harry first welcomed her. "He knows what it's like to be an outsider, and so he's always very supportive of people marrying into the family," Seward added. "He quite liked Meghan at first, but their actions have left a bad taste and as a consequence the relationship with Harry has suffered."
Although he did his best to keep everyone together, he felt the advice he gave Harry and Meghan fell on "deaf ears" with their decision to go to America, and he's since "walked away" from the situation. "It was up to Harry and Meghan to listen but they didn't and Philip has always been very protective of the Queen so if anyone upsets her, they upset him too," Seward explained. "His mantra is the monarchy comes first, second, and third."