Donald Trump Jr. Just Made A Big Mistake When Criticizing The Ted Cruz Backlash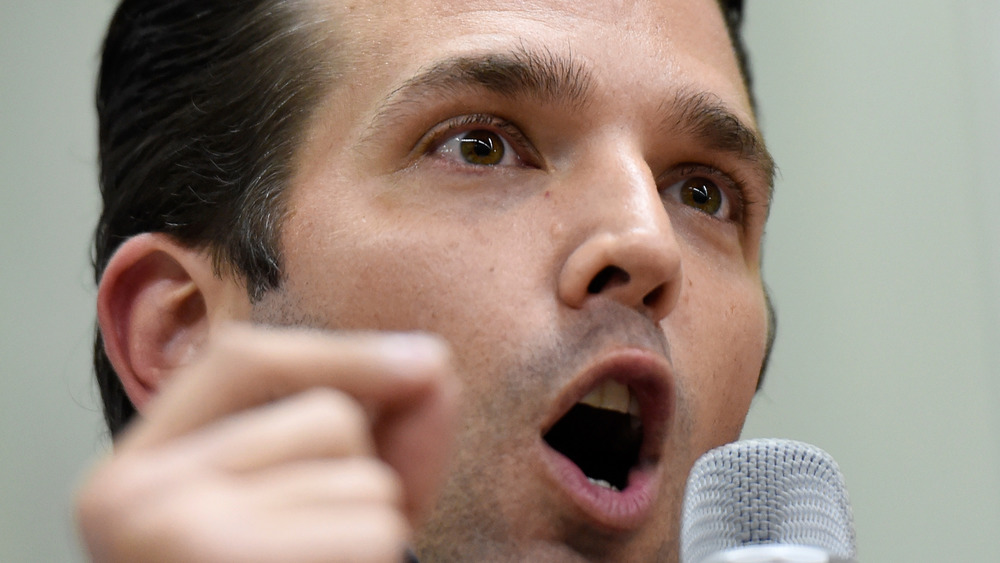 David Becker/Getty Images
Whoopsie! With all the ruckus surrounding Texas Sen. Ted Cruz's departure to Cancun – despite the deadly energy and water crisis in his home state – it looks like Donald Trump Jr. got a little confused about the commotion when offering his own two cents.
Cruz was spotted hopping a flight out of Texas on Feb. 18, 2021, while 350,000 Texans were still without power following a blizzard, per NPR. The following day, The Washington Post reported that 20 people had died and "hundreds of thousands of residents remain without electricity and nearly half the state has been told to boil water for drinking as frigid weather wreaks havoc on infrastructure." 
As some Texas Democrats called for the Republican lawmaker's resignation, Cruz hopped on a flight back to the States, per The Hill. He also attempted to explain himself.
"This has been an infuriating week for Texans ... Like millions of Texans, our family lost heat and power, too," Cruz told ABC News. "With school canceled for the week, our girls asked to take a trip with friends. Wanting to be a good dad, I flew down with them last night and am flying back this afternoon." He added, "I understand why people are upset. Leaving when so many Texans were hurting didn't feel right. My intention was to take care of my family." 
Fellow Republican Don Jr. was among those who criticized Cruz, but keep reading to find out what he go wrong in the process.
Donald Trump Jr. has his political parties confused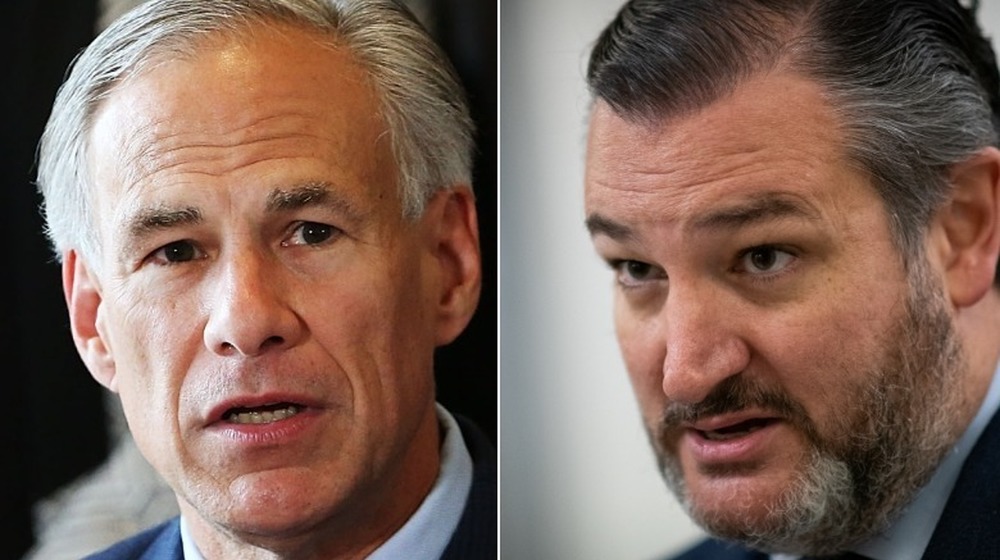 Spencer Platt/Getty Images, Bloomberg
Following the backlash about Sen. Ted Cruz's trip to Cancun, Donald Trump Jr. spoke out about the situation, suggesting that while the timing of the Texan's trip "wasn't ideal," there wasn't much Cruz could do to help. In a video posted to Rumble, Don Jr. argued that Cruz is "a senator. He doesn't manage crises in state. That's a governors job."
Seemingly shading Texas Gov. Greg Abbott, Trump Jr. said Cruz's critics are "spending more time focusing on this than Governors [who are] just fragrantly disregarding their executive orders, shutting down states, etcetera, shows you how ridiculous things are."
Don Jr.'s mistake lies in his Twitter post sharing the aforementioned video. He wrote: "The hypocrisy of those trying to cancel Ted Cruz who have been totally silent on their Democrat Governor's incompetence is telling. My thoughts on the Cancún Cruz fauxoutrage! #Cruz #CancunGate is fake." Whether you agree with Trump Jr. or not, the problem here is that Gov. Abbott is, in fact, a Republican — just like Don Jr. and just like Cruz.
"What 'Democrat' governor are you talking about, Fool?" one person replied. "Gov. Abbott is a Republican. I urge Texans to cancel every Republican in office. Nationally, we cancelled your evil father and the country is better for it." Another added, "Greg Abbott is a Republican, genius. But thank you for confirming that he is, in fact, incompetent."
Following the mayhem around Cruz and the crisis in Texas, Gov. Abbott declared "power system winterization an emergency item" via a press release. Abbot also called for funding to help families struggling after the winter storm.