Details About Meghan Markle And Princess Eugenie's Friendship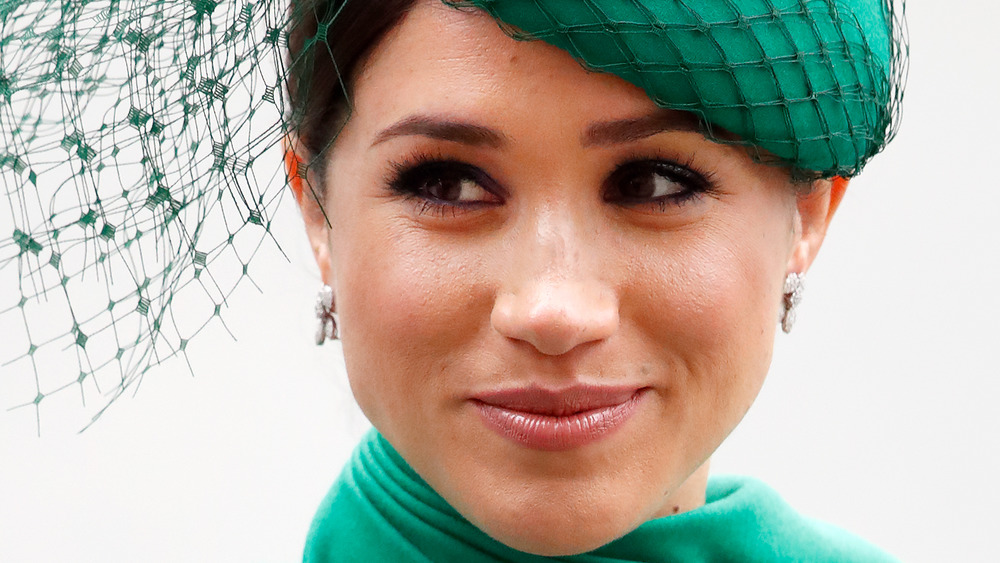 Max Mumby/indigo/Getty Images
We may receive a commission on purchases made from links.
These days, Meghan Markle is often painted as the troublemaker of the royal family, especially after husband Prince Harry parted ways with the monarchy to live a life with Meghan in America. However, she actually does have a few allies in Harry's family, one being his cousin Princess Eugenie.
For those who are in the know, Meghan and Eugenie's bond may sound surprising since Meghan has been accused of upstaging the princess on several occasions. In fact, Meghan revealed she was expecting baby No. 1 at Eugenie's 2018 wedding to Jack Brooksbank, per the Daily Mail. As the announcement clearly took away from Eugenie's moment, the unveil "did not go down particularly well" with the bride, according to royal biographers Omid Scobie and Carolyn Durand. 
Additionally, Meghan and Harry went on to announce their second pregnancy just days after Eugenie and Jack welcomed their first child in February 2021. At the time, the couple had yet to share the name and first photos of their bundle of joy, who we now know will be called "August" and is as cute as button, according to Eugenie's Instagram. 
Despite seemingly appearing to step on Eugenie's toes, she and Meghan actually share a unique bond.
Meghan Markle and Princess Eugenie have bonded over pregnancy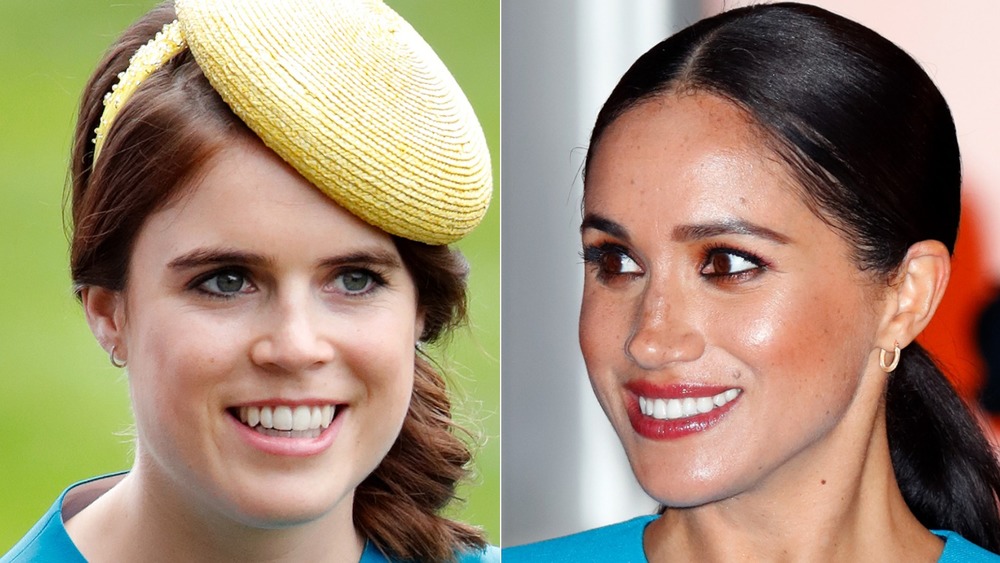 David M. Benett/Getty Max Mumby/indigo/Getty Images, Max Mumby/indigo
Although Meghan Markle and Princess Eugenie have been painted as foes following their overlapping milestones, they are actually pretty close after finding themselves in similar stages of life. Revealing that the women "have been in contact throughout their respective pregnancies," a source told People, "They would have known about each other's due dates," which suggests Eugenie might have known Meghan's announcement was coming. We can only hope that Meghan asked for her permission before sharing the news and assume Eugenie gave her the go-ahead.
However, it's possible that their shared experiences and the turmoil of the coronavirus pandemic united the women. "These times tend to bring families together," an insider told the outlet. "What is lovely is Eugenie having her baby as Harry and Meghan are having theirs. They are very close. And they are all deciding to go their own route." 
In fact, "Eugenie had always been more than just a cousin to Harry. They were also the closest of friends," royal biographers Omid Scobie and Carolyn Durand wrote in Finding Freedom (via People). "Out of all the queen's grandchildren, Harry and Eugenie have one of the most natural connections." Additionally, "Harry had always confided in his cousin when it came to the women in his life." Per the biographers, "Not only did he trust her implicitly, but friends say that she gives great advice and has always been 'beyond wise' for her years."