Inside Kodak Black's Interesting Claim About Megan Thee Stallion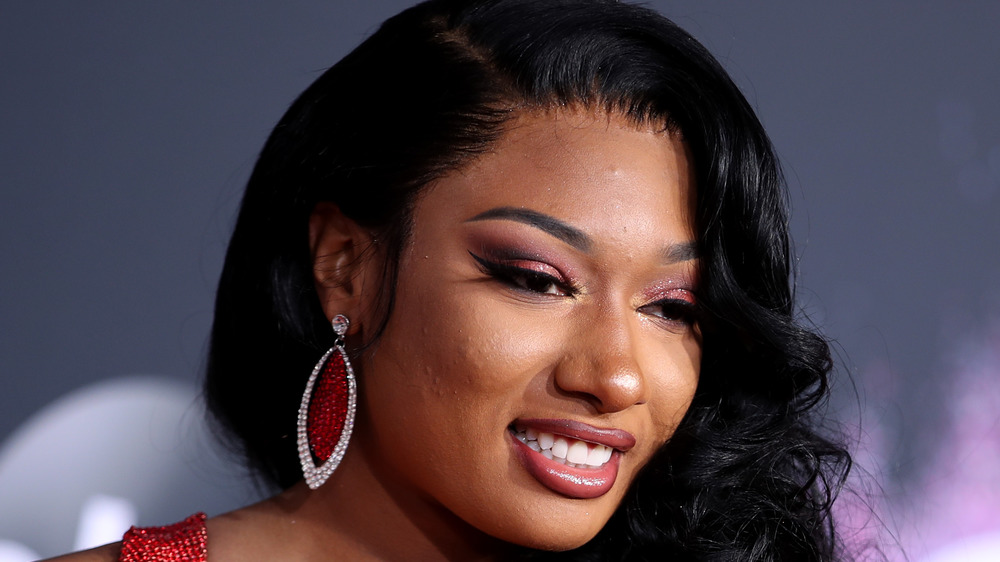 Rich Fury/Getty Images
Kodak Black is once again looking for credit for his influence in pop culture — more importantly, his self-proclaimed influence on Megan Thee Stallion's career. Following the 63rd Annual Grammy Awards in March 2021, Kodak went on a now-deleted Twitter rant questioning why he has yet to receive props for the origin of the "drive the boat" catchphrase, which was popularized by the three-time Grammy winner during Summer 2019. Amid the rant, the de-facto Project Baby says he should've received $200,000 from Megan for using the slogan. "You Know What, Ima Pull Up On Jit Wit Bout 200 Bands Or Sumn Since I [ran] Off Wit Da Man Quote Got Rich Off It & Ain't Mention Em Nan Time.' Who Shoulda Said Dat Twitter?" he tweeted, per Revolt.
Without mentioning Megan's name directly, the "No Flockin'" rapper suggested that the former "made a career" off of his catchphrase. "Baby ain't have to go out her way to give my credit, but the opportunity came to her. Instead, when they asked that question on TV smh and they be on some Black Lives Matter s**t. Y'all don't even be fa this s**t fr," Kodak wrote in a follow-up tweet, referencing a March 2020 interview of Megan not mentioning the originator of the phrase. Read on for Megan's response.
Megan Thee Stallion doesn't want to be mentioned by anyone except fans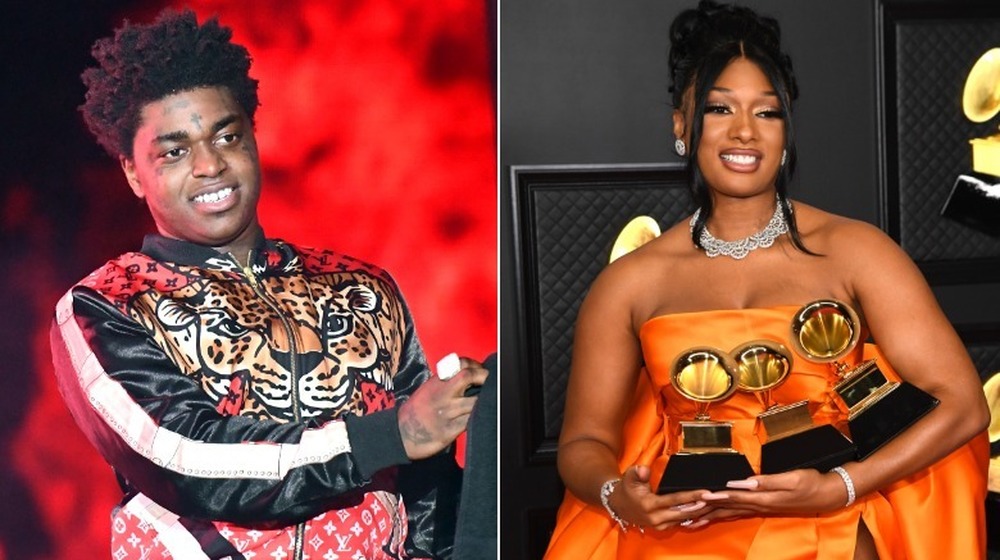 Scott Dudelson, Kevin Mazur/Getty Images
Megan Thee Stallion isn't the only person on Kodak Black's list of rappers he wants credit from. Before his rant, the "Tunnel Vision" rapper took to Instagram to call out Lil Baby for taking credit for starting the trend of posting money on Lil Durk's "Finesse The Gang Way" track. "I was just listening to my boy Lil Baby's song," Kodak said in early March 2021, according to Revolt. "He said, 'Posting money on the 'Gram, I invented that' or some crazy s**t like that. Stop playing Lil Baby. This was in 2016. Spread game too nasty." Kodak also showed an old video of himself spreading money across his arm and leg.
Kodak is demanding acknowledgment for his rap influence. However, Megan doesn't seem to be moved by the Florida rapper's comments. The "Savage" crooner seemingly addressed the comments on Twitter. "Don't mention me if you not a hottie thanks," Megan tweeted. Additionally, she had one more thing to tweet to her haters following her milestone Grammy win: "Before I go... y'all be acting like people force y'all to look at s**t you don't like.. if you like puppies follow puppy pages, if you like food follow food pages, if you like bad b*****s follow me. SIMPLE K BYE." 
Megan's boyfriend, Pardison Fontaine, also seemed to come to her defense on Instagram. The songwriter shared a photo dump of him and Megan displaying some major PDA, writing, "BIG Ws !!!! .. REALLY AINT HEARING ALL THE OTHER S**T."