Kim Kardashian's Police Statement About Robbery Released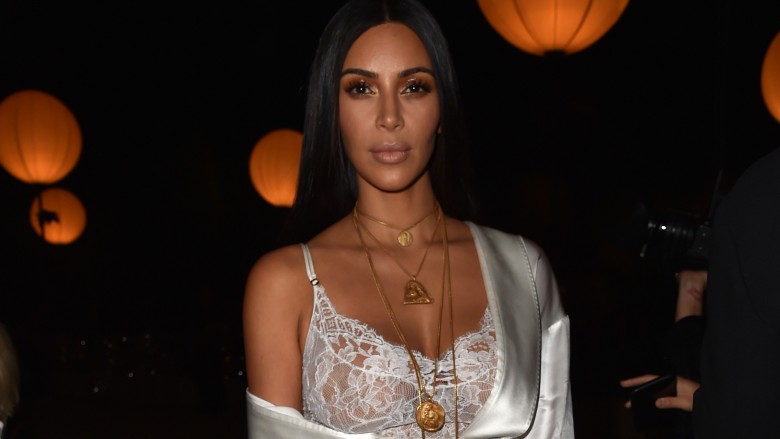 Getty Images
The police report Kim Kardashian filed immediately after her horrific robbery in Paris has been released. As Nicki Swift previously reported, the 36-year-old reality starlet was bound and gagged on Oct. 2, 2016 in her Paris residence, and numerous arrests have been made in the case. French newspaper Le Journal Du Dimanche released the report in full, and her account is harrowing.
"I heard noises at the door, like footsteps, and I asked shouting who was there, no one answered. I called [my bodyguard, Pascal Duvier] at 02.56 A.M. I saw through the sliding door two persons coming, plus the [concierge] who was strapped. The two men were hooded, the one had a ski mask and he had a cap and a jacket with 'Police' written on it," Kardashian said in the report. She went on to describe the intruders. One of them reportedly asked her where her 20-carat diamond ring, worth $4 million, was located. "I answer him that I don't know, he takes out a weapon and I show him the ring [on the bedside table.] He pointed the weapon toward me. He takes the ring, he wears gloves. He asked me where the jewels and the money are."
In the report, Kardashian said the thieves bound her hands with plastic cables and taped her mouth and legs. "They carried me in my bathroom, more specifically in my bathtub." She said the bandits went through her handbag, and she also detailed the contents of her Louis Vuitton jewelry box, which was located near her bag and contained about $5 million worth of wares. She noted, "They didn't rob my cash. They robbed my iPhone 6...and my Blackberry...Then they left, running."
Kardashian also detailed her escape, which wasn't as Houdini-like as it initially sounded in the press. "I removed the tape from my hands and my mouth, I removed the plastic. I realized they were a bit [amateurish] because of the way they strapped me," she said. "I removed the tape on my legs." Then she reportedly ran to a friend's room and called her sister, Kourtney Kardashian.
The family's bodyguard has also spoken out on the ordeal. Duvier was reportedly working to protect Kourtney at a Parisian nightclub when Kim was robbed. The Kardashians relieved him of his duties not long after the robbery, but made it clear they didn't blame him for what happened. Letting him go was reportedly part of a major overhaul of the entire security team. "I don't like to waste my time on thoughts about 'what if' or 'what could have been if,'" Duvier told Fairfax Media (via Radar Online). "Many good and many bad things happen. Life is a chain reaction of decisions and actions you take, you can't choose only to change certain things. Every change affects everything."
As far as whether or not he still works for the Kardashians, he said, "This is a question that comes up often and to be honest it doesn't matter if I do or I don't [work for Kim Kardashian and Kanye West]...The client should be the one answering that question. [I am looking] forward to new challenges, offers, and tours with existing and new clients."