The Talk's Carrie Ann Inaba Shares Surprise Message From Sharon Osbourne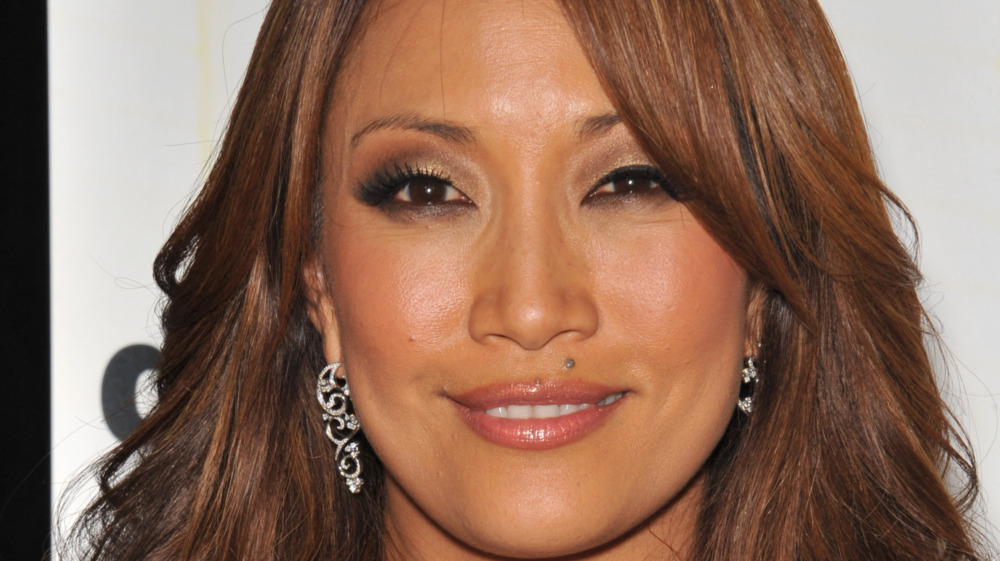 Shutterstock
Carrie Ann Inaba has shared a surprise message from former co-host Sharon Osbourne one day after The Talk returned to television after being on hiatus for multiple weeks. The note included flowers with a note attached, and Inaba posted a picture of the sweet gift to her Instagram Story for all to see. "Dearest Carrie Ann, Thinking of you," the note read. "Love Sharon," it ended. The message seemingly debunks rumors that Osbourne is on poor terms with her former Talk co-hosts after her exit from the show.
In case you missed the drama, the mother of three caught heat in March 2021 for defending Piers Morgan on Twitter following his departure from Good Morning Britain. Morgan left amid his criticism of Meghan Markle, tweeting that he "wouldn't believe Meghan Markle if she gave [him] a weather report" in regards to her tell-all interview with Oprah Winfrey. In her defense of him, Osbourne wrote, "People forget that you're paid for your opinion and that you're just speaking your truth."
The Talk went on hiatus following the sharp criticism Osbourne received for her tweet and the drama that ensued on-air when Osbourne and her co-host, Sheryl Underwood, got into an argument about the situation. (Inaba was not present for the March 10 spat, BTW). Osbourne exited her position, and The Talk returned to television on April 12 — about a month after the chaos started. 
Carrie Ann Inaba received a second bouquet for her return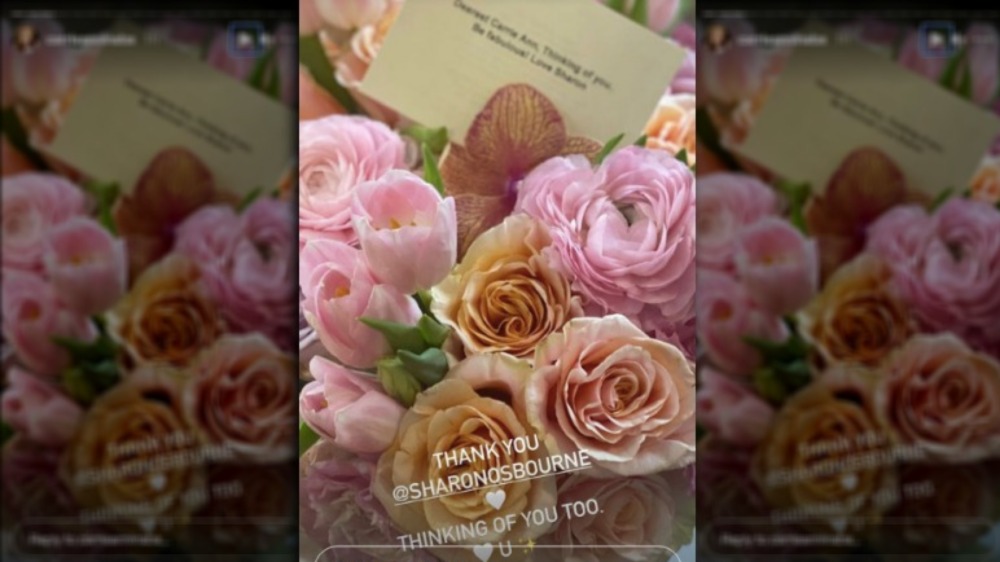 Carrie Ann Inaba/Instagram Stories
Carrie Ann Inaba received a second bouquet of flowers following The Talk's first day back on the air. The second gift was from the show's network, CBS, thanking her for running an "important" episode. "Welcome back and congratulations on filming an important and moving hour of television yesterday," the message read. "We appreciate all the conversations, training and care that went into getting us back on air. Thank you." The note continued, "We're excited to start talking again!"
Sheryl Underwood began the April 12, 2021 episode of The Talk by saying the episode would "be unlike any other we've had before," per TooFab. Underwood, along with Inaba, Amanda Kloots, and Elaine Welteroth, then launched into an hour-long discussion about what went down, race, and healing. Underwood specifically addressed the moment Osbourne raised her voice on air and acknowledged the rumors that she had ignored Osbourne's efforts to extend an olive branch to her via text. "The reason I did not speak about or acknowledge or even respond to those text messages because they were coming to me during the internal investigation. I didn't know if you were supposed to communicate or not communicate," she explained.  
After a lengthy conversation about being anti-racist, Inaba said the show will continue to employ "challenging conversation[s]" and that The Talk and CBS will "keep working behind the scenes with equity experts."