The Truth About Joe Giudice's Relationship With His Daughters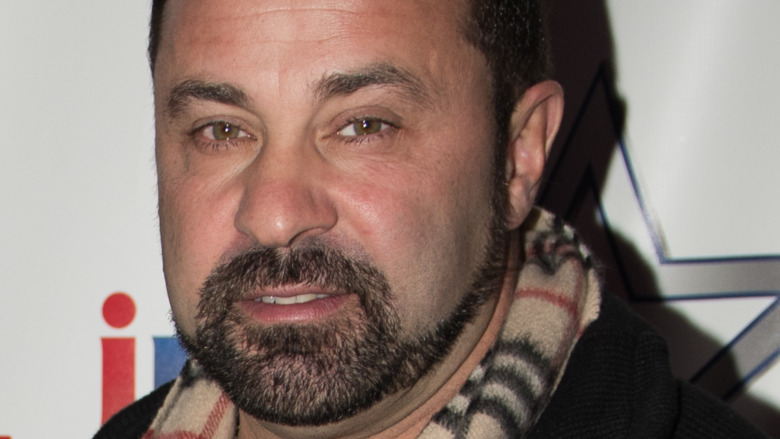 Dave Kotinsky/Getty Images
Few Bravo TV families have a more complicated dynamic than the Giudices. For those of you who don not regularly watch The Real Housewives of New Jersey, allow us to fill you in. Teresa Giudice is an OG cast member, meaning she joined the show in Season 1 and has yet to have a career-threatening contract dispute with Bravo. Viewers were first introduced to Teresa, her husband Joe Giudice, and their four young daughters — Gia, Gabriella, Milania, and Audriana — as the picture-perfect New Jersey family. As the years wore on, though, things proved to be quite a bit more complicated than they once believed.
Teresa and Joe both spent time in prison, but Joe faced more serious repercussions. Joe was born in Italy and moved to the U.S. as a child, so even though he grew up in the country, he never officially became a citizen. The judge in his case decided that after he served his time, he would be deported to Italy, per People. The marriage could not take any more stress, and Teresa filed for divorce. Joe moved to Italy, and the children stayed stateside with their mom. The girls were heartbroken, Joe was heartbroken, and it fell on Teresa to pick up the pieces.
Years later, they seemed to have worked things out, with the girls visiting Joe in Italy or meeting him abroad with semi-regularity. Where do they stand now, and what is Joe's relationship with his daughters like today? Here's what we know.
Joe Giudice tries to spend lots of time with his girls
Despite their geographical separation, Joe Giudice and his four daughters — Gia, Gabriella, Milania, and Audriana —have maintained a close relationship. Even though Joe spends the bulk of his time in Italy and the four girls are all in school in the United States, they still make an effort to meet up and spend some quality father-daughter time together.
The girls have been to Italy to visit Joe a couple of times: once with their mom in November 2019 and again a month later to spend Christmas with their dad. They were supposed to spend Easter with him, as well, but COVID-19 had other plans. The girls were forced to cancel their trip and quarantine at home (that didn't stop them from partying, though), and Joe had to do the same. Thankfully, in March 2021, they joined their dad and other family members in the Bahamas, per People.
Joe's love for his daughters and their close-knit relationship is evident through the many photos he posted to social media during the trip. "If my life was based on [love] I would be a billionaire. Love my girls so much and family," he captioned a photo of himself and Milania. 
Sweetest of all was a photo of all four girls with the caption: "Countless times I beat myself up thinking about all I could have done to be a better father I look at my kids &know @teresagiudice and I did everything right here! They truly are perfection." Awww.