Why Ashanti's Latest Instagram Post Is Causing Such A Stir
John Shearer/Getty Images
Every so often, a celebrity does, says — or posts — something on social media that gets a lot of people's attention. This has happened to stars like Channing Tatum who posted a NSFW photo to Instagram in 2019, Chris Evans who ended up using his NSFW pic to encourage people to vote, and Jennifer Lopez who posted a shot sans-engagement ring shortly before she and Alex Rodriguez called off their engagement.The latest celeb to trend is Ashanti who, despite being a pretty unproblematic entertainer, caused quite a stir online after posting something personal on Instagram.
For context, the singer sparked dating rumors with rapper Flo Rida after they were photographed hanging out on a boat together in Cancun, Mexico in early April 2021. According to Essence, Ashanti caught wind of the speculation and quickly clarified that she and the rapper are just friends. "Aht aht," she commented on The Shade Room's Instagram post with the hand raised emoji. "Flo is my brother! We're family! Celebrating my sis @liltuneshi bday!!! Happy Birthday Bink!" A few weeks later, Ashanti shared another pic that has everyone questioning her relationship status. 
Keep scrolling to find out why.
Is Ashanti off the market?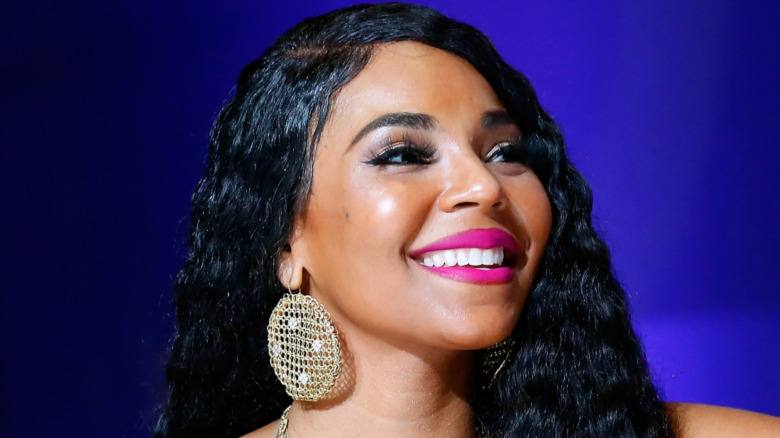 Jonathan Bachman/Getty Images
On April 22, 2021, Ashanti caught fans by surprise after posting an Instagram photo with a man some believe is her new boyfriend. While on vacation in Mexico, the singer posted a series of images, including one with a mystery hunk in a suit. Ashanti added to the mystery by tagging everyone — including where her dress is from, who styled her hair, and the restaurant she was dining at — but the unidentified man cozying up to her.
"Great times," she cryptically captioned the post. This lead to comments from fans begging for more information about the person in the photo. Over on Twitter, fans praised Ashanti's rumored new relationship. "Ashanti finally decided to post her dude, congrats!" one person tweeted. Another added, "If this is true, I want a detailed bulletpoint (sic) list on what this man did to pull Ashanti. He needs to be teaching Skillshare classes and everything."
Unfortunately, it wasn't all love as many pointed out that Ashanti, who was diagnosed with COVID-19 in December 2020, was on a trip down south amid a global pandemic. Meanwhile, as of this writing, the star has yet to confirm or deny her alleged new boo, but she's been posting tons of pics of her tropical vacation.