The Real Reason Grimes Was Hospitalized After SNL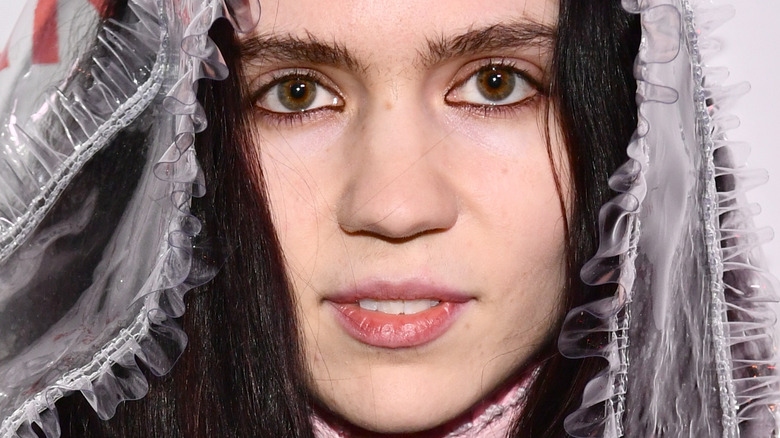 Emma Mcintyre/Getty Images
Grimes has opened up about a scary moment that took place after her May 8 appearance on "Saturday Night Live." The Canadian musician was on hand to support her boyfriend, Elon Musk, when he hosted the long-running sketch show — and even made a very special appearance herself. Grimes and Musk have been dating since at least May 2018 when People confirmed the two were an item after they attended the Met Gala together. Two years later, on May 4, 2020, the couple welcomed their first child into the world and revealed his unusual name, X AE A-Xii.
The "Oblivion" hitmaker appeared alongside her boyfriend when she played the "Super Mario" character, Princess Peach, wife of the infamous video game character, Mario, for a hilarious courtroom sketch. Musk took on the role of Wario, who was accused of killing Mario. As the details were hashed out in court, Wario revealed the truth about a secret affair between Mario's brother, Luigi, and Princess Peach.
But while it was all fun and games in front of the cameras, Grimes has opened up about the terrifying moment that came a couple of days later and landed her in the hospital. Read on for all the details.
Grimes had a 'panic attack' backstage at Saturday Night Live
Grimes took to Instagram on May 11 to share photos from her "Saturday Night Live" stint and revealed she didn't post them earlier because she'd experienced a "scary" incident. "I somehow caused myself to have a panic attack and went to the hospital yesterday which [to be honest] was quite scary and I suppose it's a good time to start therapy," she wrote in the caption.
Grimes didn't share what triggered her panic attack, but appeared to suggest she was doing better as she praised "SNL" musical guest Miley Cyrus and the host, her boyfriend, Elon Musk. "Wowwwww @mileycyrus is good live and so chill! So grateful to the SNL team for being so kind and letting me sneak in as princess peach [and] so proud of my beautiful E (which I know will upset the grimes fans so I apologize in advance) but he killed it," she wrote.
Grimes shared the news alongside two photos taken backstage as they filmed the May 8 episode. The star stood alongside Cyrus and rocked her Princess Peach costume. In the first, the former "The Voice" coach closed her eyes, smiled and flashed a peace sign, while Grimes blew a kiss. In the second snap, both had their eyes open as Grimes adopted Cyrus' pose.
We're just happy to see Grimes appears to be doing much better following her scary moment.