The Truth About Porsha Williams' Divorce From Kordell Stewart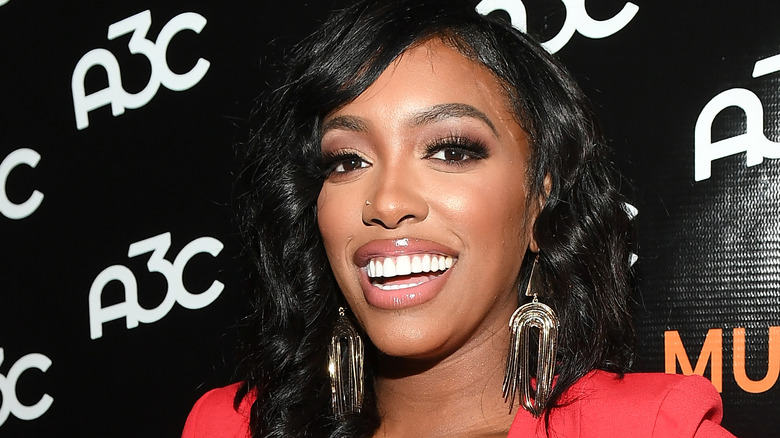 Paras Griffin/Getty Images
Porsha Williams' love life is definitely buzz worthy news. The "Real Housewives of Atlanta" star is sure to secure her peach for the show's potential 14th season — especially with the shocking news of her engagement to Simon Guobadia, the estranged husband of her co-star Falynn Guobadia. Porsha shared the news on her Instagram in May 2021, writing, "Our relationship began a month ago — yes we are crazy in love. I know it's fast but we are living life each day to its fullest. I choose happiness every morning and every night. Tuning out all negative energy and only focused on positive wishes. He makes me so happy and to me, that is what matters most." The businessman also confirmed his engagement to the "RHOA" star in his own post.
Despite Falynn being listed as her friend when viewers first met her, Porsha also addressed the "optics" of her engagement, clarifying that she and Falynn are not friends. She also claimed that she was not involved in Falynn's divorce from Guobadia. The news of Porsha's engagement to Guobadia has come with overwhelming controversy and backlash. Viewers are also reminiscing on Porsha's first marriage to Kordell Stewart. Let's take a trip down memory lane as we dive into the truth about Porsha's divorce from the former NFL star.
Kordell Stewart claims Porsha Williams chose fame over marriage
Since her inaugural season on Bravo's "Real Housewives of Atlanta," we've seen Porsha Williams undergo a ton of character development. From being a modest trophy wife to a twerking single woman, Porsha's life had clearly changed after her divorce from her first husband, Kordell Stewart. The two were introduced as newlyweds on season 5 of "RHOA," but their relationship deteriorated as Porsha expressed her desire to work outside of their home. Stewart instead wanted her to remain a full-time housewife as they aspired to work towards starting their own family.
The other cast members felt Stewart's behavior was controlling and chauvinistic. However, Porsha came to his defense. Behind closed doors, Kordell felt the reality star was being negatively influenced, causing him to file for divorce. He claimed that Porsha chose fame and independence over their family, and also contributed to rumors about his sexuality. During a February 2021 interview with Tamron Hall, Stewart addressed the resurfaced rumors on the show: "That show is all about storyline and you draw from whoever the castmates ... that are on the show, what they've been a part of, so there was a chance that, that [the rumor] may have seeped in."
Porsha Williams and Kordell Stewart had a messy divorce battle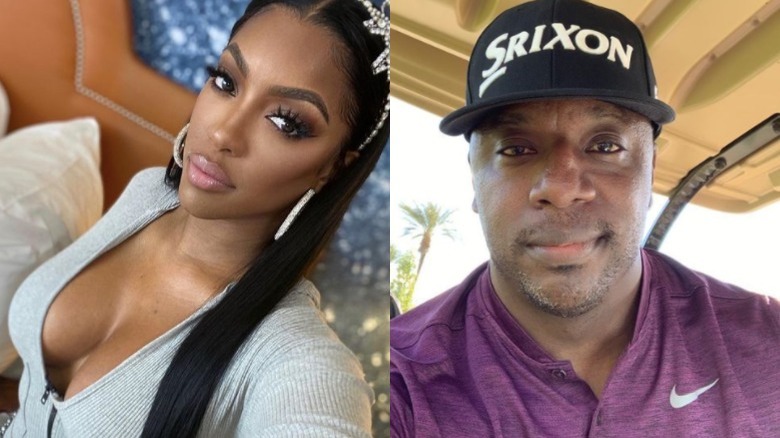 Instagram
Porsha Williams and Kordell Stewart's divorce was far from amicable. Like many of the Real Housewives who have gotten divorced, their legal battle came with some pettiness attached. As viewers saw in one episode, Stewart destroyed Porsha's wedding dress when sending it back to her after kicking her out of their home.
On Porsha's side of things, she reportedly felt blindsided by her then-husband's divorce filing as she learned about it from social media, per Us Weekly. She told the publication at the time, "This is a very difficult time for myself and my family. I'm just trying to remain strong. That's all I can do and stay prayerful and lean on my friends and family." She also claimed that Stewart was controlling and abusive towards her during their marriage, which the latter has since denied.
The formerly happy couple's divorced was finalized in December 2013, according to TMZ. As a result of the divorce, Porsha did not receive any spousal support. She has since established herself as an entrepreneur and a loving mother to her daughter, Pilar Jhena McKinley, whom she shares with ex-fiancé Dennis McKinley. The reality star's love life has always been a topic of discussion on TV, and by the looks of her new engagement, that won't be changing any time soon.