Who Are John Mulaney's Parents?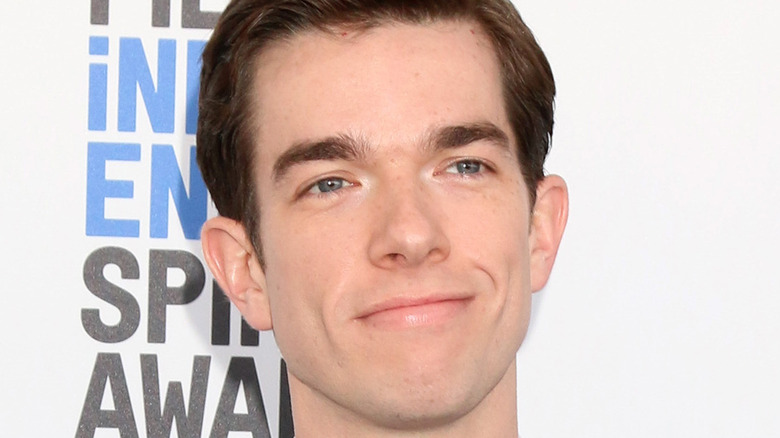 Shutterstock
John Mulaney is a familiar name in Hollywood, having paved a career as a stand-up comedian, actor, producer, and writer. Mulaney has starred in a myriad of comedy classics, including "Big Mouth," "Saturday Night Live," and his eponymous series, "Mulaney." Recently, the Emmy-winning star has been making headlines for his marriage with Annamarie Tendler. 
Mulaney and Tendler wed in 2014, but they called it quits after six years together, Page Six reported on May 10. According to the outlet, the TV creator asked Tendler for a divorce "three months ago," which lines up with the time he checked himself out of rehab in late February (via Vulture).
The actor's spokesman confirmed the estranged couple's split, telling Page Six that Mulaney "will not have any further comment as he continues to focus on his recovery and getting back to work." The spokesman also released a statement on behalf of Tendler. "I am heartbroken that John has decided to end our marriage," she said. "I wish him support and success as he continues his recovery."
For now, hopefully, Mulaney — as well as Tendler — are receiving endless love from family and friends. There's no doubt the "Portlandia" actor's parents haven't rushed to their son's side, considering his family was so supportive when he went to rehab. "It was a relief [to Mulaney's] family that he checked in," a source told Us Weekly in December 2020. To learn more about Mulaney's dad, Charles "Chip" Mulaney, and mom, Ellen Mulaney, keep scrolling!
John Mulaney's dad, Charles 'Chip' Mulaney, is a Yale law school graduate and a partner at a firm
No wonder John Mulaney is such a diverse and talented guy — he has some pretty cool parents! If you're a fan of the "Nothin's Easy" star, then you're probably familiar with both his mom and dad, as Mulaney often incorporates his parents into his funny comedy skits. One hilarious example is the time he called out his parents, Charles "Chip" Mulaney and Ellen Mulaney, for not having friends during an episode of "Saturday Night Live" in March 2020.
"My dad has no friends. And your dad has no friends," the "Jim Gaffigan Show" personality quipped (via Fatherly). "And if you think your dad has friends, you're wrong. Your mom has friends, and they have husbands. Those are not your dad's friends."
But no matter how much Mulaney loves to tease his parents, you can't deny they each have some impressive résumés. Starting off with his dad, Charles attended Yale University, where he earned his Juris Doctor degree, after receiving his Bachelor's degree from Georgetown University. Nowadays, he works as a Partner of Mergers and Acquisitions for the Skadden firm. 
Per the company's website, Mulaney's father "focuses on mergers and acquisitions (friendly and hostile), corporate governance and corporate financings. He counsels clients on a broad range of securities and corporate matters, including disclosure issues, the duties of directors and shareholder activism." 
John Mulaney's mom, Ellen Mulaney, is also a legal expert
Though John Mulaney's dad has done some notable things in his life, his mom, Ellen Mulaney, is just as remarkable. Like the times he mentioned his parents in past "SNL" skits, Mulaney gave an in-depth look at his mother and father's lives in his 2015 TV special "The Comeback Kid," which details the true story of their experience going to school with former president Bill Clinton.
"One I got to meet Bill Clinton. But two, I got to watch my parents watch someone they went to school with become the president. And that is super funny to see. Because think about some of the people you went to school with. Now image they're becoming the president," he said in the hour-long show, per CheatSheet.
As Mulaney recalled, his mom went to law school at Yale University, and since 2006, she's been working as a senior lecturer at Northwestern Pritzker School of Law, per The Daily Northwestern. During an interview with the publication in May 2020, the legal expert praised her son for being an admirable entertainer. "He just loved performing and he was pretty good at it," she gushed.
Ellen revealed she also has no qualms about being "known as John Mulaney's mother." She continued, "I think it's fun." While Ellen and Charles have a lot to be proud of, it looks like the same can be said for the showbiz star.