Prince Harry Shares A Sad Detail About One Of Archie's First Words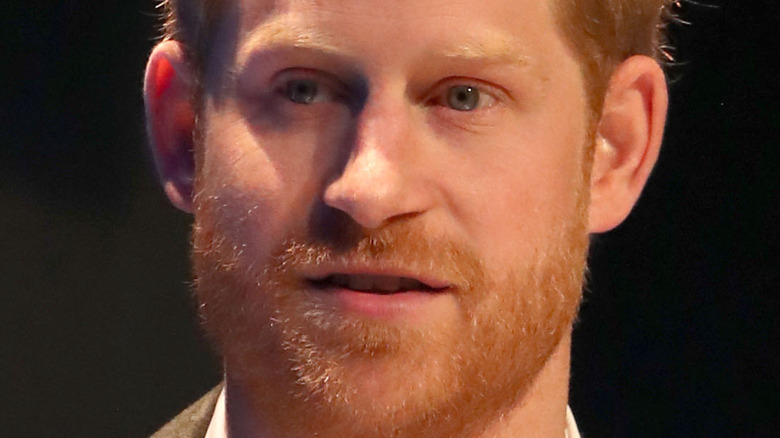 Wpa Pool/Getty Images
Prince Harry and Meghan Markle haven't exactly been shy about sharing details of their life with the public since they made the decision to step back as senior members of the royal family in January 2020. Harry and Meghan opened up about their new life together in California and the difficult time they had as members of the royal family in their bombshell March interview with Oprah Winfrey, as well as sharing titbits about being parents to their son, Archie. 
Harry revealed that one of the best things about moving to Los Angeles has been having Archie on the "back of a bicycle in his little baby seat and taking him on bike rides," something he noted he was never able to do as a child (via Town and Country). "I can seat him on the back and he's got his arms out and he's like 'whoah,'" Harry shared.
Other sweet details came the month prior when Harry chatted with James Corden on "The Late Late Show." Harry gushed that Archie is "hysterical" and has "the most amazing personality," sharing he was "already putting three or four words together" and "singing songs." He confirmed Archie's very first word was "crocodile," as he showed his pride by boasting, "three syllables!"
But while his very first word may have been animal based, Harry has since opened up about another, much more poignant, word Archie has learned to say. Keep scrolling for the touching details.
Prince Harry says one of Archie's first words was a tribute to Princess Diana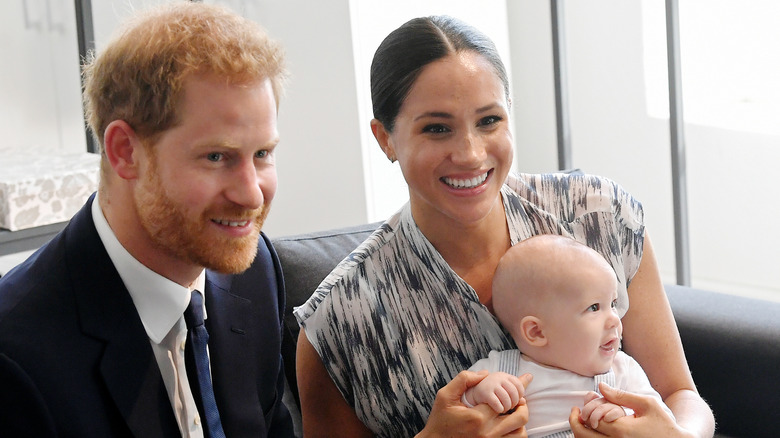 Pool/Getty Images
Speaking on the AppleTV+ series "The Me You Can't See," Prince Harry shared his and Meghan Markle's son, Archie knows all about his grandmother, the late Princess Diana — so much so that what he would have called her was one of his first words.
"I've got a photo of her in his nursery, and it was one of the first words that he said, apart from 'mama,' 'papa,' it was then 'grandma'. Grandma Diana," Harry shared on the show he co-created with Oprah Winfrey, calling it "the sweetest thing." However, he admitted he also found the words a little difficult to hear, saying, "it makes me really sad because she should be here."
Harry spoke candidly about how much he wished Diana "could've met Meghan" and how he would have loved for her to be "around for Archie." He added, "I have no doubt that my [mom] would be incredibly proud of me. I'm living the life that she wanted to live for herself, living the life that she wanted us to be able to live."
Diana died in 1997 when Harry was just 12-years-old. Harry has often spoken out about his late mother and has been very candid about the effect her death has had on his life. In their Oprah Winfrey tell-all, Harry shared how the money Diana left him helped him build his new life away from the royal family.