Who Is Lisa Marie Presley's Ex-Husband, Michael Lockwood?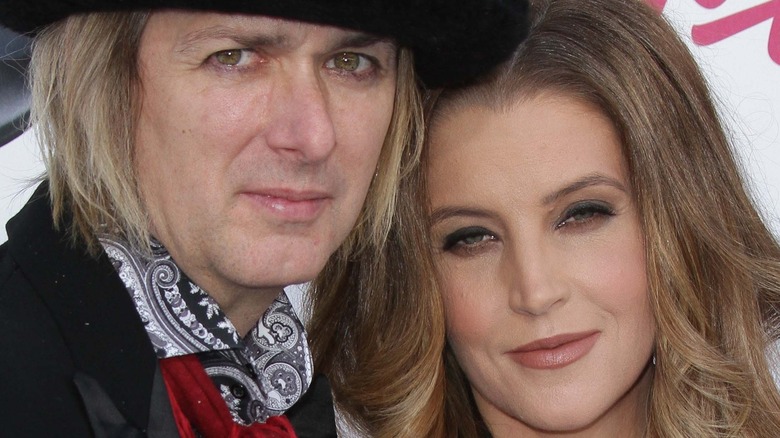 Shutterstock
Lisa Marie Presley is famous for having notable relationships. Along with the fact that her father was Elvis Presley and her mother is Priscilla Presley, Lisa Marie's daughter, Riley Keough, is also in the entertainment industry. Beyond that, Lisa Marie has been married four times and you'll surely recognize some of her former spouses.
Lisa Marie was first married to Danny Keough back in 1988 when she was just 20 years old, according to Hollywood Life. The pair had two children together, Riley and Benjamin Keough (who has sadly died), however, the couple was divorced by 1994, and that same year, she tied the knot with none other than fellow music industry star Michael Jackson. While their relationship ended just two years later, by 2002, Lisa Marie found herself married to another star: Nicolas Cage (who's been down the aisle a few times himself). Yet, again, after two years, Lisa Marie had divorced her husband, and two years after that, in 2006, she said "I do" to Michael Lockwood. Was this marriage meant to last? Nope.
Although Lisa Marie and Michael welcomed twin girls, Harper Vivienne Ann Lockwood and Finley Aaron Love Lockwood, into the world in 2008, the now-mom-of-four filed for divorce eight years later. Their marriage finally legally ended in May 2021, per People. However, due to the fact that their split was rather messy (as are their custody issues), the exes have continued to make headlines over the years. That surely leaves you wondering: who is Michael Lockwood? Keep reading to find out!
Michael Lockwood is a musician who's now remarried (maybe?)
While you might know Michael Lockwood as Lisa Marie Presley's ex-husband and the father of her twin daughters, those in the entertainment industry may know him as something else. According to IMDb, Lockwood was born in Hawthorne, California, back in 1961. Living so close to one of the centers of show business (i.e. L.A.) is perhaps one of the reasons why he grew up to be a guitarist, producer, and writer. Lockwood's website notes that he started his career in the '80s and released music of his own before going on to work with famous figures like Aimee Mann, Fiona Apple, and Carly Simon.
On the personal side, although People reported on May 27 that Lockwood's divorce from Presley was finalized, he has been in a relationship with a woman named Stephanie Hobgood since 2017, and the pair apparently got engaged in 2018, according to Radar. "He presented her with his grandmother's diamond ring from the 1950s, and they have already discussed the wedding details," a source claimed. "They are so excited!"
In fact, just days before Lockwood's divorce from Presley was fully legal, he took to Instagram to post a photo of himself and Hobgood which shows him wearing what appears to be a wedding ring. It looks like these two weren't willing to wait around to move on.