Chrissy Teigen Fires Back At Michael Costello With Screenshots Of Her Own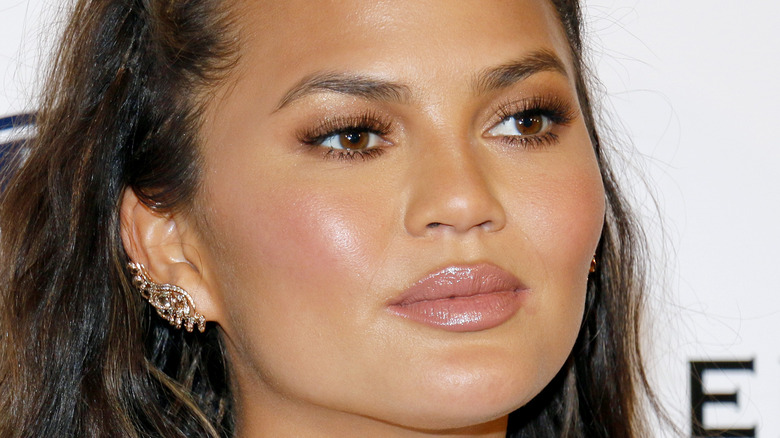 Shutterstock
The drama between Chrissy Teigen and Michael Costello just got even deeper.
On June 18, a representative for the "Project Runway" alum responded to Teigen's claims that the screenshots he shared on his now-private Instagram account of alleged cyberbullying by the mother of two were doctored. "The fact that Chrissy Teigen's team is desperately trying to prove the DM's are fake and attempts to discredit Michael Costello ... confirms that she remains the same bully..." the rep said in a statement obtained by Nicki Swift. The statement also said Costello's team had proof in the form of "emails and documents" that Teigen has blacklisted him.
Teigen fired back in a June 18 post to her Instagram account with screenshots of her own (seen below) that showed direct messages sent to her by Costello. In these messages, it appears that Costello told Teigen her lipstick looked "beautiful" and complimented a photo of food she posted. These interactions happened in 2018 and 2019, according to a statement shared in the slideshow. In the statement, Teigen explains that she believed she and Costello were on good terms until his bullying accusations came about. She also described why his screenshots do not add up, as reported in a Business Insider article published earlier the same day.
Teigen had some further words to share in the caption of her post, in which she warned Costello that this feud may be taken to a more serious level. Keep scrolling to learn what Teigen wrote.
Chrissy Teigen is taking the allegations made by Michael Costello seriously
Chrissy Teigen did not hold back when letting both the public and Michael Costello know exactly how she feels about the spiraling situation through her Instagram post. "No idea what the f**k michael costello is doing. He just released a statement where he didn't at ALL acknowledge how fake the dm's were, & now claims to have emails that don't exist," she complained. She added how shocked she was to hear about the bullying concerns considering she received so many nice messages from the designer in recent years.
"Please do NOT bully this man under the masquerade of defending me. I've taken it ALL. I've heard it all. I just beg for you to know the truth," she pleaded with fans before directly acknowledging Costello. "Michael, you are now causing actual pain to people who are trying to better themselves. Enough. Or this WILL go further. Not here, but an actual court of law," she warned. "And every dime we win will go to an anti bullying charity focused on turning this s**t show into a positive. I wish you peace and healing. I have some places I've been attending if you'd like the connects," she offered.
It's clear that Teigen won't allow her name to be dragged through the mud any longer. Only time will tell if this feud will turn into a legal battle or if it can be settled outside the court system.