What Is The Age Difference Between Britney Spears And Sam Asghari?
Shutterstock
Britney Spears has expressed her frustrations with her ongoing conservatorship, blasting her family for their roles in controlling her life. Luckily, Spears does have one ally by her side: her boyfriend Sam Asghari. They have been together for several years, and the age difference between them does not seem to be an issue at all. Spears and Asghari first met when he appeared in her music video "Slumber Party," per People. During a chat on AMP 103.7's "Fast in the Morning with Nathan Fast and Sybil Summers" show in January 2017, Spears talked about their connection (via People). Their first encounter came as they were waiting near one another during downtime for the video shoot. "So we were basically forced to talk to each other and he has no idea — I mean, he knows my name — but he doesn't know me as a person. He's like 'What is this girl like?' and I have no idea who the h**l he is," she detailed.
The pop star and Asghari chatted about sushi and other things they liked, Spears recalled, and even talked about getting together. He gave her his number and Spears thought he "was really cute." They reportedly had several dates before being photographed together at a Japanese restaurant in Los Angeles in late December 2016. Speculation about their romance began to swirl and that escalated after Asghari posted (and then deleted) a photo of them together at a restaurant. The romance blossomed from there, but he's quite a bit younger than Spears. Keep scrolling to find out the details of their age difference.
Sam Asghari and Britney Spears are focused on more than their age difference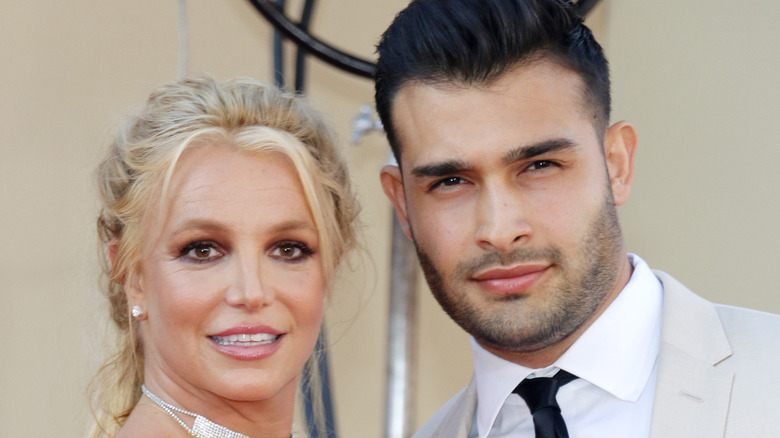 Shutterstock
When Britney Spears first met Sam Asghari while filming "Slumber Party," she was 35 years old, detailed People. A few months after they were first spotted together, she gushed over him on Instagram as he turned 23. But, despite their nearly 13-year age difference, an insider told Us Weekly in 2018, "Britney is head over heels in love with Sam." The source also noted that "[h]e's very fun" and "has a lot more in common with Britney" than her previous beaus. In August 2019, another source told People, "There is no question that Sam is great for Britney. He has a very positive influence on her."
Spears and Asghari have been practically inseparable since they started dating in late 2016. Throughout her legal battle with her father, Jamie, regarding the conservatorship, a source told Page Six Asghari had been a "huge support" for Spears. "He helps boost her confidence and assures her that everything will go well," the source explained. According to an InTouch Weekly insider, Asghari is totally hands-on in helping Spears through this. "Sam has been helping Britney every step of the way and trying to keep her mind off of things. He's a good influence in that sense." He may be more than a decade younger than the pop superstar, but Asghari certainly seems to be the right guy at the right time for Spears.