How Riley Keough Changed Her Career After Her Brother's Death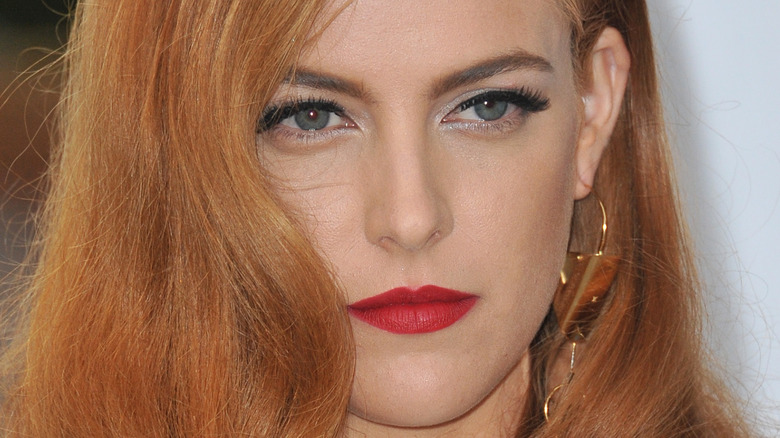 Shutterstock
The following article includes mentions of suicide.
Lisa Marie Presley and Danny Keough's daughter, Riley Keough, is opening up about the tragic death of her brother, Benjamin Keough and why she made a major career change in the wake of his suicide. A coroner confirmed that Benjamin, the grandson of Elvis Presley, had taken his own life in July 2020 (via BBC).
Lisa Marie broke her silence on her son's death in October 2020 when she took to Instagram to commemorate what would've been her late son's 28th birthday. The star shared an old photo of Benjamin wearing a party hat with a lit birthday cake in front of him alongside a heart-wrenching caption.
Calling Benjamin her "beautiful beautiful angel," Lisa Marie told him, "I worshipped the ground you walked on, on this earth and now in Heaven. My heart and soul went with you. The depth of the pain is suffocating and bottomless without you every moment of every day." She added that she would "never be the same" and encouraged Benjamin to wait for her "and hold my hand while I stay to continue to protect and raise your little sisters and to be here for Riley. I know you would want that."
She concluded the devastating post, "Happy Birthday my sweet sweet Boy. You were much too good for this world."
One of his sisters, Riley, is now speaking out about the unimaginable loss and revealing how she felt inspired to help others in the wake of Benjamin's passing.
Why Riley Keough became a 'death doula' after Benjamin Keough took his own life
Riley Keough got candid about her grief following Benjamin Keough's death in a July interview with The New York Times, where she shared what inspired her to make a career change to become a "death doula" after her brother took his life. A death doula is someone who helps those dealing with end of life.
Riley explained she found it difficult to even get out of bed for around five months after Benjamin died, which is when she decided she wanted to put herself into a "position of service" to help others dealing with similar grief. "That's really what's helped me... I can help other people, maybe I can find some way to help myself," she shared, revealing she knew it was important not to try to bury what she was feeling. "I wanted to make sure that I was feeling everything and I wasn't running from anything."
Riley also shared that her brother's death and new career helped her to better understand the "fragility of life" and value the important people in her life more.
Prior to her career change, Riley was a big name actor. The star appeared in a number of movies and TV shows, including "Mad Max: Fury Road," "Magic Mike," and The CW's "Riverdale." The star still appears to have some productions in the works too, including the Amazon Prime Video series "Daisy Jones & The Six."
If you or anyone you know is having suicidal thoughts, please call the National Suicide Prevention Lifeline​ at​ 1-800-273-TALK (8255)​.