The Zoey 101 Star Who Claims Britney Spears Threatened Her Career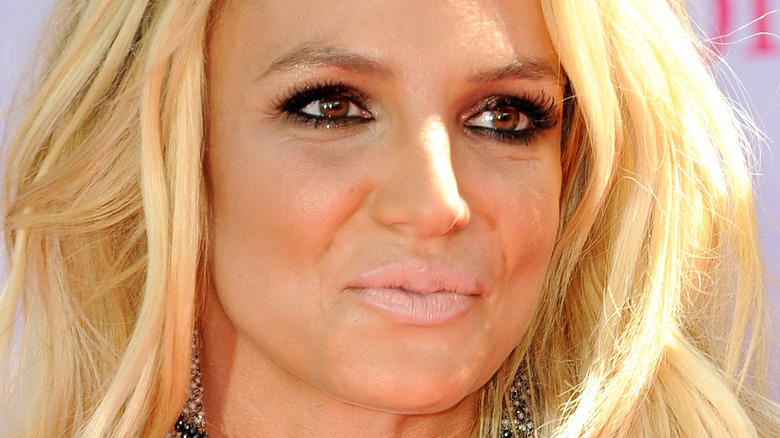 Shutterstock
In recent years, the news about Britney Spears has focused less on her actual music career and more on her fight for freedom. But thanks in part to the efforts of the #FreeBritney movement, The Hollywood Reporter confirmed that Britney Spears is one step closer to freedom from her controversial conservatorship. A judge granted the embattled pop star the right to choose her own attorney in her conservatorship case, and Spears named attorney Mathew Rosengart to handle her affairs. During the hearing, the stress of the conservatorship on Britney was evident. "I want to get my dad removed, ma'am," Spears said to the judge, according to the outlet. "I'm angry and I will go there."
But before Britney Spears was fighting for her freedom, she was fighting for the people she loved — including her sister, Jamie Lynn Spears. One former "Zoey 101" star found out what it meant to mess with Britney Spears' sister the hard way — and even claims Spears threatened her career. Keep reading on to find out more details.
Alexa Nikolas claimed Britney Spears 'threatened' her
Fans of the show "Zoey 101" may remember Alexa Nikolas, who played Zoey's (Jamie Lynn Spears) best friend Nicole. While Nikolas and the younger Spears sister were besties on-screen, they were allegedly constantly at each other's throats off-screen. That's when Big Sister Brit stepped in, according to The Denver Post, and things got very messy and very quickly. 
"[Britney] proceeded to scream that Alexa was an 'evil little girl,' and that she had better watch herself or she 'will never work in this town again!" a source of the Post reported. A rep of both Spears confirmed there were issues on set between Jamie Lynn and another girl her age. "Britney did have words with the girl, but felt she was sticking up for her sister," the rep shared. 
That makes Jamie Lynn Spears' supposed fallout with Britney Spears even more heartbreaking, when you think about it. But, Nikolas seems to be content with letting bygones be bygones, as evidenced by the latest update on this story.
Alexa Nikolas is Team #FreeBritney
According to The Sun, while Jamie Lynn Spears has been dragged for staying quiet (until recently, when she pleaded for the "bulls**t" to stop) as Britney Spears waged war in her conservatorship battle, the younger Spears' "Zoey 101" co-stars — including Alexa Nikolas — have come out in support of the elder Spears' conservatorship fight. The outlet reported that Nikolas took to her Instagram Story in late June to share a post about Britney Spears' conservatorship battle, writing, "I support her." She then shared another post that had the hashtag #FreeBritney, and also wrote, "This is so horrible."
Fans of the show will also remember that "Zoey 101" was canceled after Jamie Lynn Spears got pregnant with her daughter — although Jamie Lynn is adamant that the hit series did not end for that reason, per Nylon. It seems that while Nikolas is happy to let teenage drama be water under the bridge, Jamie Lynn — her former onscreen bestie — could stand to take the lesson as well.