Inside Simone Biles' Epic Medal Win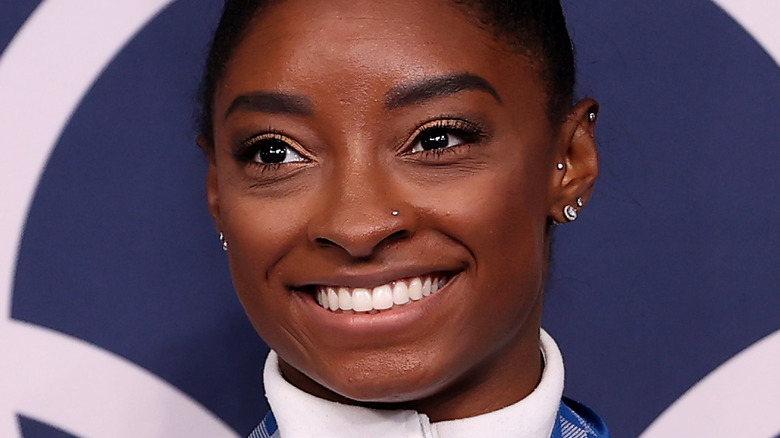 Laurence Griffiths/Getty Images
The 2020 Tokyo Olympics have been a whirlwind for team USA gymnast Simone Biles. Fans were looking forward to watching the four-time gold medalist defend her 2016 medals. However, Biles shocked viewers and her teammates alike when she pulled out of the team all-around finals after one rotation, citing mental health concerns. Her three teammates finished the competition without her, winning a silver medal as the 24-year-old athlete cheered from the sidelines. She told reporters that she felt off, and that her decision to withdraw herself from the competition was for her own safety and to avoid severe injury. "I felt like it would be better to take a back seat," Biles said, per The Cut. "I didn't want to risk the team a medal because they worked way too hard for my screwups."
As the week went on the five-time Olympic medalist dropped out of the individual all-around competition, with 21-year-old Jade Carey replacing her. Her withdrawal also gave USA gymnast Sunisa Lee the opportunity to win her first gold medal. Biles also pulled out of the uneven bars and floor exercise events, and her replacement, Carey, came in and won gold on the floor. Meanwhile, Biles was the team's resident cheerleader, as she was seen on the sidelines during each event cheering on her teammates. However, that wasn't the end of her Olympic career, returning for one final, triumphant event. 
Simone Biles wins the bronze medal in final gymnastics event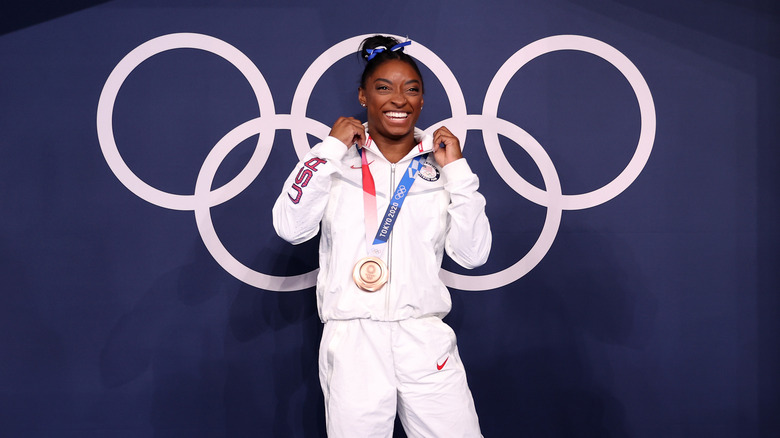 Laurence Griffiths/Getty Images
After dropping out of the four other events she qualified for, Simone Biles was medically cleared to participate in the final gymnastics event, the balance beam. She defended her bronze medal in the event, which she won in the 2016 Olympics. The medal marked her seventh career Olympic medal, which ties her with Shannon Miller for most by an American gymnast. Between the Olympics and World Championships, she has 32 medals, the most of any American gymnast, per the New York Post. Her achievements have earned her the reputation as the greatest of all time, or the GOAT, by many.
Biles' performance earned her a score of 14. She won the bronze behind two Chinese gymnasts — the 16-year-old Guan Chen, who won gold, and Tang Xijing, who took home the silver. Fellow American Sunisa Lee finished in fifth place. While some may think the bronze may not have been what Biles was expecting, the win is particularly significant to her. "It means more than all the golds because I've pushed through so much the last five years and the last week while I've even been here," Biles told the Today Show's Hoda Kotb. "It was very emotional, and I'm just proud of myself and just all of these girls, as well."
Biles got support from many other athletes, including her boyfriend, commending her bravery to bring attention to mental health in sports.