What Brody Jenner Thinks About Kaitlynn Carter's New Boyfriend
Shutterstock
Reality stars have always kept the public on their toes when it comes to their relationship status, and costars of "The Hills: New Beginnings" Brody Jenner and Kaitlynn Carter are no different.
The exes first linked up at a party in 2013 and really hit it off. "I was going after her," Jenner told People, adding, "She's an amazing girl." They soon moved in together before Jenner asked for Carter's hand in marriage in 2016. But despite getting down on one knee, the pair waited a few years before they finally said "I do" at their Indonesian wedding in 2018. "I'm glad we took our time to get to know each other," Carter told the outlet of her long-term relationship following their island nuptials. "We know for sure that we can work through things and that we want to be together."
The pair took another big step and signed on to be a part of "The Hills" reboot in September 2018, per Entertainment Tonight. But following the show's premiere on June 24, 2019, the couple announced they were parting ways after one year of marriage on August 2, 2019. However, according to Us Weekly, the exes never made their marriage official in the U.S. and had not obtained a marriage license, making there no need for a divorce.
Since the couple split, Carter has moved on with her new boyfriend Kristopher Brock and they are expecting their first child together. Keep scrolling to see how Jenner feels about Carter's man.
Brody Jenner was 'hurt' when he learned of Kaitlynn Carter's pregnancy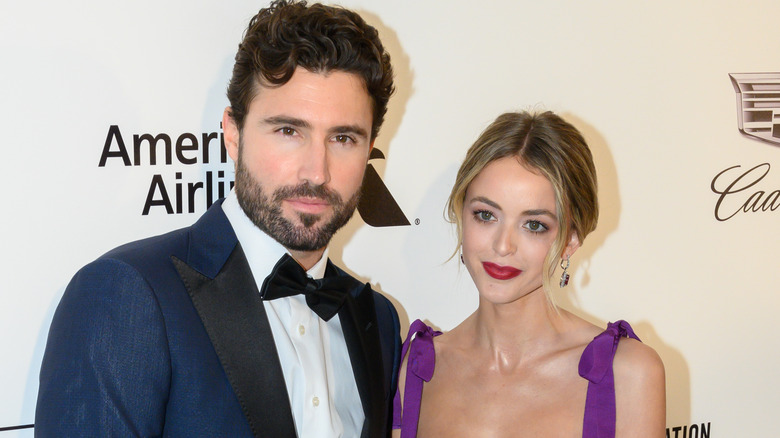 Shutterstock
Despite their breakup, Brody Jenner and Kaitlynn Carter appeared to stay on good terms, especially as they filmed Season 2 of "The Hills: New Beginnings" together. But after their split, Carter moved on to her brief romance with Miley Cyrus before she linked up with her current boyfriend and father of her child, Kristopher Brock, per Page Six. The pair had been together for over a year before they revealed they were expecting in June 2021.
But as Carter looks towards her future with Brock, it seems like she has some unfinished business with Jenner, who said he was upset to learn of her pregnancy news "through the grapevine," on the Season 2 finale, per TooFab. "We spent 6 years together and I think that me being one of the last people to find out, that's what hurt me most," he said at the time.
However, Carter said she wanted Jenner to learn the news from her, stating, "It was important for me to tell you about it. That was, from the very beginning, that was a priority to me."
But aside from how things went down, Jenner said he's happy for his ex, but he's still protective of her. "You always told me how you want to be a mother, that's your dream in life. I know for a fact you will be the best mother ever," Brody said, adding, "I just want to make sure you're with the right person."
Brody Jenner worries Kaitlynn Carter and her new boyfriend are moving too fast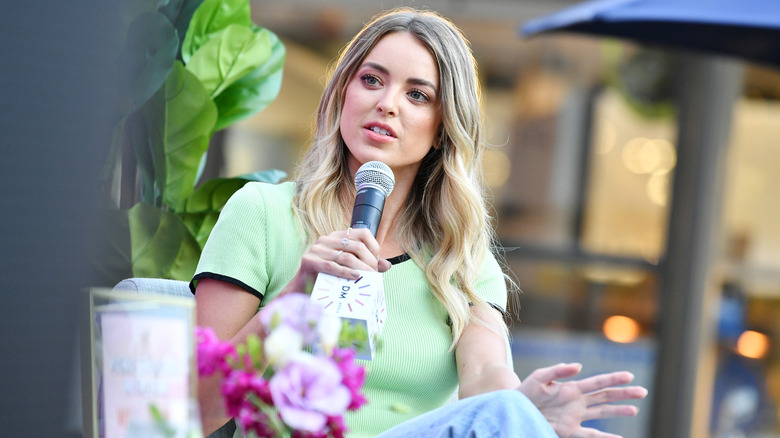 Amy Sussman/Getty Images
Although Brody Jenner seems happy for Kaitlynn Carter and her relationship with Kristopher Brock, he admitted that he thinks things are moving too fast for the two. "It's just a little soon, but I don't know," Jenner said in a confessional interview on the season finale of "The Hills: New Beginnings," per TooFab. 
"What's done is done. I just hope that she's making the right decision. Ultimately, I just want to see her happy. If I don't think she's making the right choice, I'll definitely let her know that," he added. Later in the show, Jenner revealed his reservations about his ex's new man. "My main concern was him, who is he, I never met him," he said. "I thought it was soon. I trust her judgment, I trust she knows what she's doing."
But while Jenner was skeptical about Brock, the father-to-be said he was "really excited" to meet Jenner in person as they crossed paths during a night out on the show. After their introduction, Jenner told Brock he's heard "a lot of nice things" about him while they mingled for the first time.
"He seems friendly, he seems nice," Jenner said of Brock in a confessional. "I don't know anything about him. I think it's a little quick that she's pregnant already ... that was quick. You never know."