What We Know About Jon Gosselin's Girlfriend's Cancer Diagnosis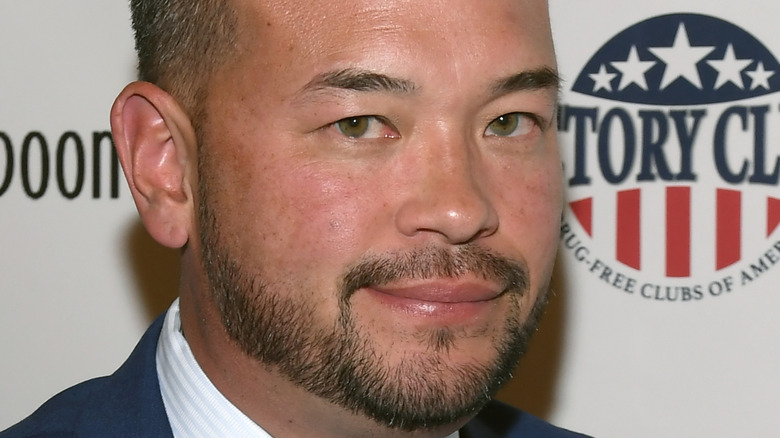 Bryan Steffy/Getty Images
We know former "Jon and Kate Plus 8" star Jon Gosselin is in it for the long haul when it comes to his relationship with his girlfriend, Colleen Conrad. Back in November, the pair celebrated their six-year anniversary, but it seems like their relationship was put to the test following Conrad's shocking breast cancer diagnosis. 
"I went for a mammogram on 4/15. I had put it off for almost 2 1/2 yrs due to lack of time and Covid and later got a call that a mass was found in my right breast," Conrad revealed via Instagram on a collage of her in hospital garb on Aug. 7, 2021. "Everything after that happened so fast. Then on 4/21, I got the call that is confirmed it was cancer. Stage 2, triple-negative breast cancer," she continued.
Revealing she underwent a mastectomy, plus more details about her journey to recovery, she concluded her message by thanking her support system. "I was also lucky enough to have support through amazing friends and family but mostly my 2 kids Jesse and Jordan and my sister Debbie," she wrote. "Even though My sister was 1200 miles away. She was always there supporting me." Although Gosselin didn't get a shoutout, he appeared to be preoccupied at Musikfest according to his Instagram Stories. However, neither Conrad or Gosselin have alluded to a split and they both last posted about each other in honor of their anniversary. Keep scrolling for more details about Conrad's cancer diagnosis.
Jon Gosselin's girlfriend is on her way to recovery
Following Colleen Conrad's cancer diagnosis, she admitted that she struggled to grapple with the news. "I think the first time it hit me and felt real is when I felt the lump myself in the shower," she wrote in her emotional Instagram post. "That was the first time I broke down and cried. I had not been doing monthly self-breast exams like I should have."
Revealing she was "BRCA1 and 2 negative," she said the steps that followed after the initial shock "seemed so surreal," adding, "I had a single mastectomy done on my right breast on 7/14/21 followed by a DIEP Flap procedure on 7/30/21 and I feel good." A DIEP flap is a type of reconstruction performed after a mastectomy that uses a woman's own tissue to create a new breast, according to UCSF Health. "The DIEP flap was a personal choice for me," she wrote. "I am very happy with the outcome but I also had amazing surgeons at Penn Medicine in Philadelphia."
Following her surgery, Conrad was thrilled to learn cancer had not spread to her nodes, writing, "Thank God," and as a result, her doctors were able to "downgrade" her cancer to "stage 1." However, Conrad said she's not out of the woods yet and is "still waiting" to find out if she'll need chemotherapy, plus she still has one more surgery on the books. Our fingers are crossed for a speedy recovery!
Jon Gosselin had his own health scare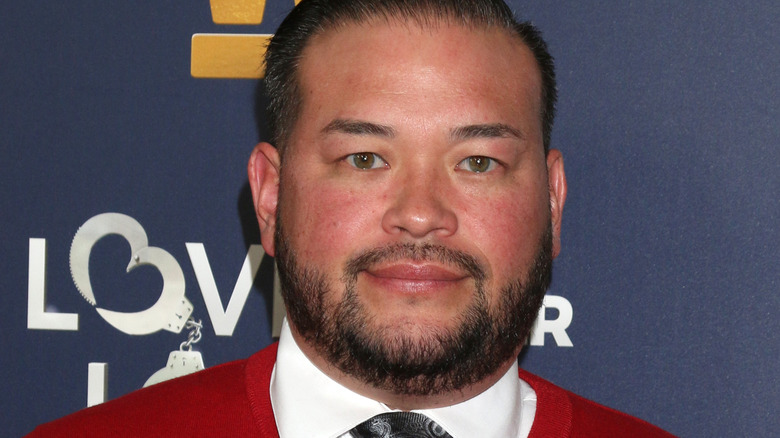 Shutterstock
Prior to Colleen Conrad's cancer diagnosis reveal, her significant other had some health issues of his own. Back in January, Jon Gosselin revealed he suffered from a bad case of COVID-19 while speaking on the "Dr. Oz" show. "My stepdaughter, Jordan, Colleen [Conrad]'s daughter, took me to the hospital and I had a 104.8 [degree fever]," he recalled on the episode, per Us Weekly. "I was in a wheelchair. I had to wait in the ER. It was packed, like, the hospital was full and then they put me on a gurney and put me in the hallway in the waiting room, so I could get a temporary room."
After arriving at the hospital, Gosselin said everything "happened really fast," adding, "All of a sudden, I'm getting antibiotics, steroids, and a plasma antibody transfusion for COVID." Once Gosselin was moved to a "more permanent room" he said, "Then I just remember sleeping and it was just surreal. Like, 'What?' I didn't even realize why I was there until, like, three days later."
During the interview, Gosselin appeared to have made a full recovery, however, he said his battle with "bad COVID pneumonia" was "really scary," per People. "I didn't feel sick and I didn't feel pain ... but when you went to move or do anything and you felt so weak and you wanted to pass out." Plus, the sudden decline in his health "was so weird," and he admitted that "It's still weird now."