The USA Network TV Series That Timothée Chalamet Was In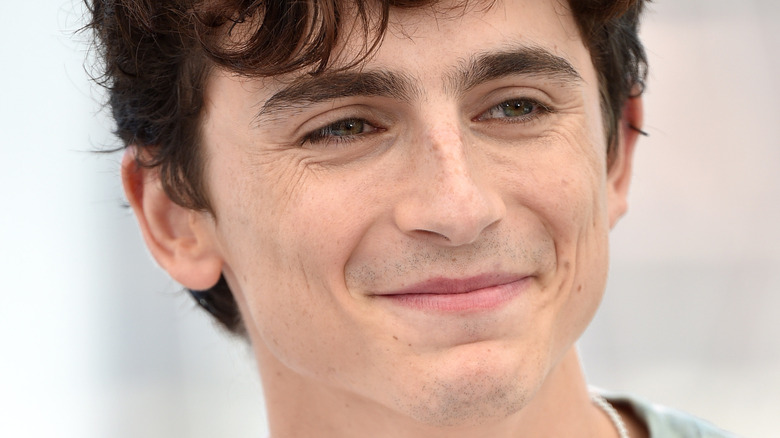 Lionel Hahn/Getty Images
Timothée Chalamet is one of the most talented young actors in Hollywood. Vox reported that he was the youngest actor to receive an Oscar nomination for Best Actor in 80 years for his role as Elio in 2017's "Call Me By Your Name." Chalamet was only 19 when he starred in the film; he was 22 when he received his nomination. The young actor was starstruck during the Oscars, but he told LA ABC 7, "I'm not embarrassed by that ... I really am a fan first and foremost."
But 2021 will likely be the actor's best year yet. Chalamet is the star of the "Dune," premiering in October 2021. Acclaimed director Denis Villeneuve directed the remake of Frank Herbert's 1965 science fiction novel, and many predict Chalamet will shoot into the superstar realm with "Dune." In GQ's November 2020 cover story, Villeneuve said Chalamet was the "one being on this planet right now that would be able to portray Paul Atreides." The French director explained why he cast him as Paul, the heir of House Atreides who transforms into a messiah figure and leader, saying, "He has a deep, deep intelligence in the eyes. Something you cannot fake ... Very intellectual, very strong. And you see that in the eyes. He also has a very old soul. You feel that he has already lived through several lives."
Chalamet may soon be on Hollywood's A-List, but he was on a popular USA Network TV show when he was younger. Keep reading to find out more!
A young Timothée Chalamet appeared in Royal Pains
Timothée Chalamet was in USA Network's "Royal Pains" in 2012, per IMDb. Chalamet played the role of Luke Casey, the nephew of Jill Casey (played by Jill Flint), who was the girlfriend of Dr. Hank Lawson (played by Mark Feuerstein). The Andrew Lenchewski series aired from 2009 until 2016, following the story of a fired Manhattan ER doctor who moves to the Hamptons and becomes a concierge doctor. Chalamet's character Luke was a nerdy tween who liked surfing (which he was not great at) and chess. Chalamet was part of the cast during Seasons 3 and 4. After Flint (who played Luke's aunt) left the show, Chalamet's role faded away.
During the pandemic, the cast of "Royal Pains" reunited for a live table read to raise money for Feeding America, per Us Weekly. Chalamet was not part of "Housecall: A Royal Pains Reunion." But just a few years after his gig on the series, Chalamet got a big break when Christopher Nolan cast him as Matthew McConaughey's son in 2014's "Interstellar." After his 2017 Oscar nod, Chalamet's work continued to generate fan and critical acclaim. He won rave reviews for his work with Saoirse Ronan in the indie hit "Lady Bird," and received a Golden Globes nod for his role as a drug-addicted son Nic Sheff in "Beautiful Boy." 
Chalamet's work doesn't define the 25-year-old actor, though; his actions off-screen have created headlines in a positive way.
Timothée Chalamet wants to be an actor who stands for something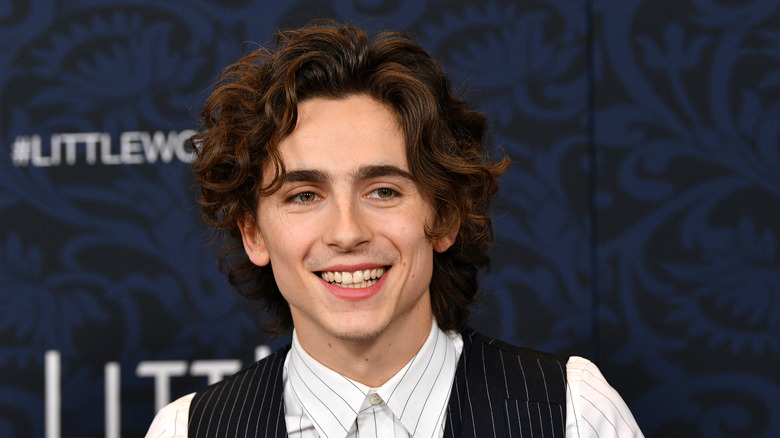 Dia Dipasupil/Getty Images
According to Vogue France, Timothée Chalamet's first acting job was at the ripe old age of 13. Before his "Royal Pains" role, Chalamet played a murder victim in the crime series "Law & Order." Vogue France reported the young American actor is the son of a French father, Marc Chalamet, and an American mother, Nicole Flender, a former Broadway star.
Despite his age, Chalamet seems older than his years and the young actor has shown he cares about others. In a Deadline interview, the "Call Me By My Name" star talked about responsibility, saying, "Responsibility to the story, and what the material is all about, and to bringing that out in the most human way." Chalamet showed he cared about social responsibility related to his work in Woody Allen's "A Rainy Day in New York." According to Deadline, when the allegations of sexual abuse by Allen (which the director has denied) resurfaced in 2018, Chalamet chose to pledge his salary from "A Rainy Day in New York" to Time's Up, the LGBT Center in New York, and RAINN. In a statement, Chalamet explained, "This year has changed the way I see and feel about so many things."
Time Magazine reported that the actor posted about his decision on Instagram, writing, "I want to be worthy of standing shoulder to shoulder with the brave artists who are fighting for all people to be treated with the respect and dignity they deserve."