What Did Kelly Clarkson Do With Her Wedding Ring From Her Ex?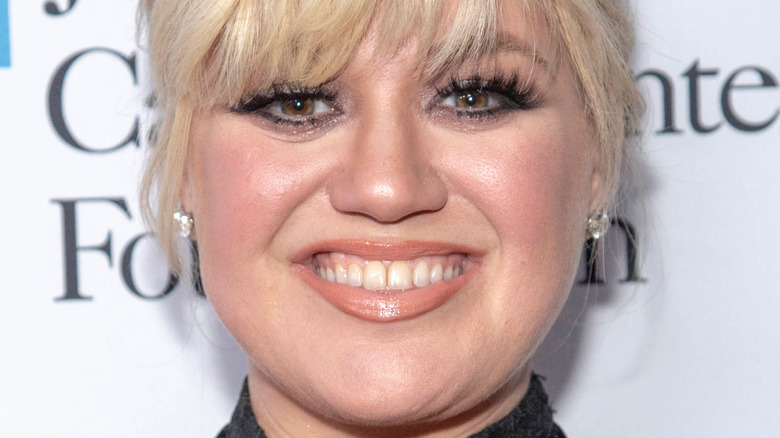 Eugene Powers/Shutterstock
Kelly Clarkson's rocky relationship with her estranged husband, music manager Brandon Blackstock, hasn't exactly been the most amicable since she filed for divorce in June 2020. Though there was a time the two appeared to be one of the happiest couples in the music industry, things quickly got messy between the formerly loved up duo as they battled in the courtroom.
Things first turned nasty in September 2020 when it was revealed that Blackstock's dad had filed a lawsuit against Clarkson claiming that the original "American Idol" winner allegedly owed more than $1.4 million to his management company, Starstruck Management Group. Clarkson then alleged the following month that Blackstock and his dad had "defrauded her by charging her outlandish fees during her time with the team" (via Us Weekly) — claims that Blackstock denied.
Unfortunately, things have only turned nastier since then. In November 2020, court documents claimed that "the level of conflict between the parents has increased" and noted Clarkson and her ex were having "a difficult time co-parenting" their two children, River and Remington, "due to issues of trust between them" (via E! News).
The "Miss Independent" hitmaker has since made it clear that she's very much done with her estranged husband. Clarkson filed documents in August asking the judge in her case to legally restore her last name after going by Kelly Blackstock in her personal life. So, it's probably not too big of a surprise to hear that Clarkson made a bold move regarding her wedding ring...
Kelly Clarkson replaced her engagement and wedding rings
Kelly Clarkson appeared to send a pretty clear message about where she stands with her estranged husband, Brandon Blackstock, during an appearance on "The Tonight Show Starring Jimmy Fallon" on August 23. What's a girl to do with her wedding ring after a big split? Replace it, of course!
The star's team posted two stunning photos of "The Voice" coach backstage on her Instagram account as she showed off a stunning piece of jewelry on her ring finger. Clarkson wore a ring on her left hand — but it wasn't her engagement ring from Blackstock or her wedding ring. Instead, Radar Online claimed it was a black diamond ring that was "a fierce nod to herself for her recent prenup win." Clarkson's team tagged several brands on the pics, but not the designer of the ring, suggesting it may have been a gift to herself.
Black diamonds hold a lot of significance. It's thought they symbolize "purity, love, fidelity, and eternity," along with "power, charisma, certainty, and passion," per Diamond Studs, potentially things Clarkson is promising herself after her split. It's not clear how much it cost, though the outlet claimed black diamonds can cost $300 per carat, or if her ring features an untreated stone, that could be a whopping $3,000 per carat.
Clarkson can more than afford an untreated stone, though, as court documents made public in her divorce case revealed she earns a huge $1,583,617 every month (via The Blast).
Kelly Clarkson's ring display came after a major win in her divorce case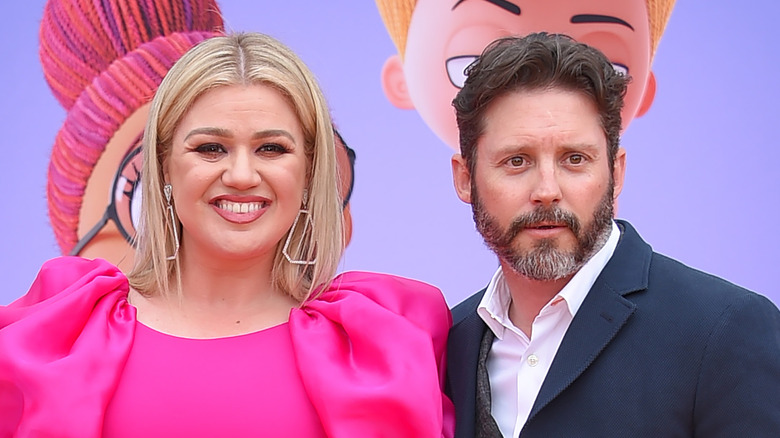 DFree/Shutterstock
If Kelly Clarkson did treat herself to the celebratory piece of jewelry, we certainly wouldn't blame her. The star was saved from having to fork out millions to Brandon Blackstock in their divorce case after it was revealed in August that the judge ruled to honor the prenup they signed before tying the knot.
TMZ reported that Blackstock — who's making a big career change — had allegedly been contesting the prenup and supposedly wanted everything Clarkson earned after their marriage, as well as their properties, to be split between them. But he didn't get his way, and Clarkson apparently got the news while filming "The Voice." The star was said to have been so happy about the news that she had a celebration on the set alongside her fellow coach, Ariana Grande, per the outlet.
Jewelry seems to be a sentimental thing for the "The Kelly Clarkson Show" host, as, in a now very bittersweet post, she revealed how much she loved her engagement ring from Blackstock. The star proudly showed off her yellow diamond ring on WhoSay in 2013, gushing (via Us Weekly), "It's a yellow canary diamond with diamonds around it. Brandon designed it with Johnathon Arndt! They did an amazing job! I can't wait to make Brandon's ring with Johnathon as well!" If the reports about the ring are accurate, we love seeing Clarkson bless her finger with a new piece representing her independence.