The Truth About Kim Basinger And Alec Baldwin's Relationship After Their Divorce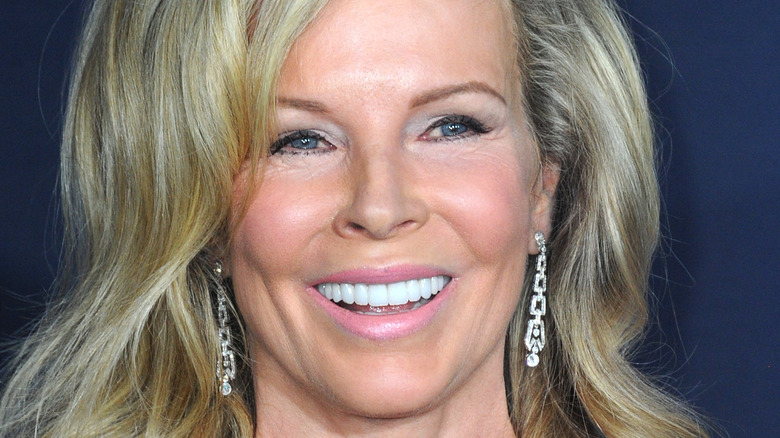 Albert L. Ortega/Getty Images
Hollywood stars Alec Baldwin and Kim Basinger married in 1993, welcomed their daughter Ireland Basinger Baldwin to the world in 1995, and separated in 2000. "Sparks flew" between the celebrity couple when they met, as People reported in 2001, but their passionate romance couldn't solve some of their differences. Long Island-born Baldwin bought a house in the Hamptons and wanted the family to settle there, but Basinger liked Los Angeles and they never moved into the home. In addition, Basinger struggled with Agoraphobia and panic attacks, which at times made her wary of going out in public. Baldwin, the oldest son of an Irish Catholic family, was used to a crowd. When Basinger won an Academy Award for her work in "LA Confidential" in 1997, it only added stress for the camera-shy actor.
In 1998, Basinger told the Ladies Home Journal (via People) that her husband "has the biggest heart of anybody I've ever met. But at the same time, he's a black Irish Catholic with a temper." In 2000, Baldwin told Vanity Fair that one of the reasons he loved Basinger was because she was "odd." Baldwin compared his then-wife to a Tennessee Williams character and said she was "an absolutely maddeningly peculiar, exotic, lovely person."
The couple's passion, combined with her eccentric Southern ways and his Northeastern temper, made for a wild ride after the couple split. Keep reading to find out the truth about Basinger and Baldwin's relationship after their divorce.
Alec Baldwin compared his divorce from Kim Basinger to the Indochina War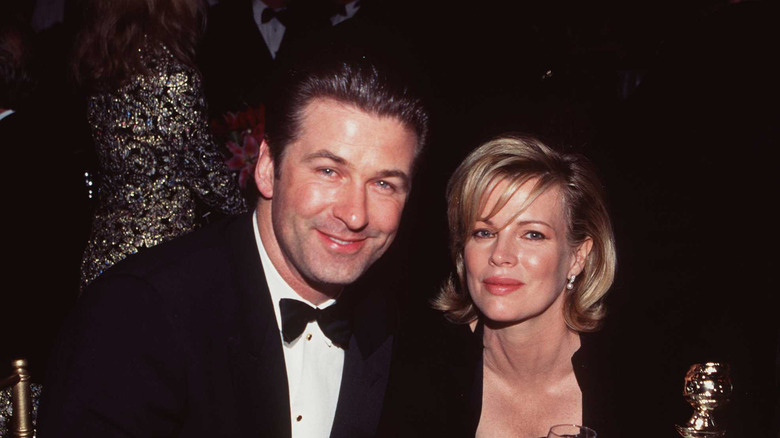 Getty Images/Getty Images
Alec Baldwin and Kim Basinger's divorce was ugly, and their custody battle was brutal. In 2013, Baldwin compared his divorce from Basinger to the Indochina War. "From 2000-2006, during the Dien Bien Phu of my divorce litigation... I can barely tell you what I did for those six years," he told The Guardian. "It was a period that was so painful, I was staring off a cliff for six years."
But even after the Baldwin-Basinger "war" was officially over, the relationship between the two Hollywood stars remained rocky. In 2007, TMZ made public a voicemail that angry Papa Baldwin left for his 11-year-old daughter Ireland. The furious Baldwin left an unhinged message for Ireland, calling her a "thoughtless little pig," and insulting Basinger. "I don't give a damn that you're 12 years old, or 11 years old, or a child, or that your mother is a thoughtless pain in the ass who doesn't care about what you do," Baldwin said in the now-infamous rant. "Once again I have made an ass of myself trying to get to a phone... You have humiliated me for the last time with this phone." Yikes! TMZ reported that Baldwin's voice message was so disturbing that a family law judge temporarily barred him from seeing Ireland.
However, time can heal all — or at least many — wounds, and it appears that time has brought peace to the Baldwin-Basinger war after their divorce.
Alec Baldwin and Kim Basinger seem focused on the kids
After years of drama, the relationship between Alec Baldwin and Kim Basinger seems relatively chill, based on social media posts. It appears that Basinger knows Baldwin's young brood he shares with his second wife, Hilaria. It looks as if Baldwin and Basinger are in a good place, which is great for their 25-year-old daughter Ireland Baldwin. (BTW, how much does Ireland look like her stunning mom?)
On May 14, Alec posted a photo of himself and three of his sons, Romeo, Leonardo, and Rafael on Instagram, writing, "I can't wait to get back to this couch with that old gang of mine." Basinger left a sweet comment on her ex-husband's post, writing, "So cute...... them [the kids] I mean ...." along with a slew of happy emojis. In August, Ireland shared a photo of her half-siblings Carmen and Lucia, wishing love and a happy birthday to Carmen. Basinger commented, "Carmen...... such A beautiful twosome......you are so beautiful......I love you 2 ..... together in this picture......But YOU Know how to get it done and she will learn from you..." It sounds like, despite a turbulent past, Baldwin and Basinger have been able to put most of their differences aside for the sake of the kids.