Mary Trump Reveals How Donald Trump Jr. Is The 'Weakest' Out Of The Trump Children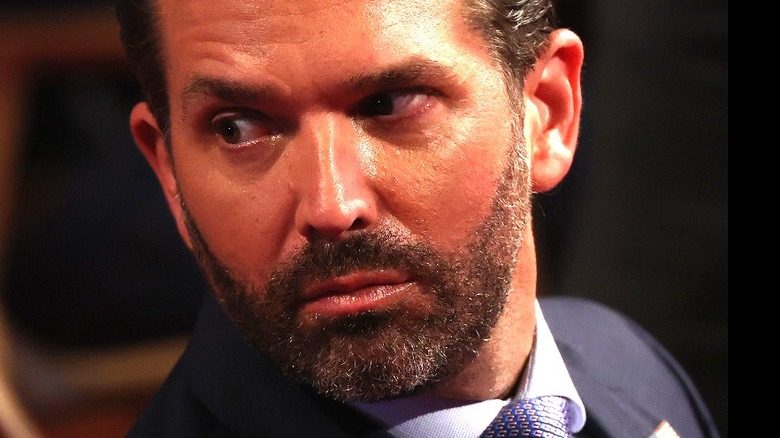 Win Mcnamee/Getty Images
Many celebrities have experienced some form of family drama in the public eye. (Even Beyoncé and Jay-Z wrote two albums and a collaborative single about their own family feuds.) But when it comes to the Trump family, it feels like more and more secrets are spilling out about their family dynamics as the days pass by. 
Donald Trump's niece, Mary Trump, is promoting her latest book, "The Reckoning: Our Nation's Trauma and Finding a Way to Heal," which discusses the communal trauma that citizens of the United States faced during the duration of the Trump presidency. Her latest stop for her press book tour is on gun control expert Cliff Schecter and LGBT advocate John Aravosis's podcast "UnPresidented: Creating Change That Empowers the Resistance."
During the interview, Trump wasn't afraid to speak her mind about what she believes in, even if it dissents from the majority of her family's feelings. Some of the topics she discussed include her recent clap-back at Meghan McCain, why she believes Democrats need to become more outspoken, and her real feelings about her infamous family, including why she thinks Donald Trump Jr. is "a deeply unintelligent person." Read on to learn more.
Mary Trump thinks Donald Trump Jr is the "weakest person"
History apparently repeats itself within the Trump family. According to Mary Trump, the way Freddie Trump treated his sons mimics the way Donald Trump treats his children. According to Raw Story, Donald Trump skipped over his eldest son, Donald Trump Jr., and elevated Ivanka Trump to play more of an integral role within the family business, just as Freddie Trump did to Fred Jr. and Donald. 
"Just in terms of the situation into which he was born, he shares that with my dad," Mary said to John Aravosis and Cliff Schecter, via Raw Story. "You know, the oldest son of a 'powerful person' — well, I think Donald is the weakest person on the planet but he's been propped up so much. So, clearly, though he certainly did not deserve it, he had a lot of influence, had a lot of money, which was my grandfather's money, so I think Donnie was born with the same expectation that my father was born with, which was, you're the oldest son," Mary added. "You carry the name ... and you must follow in the footsteps and surpass what your father has accomplished, and you have to do it exactly according to his preferences."
Mary went on to say, "Donnie is a deeply unintelligent person. I've been asked this — who's the stupidest one and it's him." Perhaps not everything is what it seems within the Trump family, but this family feud isn't dying down anytime soon.