How Tall Is Kim Kardashian?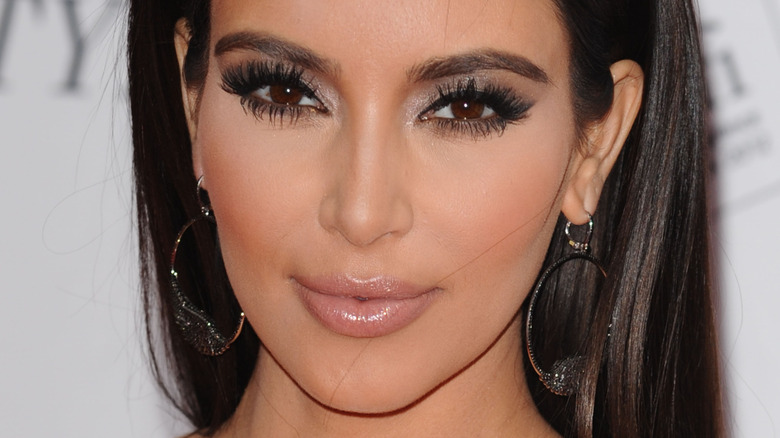 Featureflash Photo Agency/Shutterstock
Kim Kardashian may be famous for living out a large part of her life on reality TV, as well as the fact that she was married to — and has now split from — Kanye West, who is one of the most notable figures in music. She also happens to be part of a buzz-worthy group of siblings and is the mom of four headline-making kids. Beyond that, she's an entrepreneur and someone who is interested in the law. However, she also happens to be famous for how she looks.
Frankly, along with being body-shamed and accused of bolstering aesthetic expectations that are not realistic and may even be problematic (via Harper's Bazaar), she's also known to show off her physical form. In fact, for a time, she was all about getting undressed and letting her social media followers get a glimpse of her body by sharing nude (or nearly nude) pics.
Indeed, due to the fact that so much attention is focused on Kim's body (for better or worse), you might have noticed that she happens to be shorter than some of her family members (yet, taller than one arguably tiny sibling). That might make you wonder just how tall Kim really is. Well, read on to find out what her exact height is as well as how that compares to those around her!
Kim Kardashian isn't as tall as (most) of her family members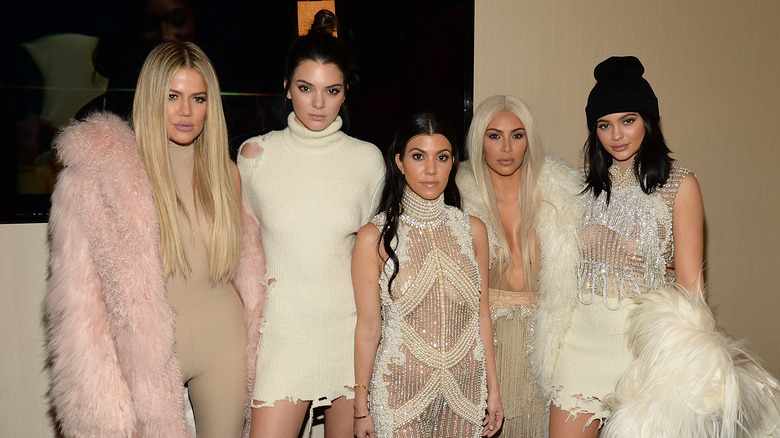 Kevin Mazur/Getty Images
For those who want to know about Kim Kardashian's exact height — that is, without high heels or potential (we said potential!) filters — IMDb notes that she's 5 feet and 2 and a half inches. The Clevland Clinic explains that the average woman in the United States is 5 feet and 4 inches, which means that Kim is slightly shorter than many other ladies around.
When it comes to the Kardashian-Jenner family, though, they come in all sizes. Kim's oldest sister, Kourtney Kardashian, is just 5 feet tall, while their brother Rob Kardashian is 6 feet. The others are all somewhere in between, with Kylie Jenner standing at 5-foot-6, Khloé Kardashian at 5-foot-9, and Kendall Jenner just a smidge taller at 5-foot-nine and some change. Their mom, Kris Jenner, is 5-foot-6 just like Kylie if you're curious (all per IMDb).
At not even 5-foot-3, Kim is on the shorter side when it comes to her family, which is why you may not be surprised that she was also shorter than someone else in her life, her former husband, Kanye West. However, their size difference can't compare to that between Kim and the man that she was married to before Kanye, former basketball player Kris Humphries.
Kim Kardashian's ex-husbands are very different heights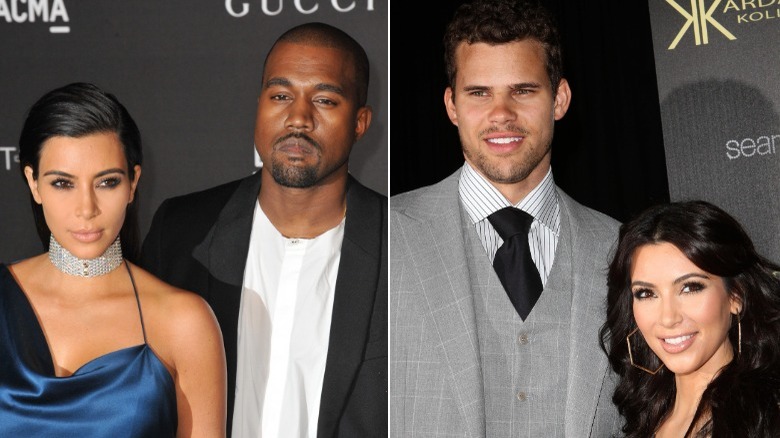 Shutterstock, Shuttertstock
Kim Kardashian and Kanye West may have had one of the most talked-about marriages in entertainment industry history, however, the rapper wasn't her first husband. Kim has actually been married three times. She first tied the knot with music producer Damon Thomas in 2000 when she was just 19 years old — before they split in 2004. She then said "I do" with athlete Kris Humphries in 2011 only to officially get divorced from him two years later. Then, in 2014, Kim and Kanye became husband and wife.
Just like Kim's siblings, each of her former husbands seems to vary in height. While we don't know exactly how tall Damon is, he definitely stood taller than Kim when their picture was taken together. The same goes for Kanye, although we do know how tall he is. The music star is 5-foot-8, which is an inch shorter than the average height of men in the United States, according to Healthline. Granted, Kim's second husband, Kris, was well above average, which shouldn't be too surprising considering the fact that he played professional basketball and he absolutely towered over her when they were together. In fact, Kris is a full foot above average at a staggering 6-foot-9.
Indeed, the people in Kim's life couldn't be more varied when it comes to height, which is why we can't blame you if you've never been able to figure out how tall she really is before now.