How Tall Is Kylie Jenner?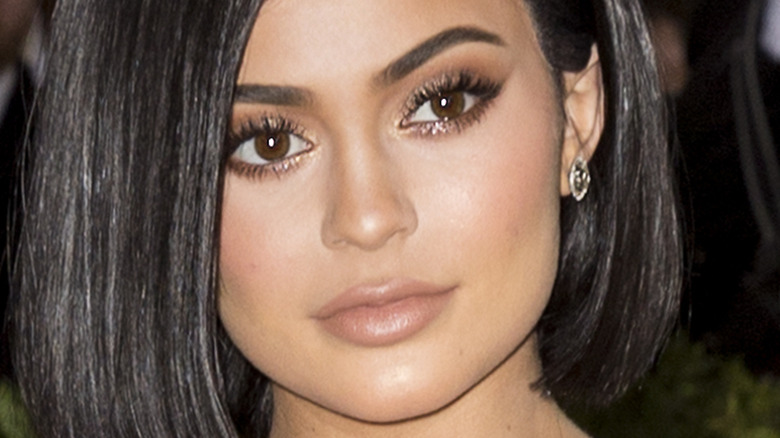 Ovidiu Hrubaru/Shutterstock
Kylie Jenner is certainly willing and able to stand out on her own. However, she first found fame thanks to the fact that she's a member of one of the most famous (and most successful) families in the entertainment industry. That's why you tend to see her either onscreen, at events, or on social media with her siblings.
Because of that, you might have noticed something about the group. While they all share similarities in how they look, they're also each very different when it comes to factors like their height. Some are well above average, while others are well below. And right in the middle is Kylie. That's why it can seem impossible to figure out how tall she really is. Put her next to Kendall, and she can seem tiny. But stand her next to Kourtney, and she'll almost tower over her big — er, older — sister.
So, how tall is Kylie? Well, we've tracked that down as well as a few other interesting details about how her height stands up against the other famous figures in her life.
Kylie Jenner is the same height as another Kardashian family member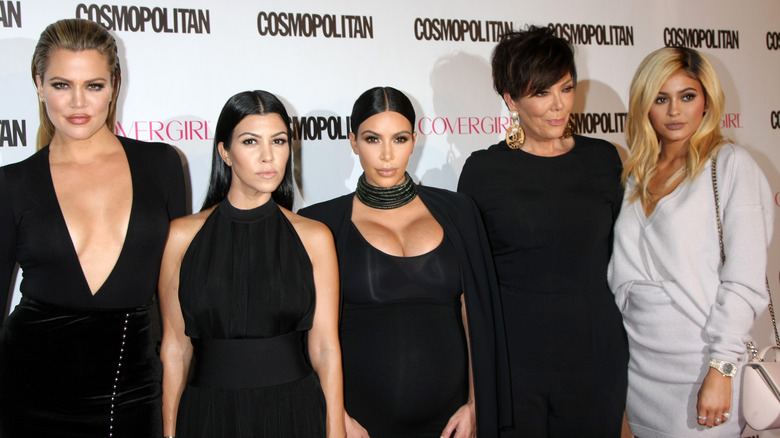 Kathy Hutchins/Shutterstock
Thanks to the fact that the Kardashian-Jenner ladies tend to wear high heels when on the red carpet or out at industry events together, it can be hard to tell what their true heights are. Granted, it's quite obvious that when it comes to all of the siblings, Rob Kardashian is the tallest (he's 6 feet tall, according to IMDb) while Kourtney Kardashian is the shortest (she's 5 feet tall, to be exact). However, Kim Kardashian, Khloé Kardashian, Kendall Jenner, and Kylie Jenner are all somewhere in between, as is their mom, Kris Jenner.
It turns out that Kim is 5 feet, 2 and a half inches, while Khloé is 5-foot-9, and Kendall is just over 5-foot-9. Kylie is in the middle at 5-foot-6 — something she confirmed on Twitter back in July 2011. That's the exact same height as her mom, Kris. Of course, as we mentioned, a pair of heels can add a few inches to that when the women feel like giving themselves a stylish boost.
That's perhaps why Kylie always seems to be closer in height to the men in her life than she actually is. Although, it turns out that two famous men that she's dated weren't that much taller than her. So, who's taller, Tyga or Travis Scott? And how much taller are they than Kylie?
Is Tyga or Travis Scott taller?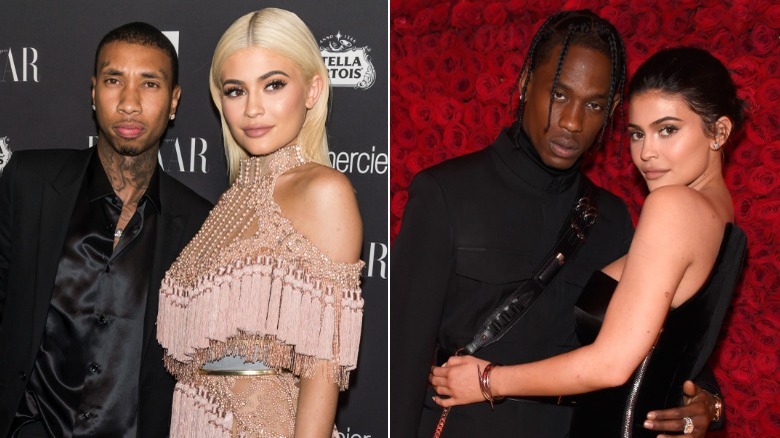 Gilbert Carrasquillo, Kevin Mazur/mg18/Getty Images
Fans who keep up with the dating lives of celebrities will likely be able to tell you that way back in March 2015, Kylie Jenner confirmed that she was in a relationship with rapper Tyga. The two began to be seen together when cameras were around and were willing to pose for pics during their on-again-off-again romance.
As pics from that time show, Kylie often seemed to be a bit taller than her then-boyfriend. That's because, while she's 5-foot-6, he's just over an inch taller at slightly more than 5-foot-7, according to IMDb. If Kylie even popped on shoes that had an inch and a half heel or more, then she'd stand taller than Tyga. Granted, Kylie and Tyga split up for good in 2017, and she moved on with Travis Scott.
Another on-again-off-again circumstance, Kylie and Travis are clearly in a more serious situation than she was with her last boyfriend, thanks to the fact that the two are also co-parents. On top of that, they're another couple that's willing to pose for photos together, which gives us an idea of their height difference (taking into account high heels again, of course). From the looks of things, Travis is definitely taller than Kylie, and according to IMDb, that's true, as he's apparently 5-foot-10. We wonder how tall Stormi will be.